Bechamel Macaroni holds a special place in my heart, reminding me of Ramadan and special gatherings with family and friends. This rich and creamy Egyptian-inspired pasta dish is a proper comfort food, layered with flavours and textures that create a symphony in your mouth. The meat sauce, infused with aromatic spices and herbs, is perfectly balanced by the silky bechamel sauce. I've always cherished the moments spent in the kitchen, preparing this dish with my loved ones, and the satisfied smiles around the dinner table as everyone savours every bite.
Growing up, I watched my grandmother meticulously prepare Macaroni Bil Bechamel for special occasions, and now, as an adult, I've inherited their passion for making this dish. I hope you enjoy making and sharing this delightful dish with your family and friends as much as I have.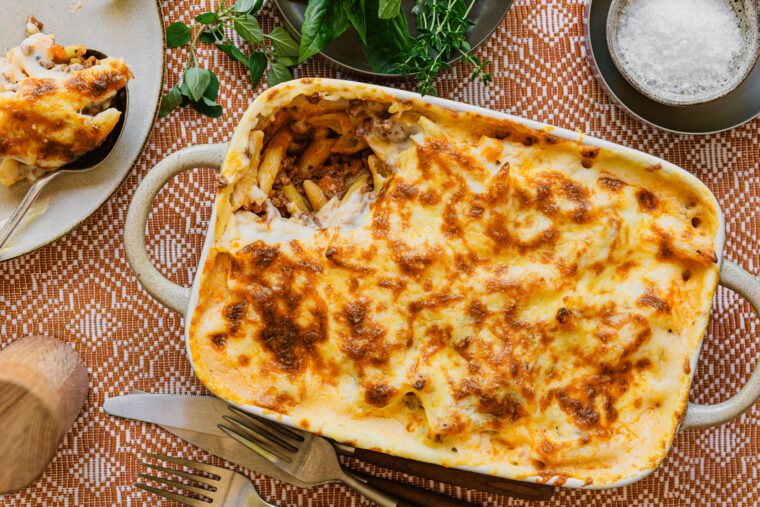 Basic Ingredients for Bechamel Macaroni
Penne Pasta: A type of short, tubular pasta with ridges that hold sauces well. It serves as the base for Macaroni Bil Bechamel and provides texture and substance to the dish.
Minced Beef: A key ingredient in the meat sauce that adds a rich and savoury flavour. Ground beef is cooked with various vegetables, herbs, and spices to create a flavorful sauce.
Carrots, Celery, and Onion: Vegetables that are sautéed with the minced beef, adding texture, flavour, and nutrients to the meat sauce.
Tomato Paste and Chopped Tomatoes: These ingredients contribute to the body and tanginess of the meat sauce, creating a balanced flavour profile.
Aromatic Herbs and Spices: Combining dried oregano, basil, thyme, and other spices such as cinnamon, bay leaf, and garlic adds depth and complexity to the meat sauce.
Bechamel Sauce: A creamy white sauce made from butter, flour, and milk. It is seasoned with salt, white pepper, and a pinch of nutmeg, giving the dish a velvety and rich taste.
Cheese: Grated mozzarella cheese is sprinkled on top of the assembled pasta before baking, resulting in a golden and delicious crust. For variation, I sometimes add Emmenthal or Gouda to elevate the flavours.
Olive Oil: Used for sautéing vegetables and meat, it adds a subtle richness and flavour to the dish.
Make sure not to overcook the pasta, as it will continue to cook in the oven. Aim for al dente texture.
Cook the roux until it turns slightly brown to avoid a floury taste in the bechamel sauce.
When making the bechamel sauce, whisk continuously to prevent lumps and ensure a smooth texture.
Allow the baked Macaroni Bil Bechamel to rest for 5-10 minutes before cutting and serving to help it set.
You can serve this dish with a simple green salad to add some freshness and balance out the richness of the pasta.
storage tips
Store any leftovers in an airtight container in the refrigerator for up to 3-4 days.
To reheat, microwave individual portions or warm the entire dish in a preheated oven (180°C for 15-20 minutes or until heated through. Cover with foil to prevent the top from over-browning.
Bechamel Macaroni
Ingredients
Meat Sauce
500

g

minced beef

1

cup carrots, finely minced

1

cup celery, finely chopped

1

onion

3

cloves garlic, finely minced

2

tbsp

olive oil

1

pc

cinnamon stick

1

pc

bay leaf

1

tsp

salt

½

tsp

black pepper

2

cups chopped tomato

½

cup tomato paste

1

tbsp

fresh oregano, finely chopped

1

tbsp

fresh basil, finely chopped

1

tbsp

fresh thyme, finely chopped

2-3

cups water
Bechamel
5

tbsp

flour

5

tbsp

all-purspose flour

5-6

cups whole milk

4

tsp

salt

½

tsp

white pepper powder

Pinch of nutmeg
Pasta
600

g

penne pasta

2

tsp

salt
Instructions
For the meat sauce, in a medium-sized pot, saute the onions, carrots and celery with a couple of tablespoons of vegetable oil until translucent. Add the bay leaf, cinnamon stick and garlic and saute until fragrant. Add the ground beef. Once the meat has browned, add the tomato paste, salt, pepper, chopped tomatoes, and water. Season with oregano, basil, and thyme; mix and bring the mixture to a boil on high heat, then cover the pot and leave to simmer on low heat for about 25 minutes until the sauce thickens. Once done, remove the cinnamon stick and bay leaf.

To prepare the béchamel sauce, in a large pot melt the butter. Add flour and mix on medium heat until the roux has turned slightly golden brown – it is important to brown the roux to remove the floury flavour from your bechamel sauce. Add the milk and continue mixing to avoid any clumps and to avoid anything from sticking to the base. If the sauce is too thick, add more milk—season with salt, white pepper powder and nutmeg. Remove from heat and keep aside.

To prepare the pasta, bring a large pot of water seasoned with salt to a boil. Cook the pasta according to the package instructions. Please make sure not to overcook, pasta should be al-dente as it will cook further once baked. Drain the pasta.

Preheat the oven to 180 degrees Celsius.

Add the cooked pasta to the pot with the meat sauce, and mix until fully combined. Pour the pasta mixture into a large casserole dish. Next, add the bechamel sauce on top; make sure to spread it over the pasta evenly. Finally, top the béchamel sauce with the grated mozzarella cheese

Bake in the oven for 25 to 30 minutes, until it has a beautiful golden-brown top.
Get new recipes, meal planners, and creative entertaining ideas