As a family, beef lasagne is one of our favourite comfort food. Beef Lasagne is one of the first dishes I made as a graduate student for my friends at our humble potluck dinner parties. As a mother, I pre-make and freeze my lasagne as a backup dinner option whenever I am not in the mood to cook. Nothing beats some delicious home-made lasagne with a traditional Iranian Shirazi salad—the collaboration of simple Italian and Iranian food is mouth-watering I guess coming from such an eclectic background you couldn't expect anything less from my kitchen.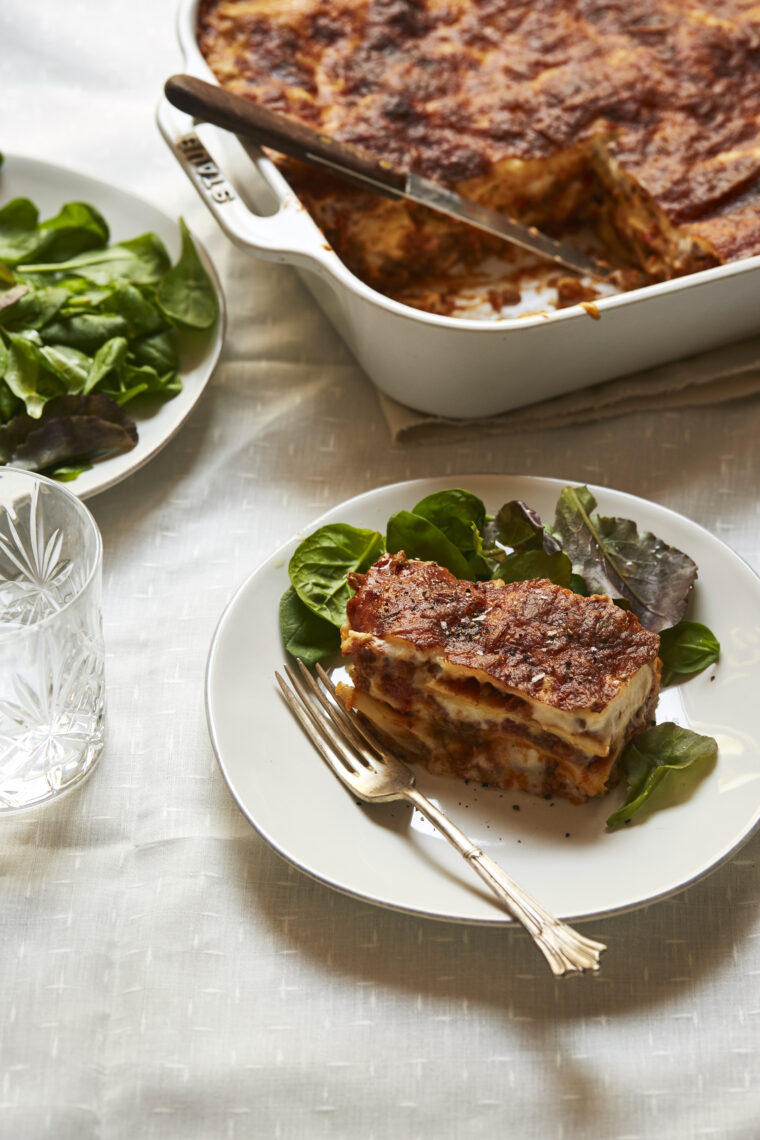 Basic ingredients for Beef Lasagne
Lasagne Pasta: Lasagne pasta is a type of wide, flat, extruded noodle that is traditionally used in Italian cuisine. It is composed of an unleavened dough which consists of semolina flour and water. The dough is then cut into thin sheets that are cooked for a short amount of time before being layered with other ingredients and baked in the oven.
Mozzarella Cheese: Mozzarella cheese is an Italian-style, soft, white-brined curd cheese made from buffalo milk or cow's milk. It is considered to be a part of the pasta filata family of cheeses, which involves stretching and kneading the curd in hot water before forming it into its desired shape. As a result of its unique production process and use of specific ingredients, mozzarella has a mild, creamy flavour and excellent melting properties when heated.
Emmental Cheese: Emmental cheese, also known as Swiss cheese, is a variety of cheese originating from the Emme Valley in Switzerland. It has a distinctive pale-yellow colour and a sweet, nutty flavour. The cheese is made by adding bacteria to raw cow's milk, causing it to coagulate and form curds.
Ground Beef: Ground beef, commonly referred to as 'mince', is a form of comminated meat that has been produced through the mechanical separation of skeletal muscle tissue. It is considered to be a culinary versatile ingredient, due to its capacity for incorporation into a variety of dishes.
Tomato Paste: Tomato paste is a concentrated form of tomato puree that has been cooked down and reduced to a thick, deep red paste. It's most often used to add colour and flavour to soups, stews, sauces, and other dishes.
Butter: Butter is a dairy product made from churned cream's fat and protein. It is used as a spread at room temperature, melted as a condiment, and as a fat in pan frying, making sauces, baking, and other cooking processes. Butter is known to lower the risk of cancer, promote healthier skin, strengthen bones as well as assist with eyesight.
Flour: Flour is a powder made by crushing whole grains, roots, beans, nuts, or seeds. Many different foods are made with flour, especially bread, a staple food in many cultures. The health benefits of flour include improving digestion, reducing the risk of diabetes, lowering the risk of heart disease and aid in making you feel full quicker.
Milk: Mammals' mammary glands produce milk, a white liquid that contains numerous supplements, including protein and lactose. Milk is good for bone health; it prevents weight gain and provides a great source of protein.
alternative ingredients
Vegetables: Mix up the cheese layer by using ricotta mixed with spinach or kale. This adds an extra punch of vitamins as well as adding a unique flavour profile to your lasagne.
Chicken: Substituting chicken for beef can give the lasagne a lighter taste and texture.
Mushrooms: This vegetarian-friendly option adds depth of flavour while maintaining the hearty consistency of a traditional lasagne.
Sausage: Adding spicy sausage to the mix gives it an extra kick and helps keep it moist throughout cooking time.
Ground Turkey: A leaner option than ground beef, turkey provides plenty of protein while creating a more subtle flavour profile in the dish.
Canned Tomatoes: If you don't have canned tomatoes, you can use fresh tomatoes that have been chopped and peeled.
Serving Tips for Beef Lasagne
Always allow the lasagne to fully cool down before attempting to cut and serve it. This will avoid having a sloppy mess on your plate, as well as help keep the delicious layers intact.
Use a sharp knife or pizza cutter for slicing into equal portions for everyone in your family or group of guests. Cutting through cheese and noodles can be challenging, so don't be afraid to saw back and forth with the blade until you get through it all!
To ensure that everyone gets an even serving size, use a measuring cup or spoon when scooping out pieces of lasagne onto plates or bowls. This is particularly helpful if you are making servings for children who may not like large pieces of lasagne on their plates.
storage tips
Refrigerate leftover lasagne in an airtight container for up to four days. To reheat it, simply place the container in the oven or microwave until heated through.
Freeze beef lasagne for up to three months if you plan on eating it at a later date. Make sure it's wrapped well so that no air can get in and spoil the meal.
For short-term storage, keep cooked beef lasagne at room temperature for two hours maximum before transferring into an airtight container and refrigerating immediately afterwards.
Beef Lasagne
Beef Lasagne is a classic Italian-American dishthat packs a lot of flavour and comfort into one delicious meal.
Ingredients
1

packet

boil-freelasagne pasta

2

cups

grated mozzarella cheese

1

cup

Emmental cheese
MEAT SAUCE
2

stalk

celery, finely chopped

2

pcs

carrot, finely chopped

1

pcs

large onion, finely chopped

2

tsp

minced garlic

500

g

ground beef

2

tsp

salt

1

tsp

black pepper powder

2

cans

chopped tomatoes

3

tbsp

tomato paste

2

tbsp

oregano

1/2

tsp

sugar

3

cups

water

3

tbsp

olive oil
BÉCHAMEL SAUCE
5

tbsp

butter

5

tbsp

all-purpose flour

5-6

cups

milk

4

tsp

salt

1/2

tsp

white pepper powder

1

pinch

nutmeg
Instructions
MEAT SAUCE
For the meat sauce, in a medium-sized pot, sauté the celery, carrots and onions with a couple of tablespoons of olive oil until translucent. Add the garlic and sauté until fragrant. Add the ground beef and season with salt and black pepper powder.

Once the meat has browned, add the chopped tomatoes, tomato paste, oregano, sugar and water; mix and bring the mixture to a boil on high heat, then cover the pot and leave to simmer on low heat for about 25 minutes until the sauce thickens.
BECHAMEL SAUCE
To make the béchamel sauce, melt the butter in a separate pot on medium–low heat. Mix the flour with the melted butter to make the roux. Continue mixing the roux until it has turned slightly golden brown. It is important to brown the roux to remove the floury flavour from your béchamel sauce.

Add the milk and continue mixing to avoid any clumps and to avoid anything from sticking to the base. If the sauce is too thick, add more milk.  Season with salt, white pepper powder and nutmeg. Remove from heat and keep aside.
ASSEMBLING
Pre-heat oven to 200 Celsius.

To assemble, alternatively layer the meat sauce, béchamel sauce and lasagne pasta in a large ovenproof casserole. Repeat at least 2–3 times depending on the depth of the tray.

On the final layer, pour the remaining meat sauce, then the béchamel sauce and top with the mozzarella cheese and Emmental cheese.

Bake in pre-heated over for 40 to 45 minutes, or until the lasaga is golden-brown. Remove from oven, allow to rest for 15 minutes before serving and enjoy with a mixed green salad.
Get new recipes, meal planners, and creative entertaining ideas