Ouzi is a delicious and aromatic traditional Middle Eastern rice dish that is usually served on special occasions and celebrations. The dish is typically made with spiced minced meat and vegetables and is often served with puff pastry or phyllo dough. The flavours and aromas of the spices used in Ouzi are a perfect reflection of the rich culinary heritage of the Middle East.
Preparing Ouzi is a labour of love, as it requires careful attention to detail and the perfect balance of flavours. The use of high-quality ingredients is key to creating a delicious and authentic Ouzi. The recipe includes minced lamb, bay leaf, cinnamon stick, and a variety of spices, including white and black pepper, cinnamon powder, and Arabic-mix spice. These ingredients are cooked together with rice and frozen carrot and peas to create a flavorful and satisfying dish.
Ouzi is a dish that is meant to be shared with friends and family. It is often served as the centrepiece of a special meal or celebration and is always a crowd-pleaser. Whether you're cooking for a large gathering or just for yourself, Ouzi is a dish that is sure to impress.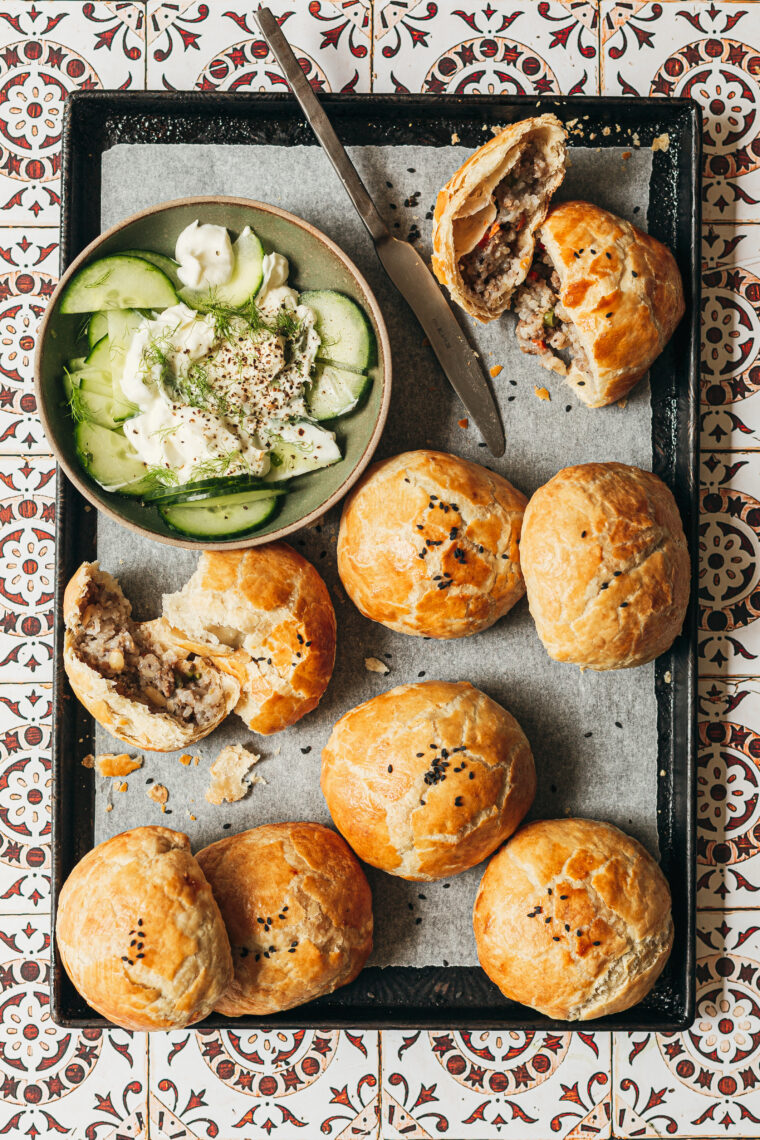 Basic Ingredients for Ouzi
Calrose rice: This type of rice is commonly used in Middle Eastern cuisine because of its sticky texture and ability to absorb flavours. It is soaked in water before cooking to remove excess starch and create a fluffier texture.
Lamb: Lamb is a common protein used in Middle Eastern cuisine, and in this recipe, it provides a savoury flavour and a source of protein. The lamb is minced and sautéed with spices before being mixed with the rice.
Bay Leaf: Bay leaves are often used in cooking to add a subtle earthy flavour to dishes. In this recipe, the bay leaf is used to add depth to the lamb and rice mixture.
Cinnamon Stick: Cinnamon is a popular spice in Middle Eastern cuisine, and in this recipe, the cinnamon stick is used to add warmth and complexity to the lamb and rice mixture.
Salt: Salt is used to enhance the flavours of the dish and bring out the natural flavours of the ingredients.
White Pepper: White pepper has a milder flavour than black pepper and is often used in lighter-coloured dishes to avoid visible black specks. This recipe, adds a subtle spiciness to the lamb and rice mixture.
Black Pepper: Black pepper is used to add heat and flavour to the dish.
Cinnamon Powder: Cinnamon powder is used to add more cinnamon flavour to the dish and to enhance the warm and savoury flavours.
7 spice Arabic-mix Spice: This spice mix typically includes allspice, black pepper, cinnamon, cloves, ginger, nutmeg, and fenugreek. It adds complexity and depth of flavour to the lamb and rice mixture.
Frozen Carrots and Peas: This combination of vegetables adds colour, flavour, and nutrition to the dish. They are added after the meat has been browned and seasoned.
Puff pastry: Puff pastry is a flaky, buttery pastry that is used to make a crispy shell for the lamb and rice mixture.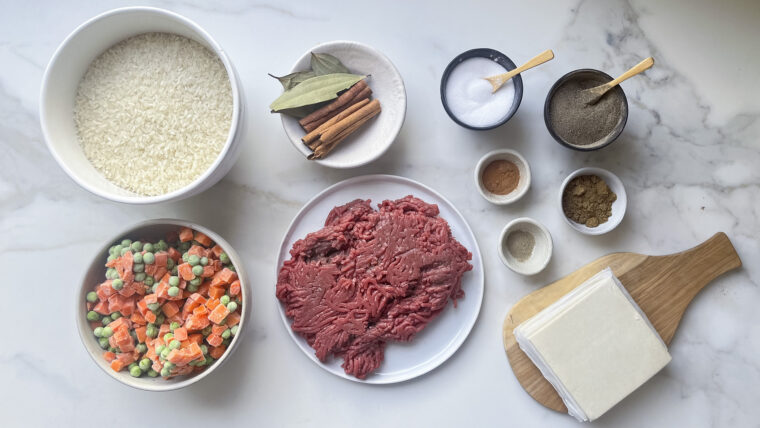 Soaking the rice: It's important to soak the rice for at least 30 minutes to help remove any excess starch and ensure the rice cooks evenly. Be sure to rinse the rice thoroughly to remove any remaining dirt or debris.
Browning the meat: When browning the lamb, be sure not to overcook it. The meat should be slightly browned but still retain some moisture to prevent it from becoming dry and tough.
Adding frozen vegetables: Frozen vegetables can be added directly to the pot with the rice and meat mixture without thawing. This helps to save time and ensure the vegetables cook evenly.
Assembling the Ouzi: When assembling the Ouzi, be sure to press the edges of the pastry together gently to prevent the filling from leaking out during baking.
Adding the egg wash: Brushing the pastries with an egg wash before baking can help to give them a golden brown color and make them more visually appealing. Be sure to whisk the egg wash thoroughly before applying it to the pastries.
Serve hot with your favourite salad or vegetables.
You can garnish the ouzi with fried nuts or raisins for extra texture and flavour.
To make it a complete meal, serve it with a side of hummus and pita bread.
storage tips
Store leftover ouzi in an airtight container in the refrigerator for up to 3 days.
Reheat in the oven at 350°F (175°C) for about 10-15 minutes or until heated through.
Do not freeze the ouzi, as the puff pastry may become soggy when thawed.
Ouzi
Ingredients
4

cups

calrose rice

vegetable oil

1

bay leaf

1

cinnamon stick

300

g

roughly minced lamb

200

g

mixed frozen peas and carrots

2½

tsp

salt

¼

tsp

white pepper powder

¼

tsp

black pepper powder

1

tsp

cinnamon powder

1

tbsp

7-spice powder

4

cups

boiling water

8

pcs

puff pastry squares

,

cut into 8 x 8 inch squares
Instructions
Soak the rice in water for 30 minutes. Rinse it until the water runs clear.

In a medium-sized pot, heat 2 tablespoons of oil. Add the bay leaf and cinnamon stick. Then add the minced lamb and season it with 1⁄2 teaspoon of salt, white pepper powder, black pepper powder, cinnamon powder, and 7-spice powder. Sauté the ingredients together until the meat has slightly browned but still has retained its moisture.

Add in the rice and mix together for a couple of minutes. Then, add the frozen vegetables and the boiling water. Cover the pot, reduce the heat and let the rice cook for about 20-30 minutes.

To assemble the Ouzi, preheat the oven to 200 degrees Celsius. Defrost the puff pastry, then roll it out and cut it into large squares (about 6-8 inches).

Line a small bowl with the pastry and fill it 2/3 full with the meat and rice mixture onto the center of each puff pastry circle.

Fold the edges over the rice, pressing gently to seal the edges. Flip it so the mound side is up and place it on a parchment-lined baking tray.

In a small bowl, whisk together the egg and water to make an egg wash.

Brush the egg wash over the top of each pastry.

Place the pastries onto the prepared baking sheet and bake for 18 minutes or until the pastry is golden brown and flaky.

Serve the Ouzi hot with a cucumber and yogurt salad.
Get new recipes, meal planners, and creative entertaining ideas