Ash-e-Jo is a wholesome mixed herb soup with barley. This dish is a staple in Iranian cuisine, and its warm and comforting flavours will satisfy your taste buds.
Ash-e-jo is made with a variety of nutritious ingredients, including pearl barley, rice, parsley, dill, green onion, and chives. These ingredients are brought together with the help of vegetable broth, water, turmeric, and dried mint. The result is a delicious and aromatic soup perfect for any occasion.
What sets Ash-e-jo apart is the care and attention that goes into its preparation. Each ingredient is finely chopped and carefully cooked to create unique flavours and textures. And with a touch of lemon juice, salt, and pepper, the soup is transformed into a truly unforgettable culinary experience.
So, whether you want to warm up on a cold winter day or crave a wholesome and nutritious meal, Ash-e-jo is a perfect choice. This dish is a true testament to the rich and diverse flavours of Persian cuisine, and I am sure you will love it as much as I do.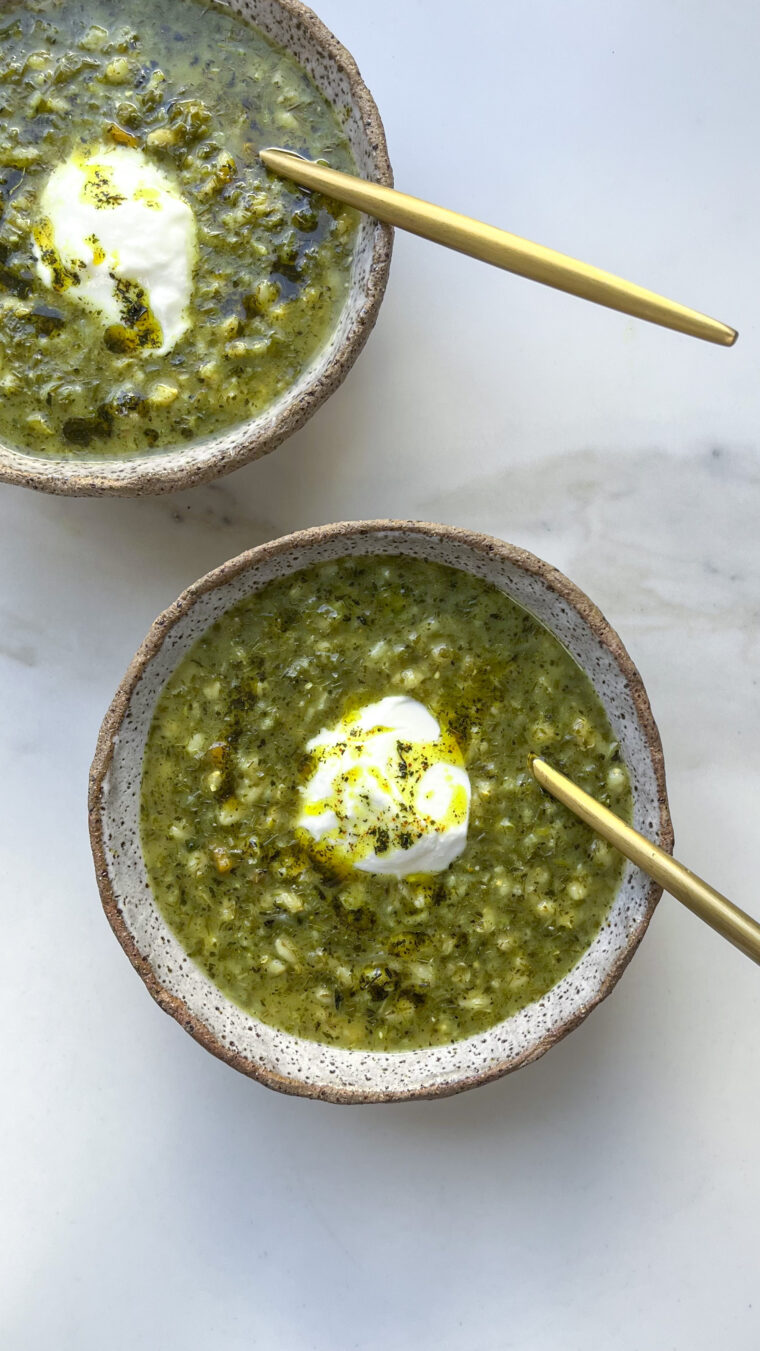 Basic Ingredients for Ash-e-jo (Mixed Herb Soup with Barley)
Pearl Barley: This nutritious grain is high in fibre and helps to thicken the soup. It also adds a slightly nutty flavour and chewy texture.
Rice: Another staple ingredient in Persian cuisine, rice adds a soft and fluffy texture to the soup.
Flat-leaf Parsley: This herb is known for its fresh, bright flavour and is an excellent source of vitamin C.
Onion: Onions are a key ingredient in many Persian dishes, and in Ash-e-jo, they add a sweet and savoury flavour.
Dill: This fragrant herb adds a distinctive flavour to the soup and is also known for its many health benefits, including its ability to aid digestion.
Green Onion or Chives: These flavorful ingredients add a slightly oniony flavour and a bit of crunch to the soup.
Vegetable Oil: Used for sautéing the onions and other ingredients, vegetable oil adds a subtle richness to the soup.
Dried Mint: This fragrant herb adds a fresh, cooling flavour to the soup and is often used in Persian cuisine.
Vegetable Broth: This flavorful liquid is the base of the soup and helps to bring all ingredients together.
Water: Used with the broth, water helps thin out the soup to the desired consistency.
Turmeric: This bright yellow spice adds a warm and earthy flavour to the soup and is known for its many health benefits.
Lemon: The juice of lemon adds a bright, tangy flavour to the soup and helps to balance out the other flavours.
Pepper: A bit of black pepper adds a touch of heat and depth to the soup.
Salt: A pinch of salt brings out the flavours of all the other ingredients and helps balance the soup's flavours.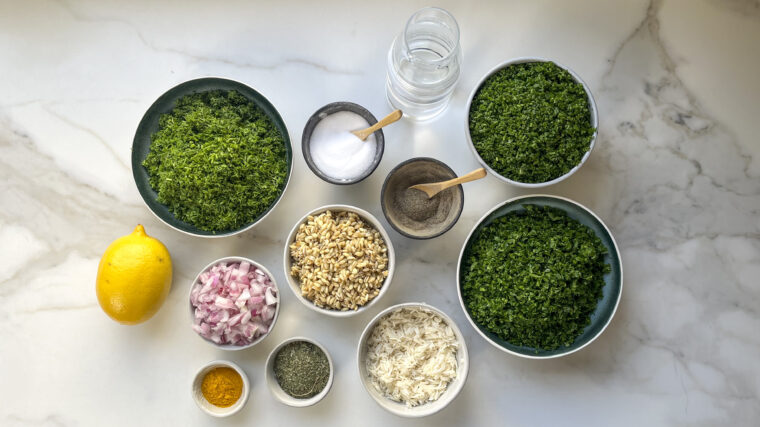 Make sure to finely chop all your ingredients so that they cook evenly and the flavours meld together.
Soak your pearl barley for an hour, ideally 6 to 8 hours, so that they cook faster.
Ash-e-jo is traditionally served with a dollop of thick yoghurt on top and some flatbread on the side.
You could also garnish the soup with extra chopped herbs, a drizzle of olive oil, or some crushed nuts for texture.
Serve the soup hot, and enjoy it as a hearty main dish or starter.
Ash-e-jo (Mixed Herb Soup with Barley)
Ingredients
1

cup

pearl barley

⅓

cup

rice

2

cups

flat-leaf parsley

,

chopped

2

medium onions

,

chopped

2

cups dill

,

finely chopped

2

cups green onion chives

,

chopped

6

tbsp

vegetable oil

2

tbsp

dried mint

1

litre

vegetable broth

½

litre

water

2

tsp

turmeric

1

lemon

,

juiced

2

tsp

pepper

salt
Instructions
Wash, rinse, and soak barley in cold water for about 2 hours. Do the same with the rice.

In a large pot, on high heat, saute onions with four tablespoons of vegetable oil until it is golden brown. Drain the pearl barley and add to the fried onions; stir until the grains are well coated; then add 1 litre of water. Lower heat and leave to simmer for 40 minutes. Drain the rice and add to the pot and add a litre of vegetable stock; leave to simmer for 30 minutes on low heat.

Add the chopped herbs; stir thoroughly, add water according to the thickness, and leave to simmer on low heat for 15 minutes—season with salt and pepper according to taste.

In a small pan, heat two tablespoons of vegetable oil and add the dried mint and turmeric powder; stir the mixture into the soup. And finally, add a drizzle of lemon juice.

For serving, put into a small bowl, top with yoghurt and drizzle some of the fried mint.
Get new recipes, meal planners, and creative entertaining ideas