Braised Short Rib with Celeriac & Potato Puree: A Flavorful Delight That Melts in Your Mouth
Braised short rib with celeriac purée is more than just a dish; it's an experience, a journey through flavours and textures. The beef short ribs, generously seasoned and patiently braised, become tantalizingly tender, soaking up the essence of a deep and flavourful broth. This broth, anchored by a mirepoix base of onions, carrots, celery, and aromatic fennel, works in concert to amplify the intrinsic flavors of the ribs. Complementing these flavours are the subtle touches of garlic and fennel powder, further enhancing the dish's depth.
To accompany the ribs, I favor celeriac purée. This choice side offers a delicate contrast to the hearty ribs, its earthy tones providing a balanced harmony. Its silken texture and nuanced flavor bring a touch of refinement to the ensemble.
Whenever I present this dish on special occasions, the reactions I witness are truly priceless. As guests take their first bite, a hush often descends – a testament to the dish's captivating allure. It's not just a meal that impresses; it comforts, serving as a poignant reminder of the transformative power of meticulously crafted cuisine. For anyone aiming to create an indelible memory, whether for a grand celebration or a close-knit family dinner, this braised short rib with celeriac purée stands as a beacon of culinary artistry. Every preparation underscores a chef's commitment to delivering a dining experience that's both soul-warming and exquisitely flavorful.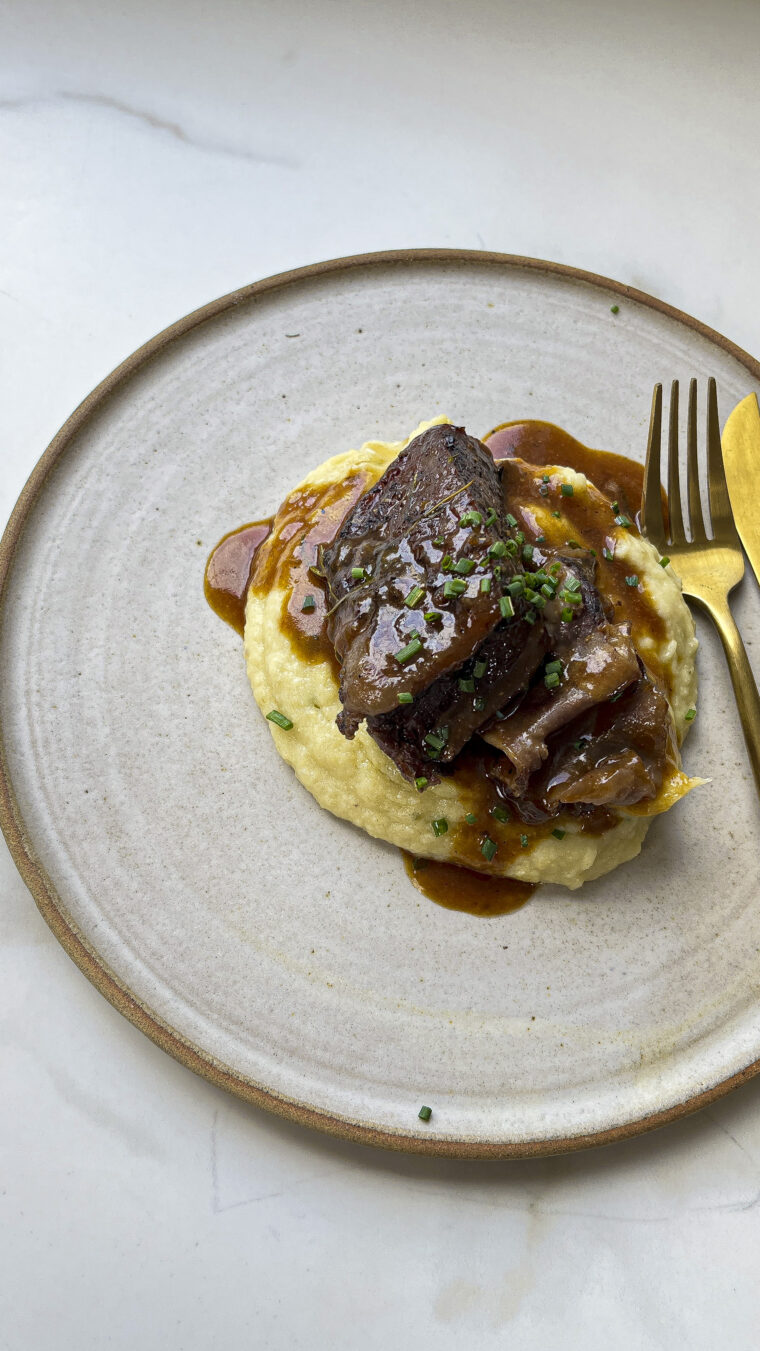 Basic Ingredients for Braised Short Rib
Short Rib: These succulent cuts of beef provide the heart and soul of the dish. They offer deep, savoury flavour and become meltingly tender through the braising process.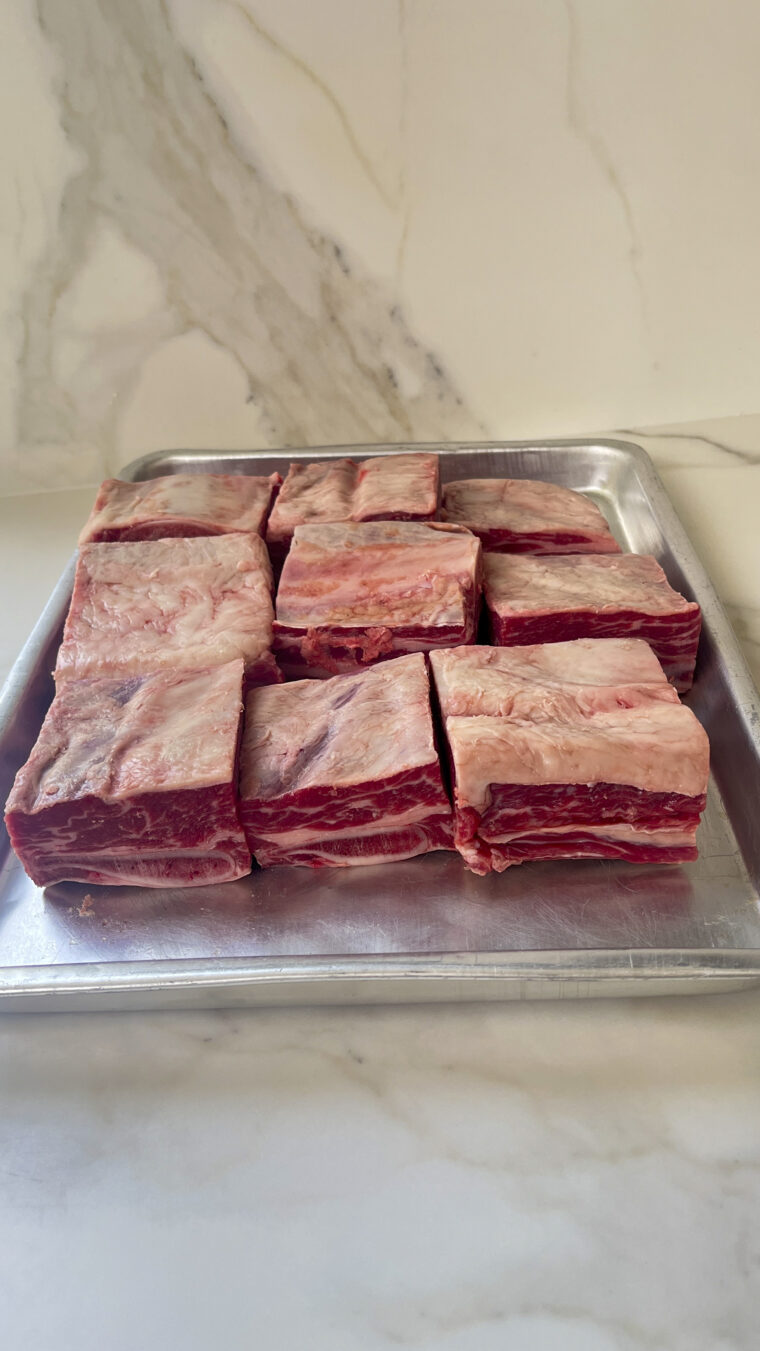 Salt and Black Pepper: Seasoning the short ribs generously with salt and black pepper enhances their natural flavours and forms the foundation of the dish.
Vegetable Oil: Used for searing the short ribs, vegetable oil creates a flavorful crust on the meat, adding depth and texture.
Onion, Carrots, Celery, and Fennel: These aromatic vegetables contribute layers of flavour to the dish. They provide a savoury base for the braising liquid and infuse the short ribs with a delightful aroma.
Garlic: Minced garlic adds a pungent, aromatic dimension to the dish, enhancing its overall richness.
Beef Broth: The beef broth serves as the braising liquid, infusing the meat with intense flavour as it reduces and creates a savoury sauce.
Tomato Paste : Tomato paste enriches the sauce, providing a subtle sweetness and depth of flavour.
Red Vinegar: Red vinegar adds acidity and balance to the dish, cutting through the richness of the meat.
Herbs (Bay Leaves, Thyme, Rosemary): These fresh herbs contribute freshness, aroma, and herbaceous notes to the dish, enhancing its complexity.
Chopped Fresh Parsley: This optional garnish adds a pop of colour and a burst of fresh flavour to the finished dish.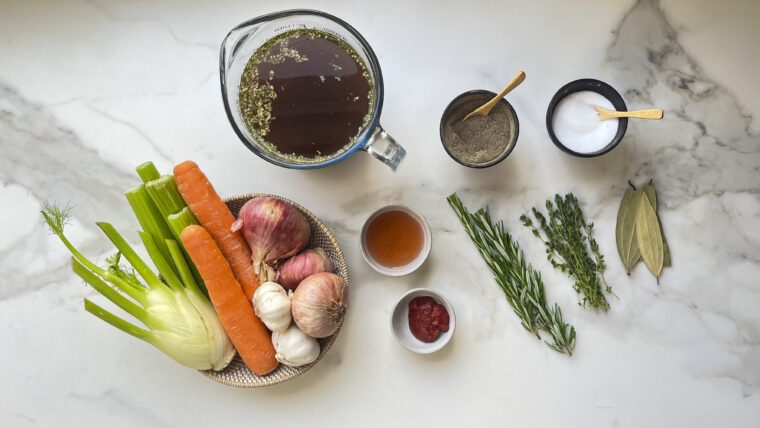 Ensure you brown the short ribs thoroughly during the initial searing step to develop a rich flavor base.
Keep an eye on the consistency of the sauce and adjust by adding more liquid if it becomes too thick.
Present the braised short ribs atop a bed of mashed potatoes, celeriac puree, or your preferred side dish.
Drizzle the rich sauce generously over both the meat and the side dish, allowing it to cascade like culinary poetry.
storage tips
Leftover short ribs can be refrigerated for up to three days or frozen for longer storage. Reheat gently on the stovetop, adding a splash of broth to maintain moisture.
Any extra sauce can also be refrigerated or frozen and repurposed in other dishes like stews or pasta sauces.
Braised Short Ribs
Ingredients
2

kg

beef short ribs

,

bone-in

salt

black pepper

2

tbsp

vegetable oil

2

medium

onion

,

chopped

2

stalks

celery

,

chopped

1

fennel

,

chopped

2

tsp

garlic

,

minced

1

tsp

fennel powder

4

cups

beef broth

¼

cup

tomato paste

2

tbsp

red vinegar

2

bay leaves

2

sprigs

fresh thyme

2

sprigs

fresh rosemary

1

tbsp

all purpose flour

,

optional (for thickening)

fresh parsley

,

chopped (optional garnish)
Instructions
Preheat your oven to 180°C.

Season the short ribs generously with salt and black pepper.

Heat the vegetable oil in a large, oven-safe Dutch oven or heavy-bottomed pot over medium-high heat. Add the short ribs and sear them on all sides until they are browned and have a nice crust. This should take about 4-5 minutes per side. Work in batches if needed to avoid overcrowding the pot. Remove the seared short ribs and set them aside.

In the same pot, add the chopped onion, carrots, celery and fennel. Cook for about 5 to 7 minutes, stirring occasionally, until the vegetables begin to soften.

Add the minced garlic, fennel powder, tomato paste and red vinegar to the pot, and cook for an additional 1-2 minutes, stirring constantly.Return the seared short ribs to the pot. Add the beef broth, bay leaves, thyme, and rosemary. Make sure the liquid covers the short ribs, adding more broth if needed. Bring the mixture to a simmer.

Cover the Dutch oven with a lid and transfer it to the preheated oven. Braise the short ribs for about 2.5 to 3hours, or until the meat is tender and easily pulls away from the bone.

Once the short ribs are done, carefully remove them from the pot and set them aside on a serving platter. Strain the cooking liquid into a bowl, then return the strained liquid to the pot. Bring to a boil and reduce heat to a medium and allow to simmer for about 30 minutes until the liquid has reduced by half. Return the cooked short ribs so they are evenly coated by the sauce.

Serve the braised short ribs over mashed potatoes, celeriac puree or any side of your choice. Spoon some of the rich sauce over the top, and garnish with chopped fresh parsley if desired.
Enjoy your delicious braised short ribs! They should be tender, flavorful, and perfect for a hearty meal.
Get new recipes, meal planners, and creative entertaining ideas