Baghali Ghatoog, or Broad Beans with Dill, is a traditional Iranian dish that has been enjoyed for centuries. It's a simple yet flavourful vegan meal made with basic ingredients and plenty of herbs. This delicious recipe can be served as an appetizer, side dish, or main course.
It all starts by sautéing the onion in oil until golden brown before adding the broad beans and plenty of dills. The beans should cook slowly over low heat until they become tender and fragrant. To finish off the dish, drizzle some oil over top to give it a nice shine while adding a bit of zesty flavor. Serve warm with steamed rice or crusty bread for an unforgettable experience.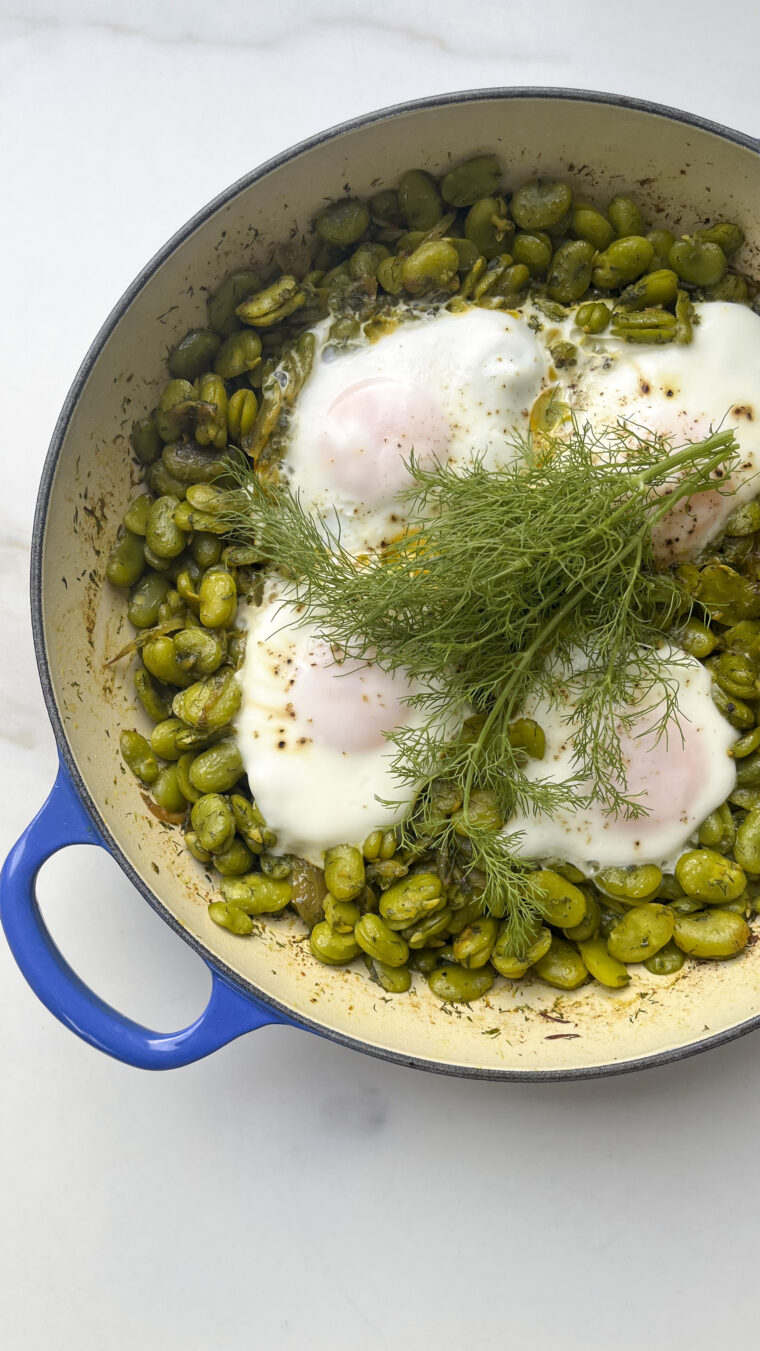 Basic Ingredients for Broad Beans with Dill
Butter: Made by churning cream or milk until it thickens into a solid form. The result is a yellowish-white spread that melts easily over warm foods like toast or vegetables. There are many types of butter available on the market, from unsalted and salted varieties to cultured butters made with fermented dairy products. Butter contains about 80% fat and can be used in baking, sauces, sautéing and as an accompaniment to savory dishes.
Broad Beans: Are green legumes that have been enjoyed in cuisines around the world for thousands of years. These beans are characterized by an inedible outer skin and a firm, creamy flesh inside when cooked. The beans have a mild earthy flavor and can be served fresh or dried.
Saffron: Has a distinct flavor that is both earthy and slightly sweet with hints of hay, honey, or grassiness. Its aroma is also quite unique; some describe it as musky with floral undertones. Saffron's color ranges from yellow to deep orange depending on its quality, with higher-grade saffron having a more intense hue and aroma profile.
Eggs: Are a nutritious food option that has been enjoyed for centuries. A versatile ingredient, eggs can be cooked in a variety of ways and added to many different dishes. Their high protein content makes them an ideal choice for breakfast, lunch, dinner, or late-night snacks. Eggs are an excellent source of nutrition packed into one delicious food.
alternative ingredients
Try replacing the broad beans with lima beans for a heartier texture.
Use cilantro instead of dill to give your dish an extra kick of flavor.
Swap out the fresh onions for dried onion flakes, which will give them an extra smoky flavor.
Replace the garlic with roasted garlic cloves for a rich sweetness that pairs perfectly with the other flavors in the dish.
Use kale or spinach to add more nutrition and color to your Baghali Ghatoog.
Serving Tips for Broad Beans with Dill
Serve it as a side dish alongside roasted chicken or grilled fish.
Garnish the platter with fresh parsley leaves or chives for extra flavor and color contrast.
Add some sautéed onions, garlic, tomatoes, bell peppers, or mushrooms to give it more depth of flavor.
Serve with Rice: Broad Beans with Dill pairs perfectly with steamed rice for a complete meal.
Add Herbs: Sprinkle fresh herbs such as parsley or cilantro over the top for additional flavor.
Fresh Veggies: Add in diced tomatoes and cucumber slices for a boost of vitamins and minerals.
storage tips
For the best flavor and texture, store uncooked broad beans in an airtight container in the refrigerator for up to 2 weeks.
For long-term storage of uncooked beans, place them in a sealed bag or container and put them in the freezer. They can be stored for up to 6 months this way.
Cooked broad bean dishes can last up to 4 days when properly stored in an airtight container in the refrigerator.
Refrigerate your cooked broad beans with dill immediately after cooking and store them in an airtight container. This will help keep the food fresh for up to five days.
If you're planning on eating the broad beans with dill later, freezing is an excellent option. Place your cooked dish into freezer bags or containers and freeze for up to 3 months.
When reheating frozen or refrigerated broad beans with dill, be sure not to overheat as this can ruin its flavor and texture.
Broad Beans with Dill (Baghali Ghatoog)
Ingredients
⅓

cup unsalted butter

1

medium red onion, finely sliced

1

tsp

finely minced garlic

1

tsp

turmeric powder

600

g

frozen broad beans, defrosted and peeled

¼

cup fresh dill, finely chopped or ¼ cup dried dill

salt

freshly ground black pepper

Pinch of saffron

½ – ¾

cups water

4

eggs
Instructions
In a medium-sized pan, over medium-high heat, melt butter and saute onions, for 5 to 7 minutes, or until they are golden. Add garlic and turmeric powder and fry until fragrant.

Add the broad beans and fry for about 7 to 8 minutes until the excess liquid has evaporated and the beans have lightly browned. Add the dill and fry until the leaves have wilted. Add water, bring the liquid to a boil, reduce heat, and allow to simmer until the beans have softened. Stir in a pinch of saffron and season with salt and freshly ground black pepper.

Using a spoon create 4 shallow wells in the bean mixture. Crack an egg into each well and cook for 5 minutes, until the eggs are cooked over easy. Season egg with salt and freshly ground black pepper.

Serve with a side of bread,or as more traditionally served with some kateh rice on the side.
Get new recipes, meal planners, and creative entertaining ideas