Mango Kunafa Cups, commonly referred to as a 'HUG in a Cup' by friends, is a sweet and delicious twist on the traditional Middle Eastern dessert.
Kunafa is a traditional Middle Eastern dessert made with a thin noodle-like pastry layered with cheese, clotted cream, or nuts and finally soaked in sugar syrup. These delightful mango kunafa cups are a modern take on of traditional desserts, the kunafa pastry is toasted in the oven to give it a wonderful crispy and crunchy texture and then layered with a creamy filling and fresh mangoes.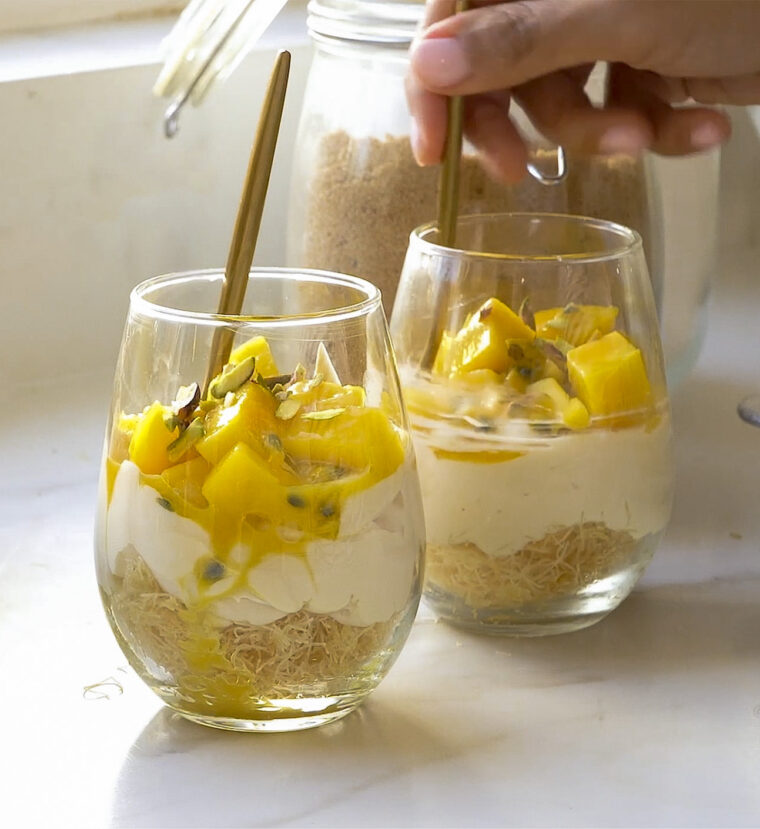 Basic Ingredients for Mango Kunafa Cups
Kunafa Pastry Dough: Kunafa is a traditional Middle Eastern dessert that is made with soft and stretchy pastry dough. It is made from fine vermicelli-like noodles made from semolina flour, sugar, and oil. When heated, the dough becomes soft and stretchy, creating a unique and delicious texture in the finished dessert.
Butter: The melted butter is used to grease the cups and provide a rich, buttery flavor to the pastry.
Cream Cheese: The cream cheese is the base of the filling, adding a rich and tangy flavor. It is important to use full-fat cream cheese for this recipe as it will provide the best texture and flavor.
Whipped Cream: The whipped cream adds lightness and fluffiness to the filling, balancing out the richness of the cream cheese.
Brown Sugar: The brown sugar provides a warm and caramel-like flavor to the filling, complementing the sweet and tangy flavors of the cream cheese and whipped cream.
Icing Sugar: The icing sugar is used to sweeten the filling and create a smooth and silky texture.
Vanilla Extract: The vanilla extract adds a sweet and floral flavor to the filling, tying all of the flavors together.
Mangoes: The mangoes provide a sweet and juicy topping to the Mango Kunafa cups, adding a burst of tropical flavor.
Pistachios: The pistachios add a crunchy texture and nutty flavor to the Mango Kunafa cups, making them even more delicious.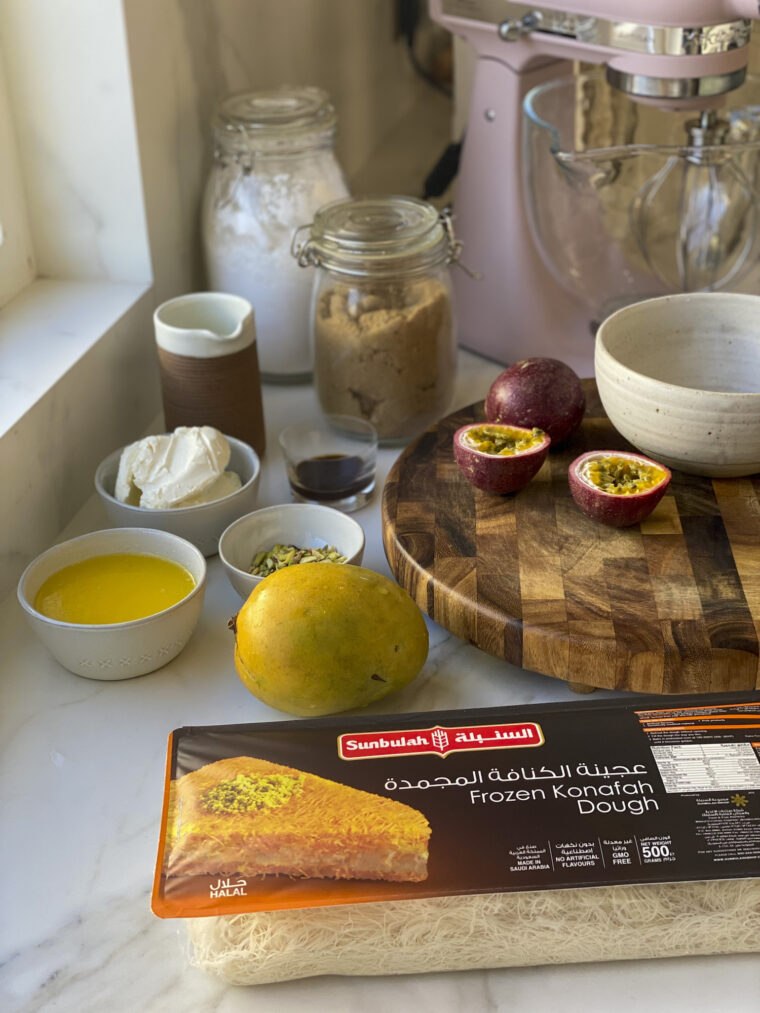 alternative ingredients
Kunafa pastry: Of course, to make a traditional Arabic dessert, you will need the traditional ingredients, but sometimes this is not possible. You could use thawed phyllo pastry which you then cut into really fine strips.
Butter: The butter makes the pastry rich and crispy but you can use a plant-based butter which most supermarkets carry. You can also use shortening as a butter substitute.
Cream Cheese: Cream cheese has a great tart flavor that works so well with the sweet mango. If you need to replace the cream cheese there are a few alternatives. Ricotta and mascarpone are delicious cheese alternatives, for vegan or lactose-free try cashew cream cheese or pureed silken tofu.
Whipped Cream: It makes the cream cheese light and delicious, you can use a lactose-free version like coconut cream as an alternative. Coconut cream does have a mild nutty flavour for a tropical feel.
Brown Sugar: The toffee taste of brown sugar can be recreated by adding some molasses to white sugar, or by using coconut sugar.
Icing Sugar: I would not suggest an alternative for icing sugar. Icing sugar dissolves quickly creating a smooth finish, granulated sugar will not dissolve as well and will affect the texture.
Vanilla Extract: Used to create a depth of flavour in your dessert. If you do not have it, leave it out or add in the honey.
Mango: The mango is the star of this recipe, but if you prefer you can use peach or apricot for a sweet-tart taste like mango. Add Passionfruit to your mango mixture for an extra tart kick.
Pistachios: The color of the pistachio makes it especially nice in this dish but you can use cashews or pine nuts as an alternative.
Serving tips for Mango Kunafa Cups
It is best to serve this dish cold as the filling will have a firmer texture and the flavours will be more pronounced. Serve them as a dessert after a meal or as a sweet snack during the day. To make the presentation even more unique, you can sprinkle some extra pistachios on top and serve with a drizzle of honey.
Serve in single-serving glass bowls for a home feel. Serve in mason jars for a boho chic look or in cocktail glasses for a more elevated look.
Garnish with pistachio and mango before serving.
Prepare the different components in advance, and assemble them before serving.
storage tips
Mango Kunafa cups can be stored in the refrigerator for up to 2-3 days.
Unassembled these tasty treats will last longer in airtight containers. Store the cream mixture in an airtight container and keeps in the fridge for up to three days. Store the fruit mixture in an airtight container, keep for up to three days.
To keep the pastry dough from drying out, it is best to store them in an airtight container. If the pastry becomes soft, you can heat it in the oven for a few minutes to crisp it up again.
Mango Kunafa Cups
Ingredients
PASTRY
250

g

kunafa pastry dough

1

cup

butter, melted
FILLING
2

cups

cream cheese

1

cup

whipped cream

1/4

cup

brown sugar

1/3

cup

icing sugar

1

tsp

vanilla extract
GARNISH
2

ripe mangoes, cut into small cubes

1/3

cup

pistachio, cut into slivers
Instructions
Melt the butter in a microwave proof bowl.

Preheat oven to 180° C. In a large bowl, gently loosen the kunafa pastry dough, cut with scissors and mix well with the melted butter. Evenly spread the kunafa mixture on the base of a baking sheet and lightly press down. Bake for 15–20 minutes until the surface has a light golden color. Allow the kunafa to cool.

Prepare the filling while the kunafa cools. Whisk together cream cheese, vanilla extract and brown sugar on a medium speed until the mixture is smooth and creamy. Next, add the sifted powdered sugar and whipped cream. Mix on high-speed until moderately stiff peaks are formed. Cool for a minimum of 30 minutes in the refrigerator.

Assemble the dessert in your serving cups. Start with a base layer of cooled kunafa, followed by a layer of the creamed filling then some chopped mango. Repeat with kunafa, cream filling and mango, top with pistachio slivers.
Get new recipes, meal planners, and creative entertaining ideas