Oh, how I love Date Bars! These delectable treats are the perfect combination of sweet and chewy, with just the right amount of crunch. They're made with wholesome ingredients like dates and oats, making them a healthier option for a snack or dessert.
One bite of a Date Bar is enough to transport you to a world of pure indulgence. The dates give them a natural sweetness, s and oats provide a satisfying texture that is both crunchy and chewy at the same time.
Date Bars are that they're easy to make at home. With a few simple ingredients and a little time, you can whip up a batch of these delicious treats that will last you for days.
Not only are Date Bars delicious, but they're also good for you and easy to make at home. With a few simple ingredients and a little time, you can whip up a batch of these delicious treats that will last you for days.
So whether you're looking for a sweet treat to satisfy your cravings or a healthy snack to fuel your day, Date Bars are a perfect choice. Try making them at home and see how delicious and helpful they can be!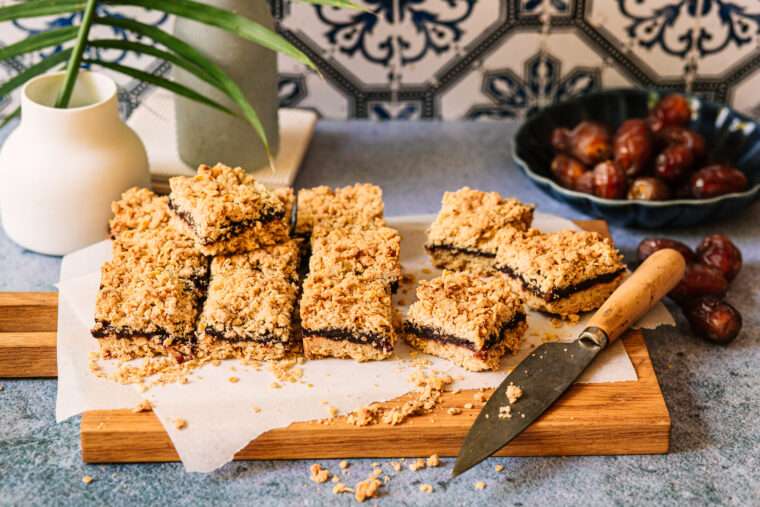 Basic Ingredients for Date Bars
Whole Pitted Medjool Dates: These are the star ingredient of the filling in this recipe. They are naturally sweet and have a soft, chewy texture that pairs perfectly with the crumbly oat topping. Medjool dates are larger and more delicate than other varieties, which makes them easier to work with in this recipe. You can use regular pitted dates if you don't have Medjool dates.
Water: The water is used to help soften the dates and create a smooth filling. You can also use apple or fruit juice to add flavour to the filling.
Baking Soda: The baking soda helps to break down the dates and create a smoother texture in the filling.
Ground Cinnamon: Cinnamon adds a warm, comforting flavour to the filling.
Rolled Oats: Rolled oats are used to make the crumbly base and topping for the date bars. They are a good source of fibre and add a chewy texture to the bars.
All-purpose Flour: Flour helps to bind the oat mixture together and creates a sturdy base for the bars.
Brown Sugar: Brown sugar adds sweetness and a caramel-like flavour to the oat mixture.
Salt: Salt balances out the sweetness in the oat mixture and enhances the flavours.
Butter: Butter binds the oat mixture together and creates a crumbly texture. You can use vegan butter or coconut oil as a substitute.
Be sure to cut the dates into large chunks before cooking them with water and baking soda. This will help them break down more easily and create a smoother filling.
Use a food processor or blender to pulse the oat mixture together until it forms a crumbly texture.
Be sure to press the oat mixture firmly into the pan before adding the date filling to ensure that it holds together well.
Cut the bars into squares and serve them as a dessert or snack.
Top with a dollop of whipped cream or a scoop of ice cream for an extra special treat.
Serve with a cup of coffee or tea for a cosy afternoon snack.
Date Bars
Ingredients
Date filling
2½

cups whole pitted Medjool dates, cut into largechunks

1

cup water

½

tsp

baking soda

½

tsp

ground cinnamon
Crumb base and topping
2⅓

cups rolled oats

1

cup all-purpose flour

½

cup brown sugar

1½

tsp

ground cinnamon

½

tsp

salt

1

cup butter
Instructions
Preheat oven to 180 degrees Celsius. Lightlygrease a 9-inch square pan and line the bottom and sides with parchment paper.

Add the dates, water, cinnamon powder and bakingsoda to a medium-sized saucepan and boil. Reduce heat and let simmer for 7-8minutes or until the dates have softened. Mash the dates with the spatula untilthe liquid is fully absorbed and the dates and a soft consistency.

Whisk together the oats, all-purpose flour,brown sugar, cinnamon powder, and salt in a large bowl. In a small saucepan, melt butter, add it tothe dry ingredients, and stir until crumbly.

Press a little over half of the crumbled mixtureinto the bottom of the prepared pan. Spread on warm date filling over the base, sprinkle the remainingcrumble mixture, and press it lightly into the filling.

Bake for approximately 40 minutes or until thetop is golden brown. Let cool entirely on a wire rack.

Using the edges of the parchment paper, lift thedate squares out of the pan and cut them into 16 pieces.
Get new recipes, meal planners, and creative entertaining ideas