If you're looking for a delicious and healthy soup packed with flavour and nutrition, look no further than chicken freekeh soup! This hearty and satisfying soup is made with freekeh, a nutritious whole grain high in fibre and protein, tender chunks of chicken, and a flavorful broth.
To make chicken freekeh soup, you'll need a few key ingredients. These include freekeh, chicken broth, boneless chicken breasts and a blend of spices. The freekeh is cooked in broth, and shredded chicken is added, infusing the soup with a rich and comforting flavour.
Chicken freekeh soup is delicious and incredibly nutritious; it is high in fibre and protein. There are also many ways to elevate this recipe to suit your tastes. You can add additional vegetables such as spinach or kale for added nutrition, or you can prepare it with beef or lamb
To serve chicken freekeh soup, ladle it into bowls and top with a sprinkle of fresh parsley and a squeeze of lemon juice.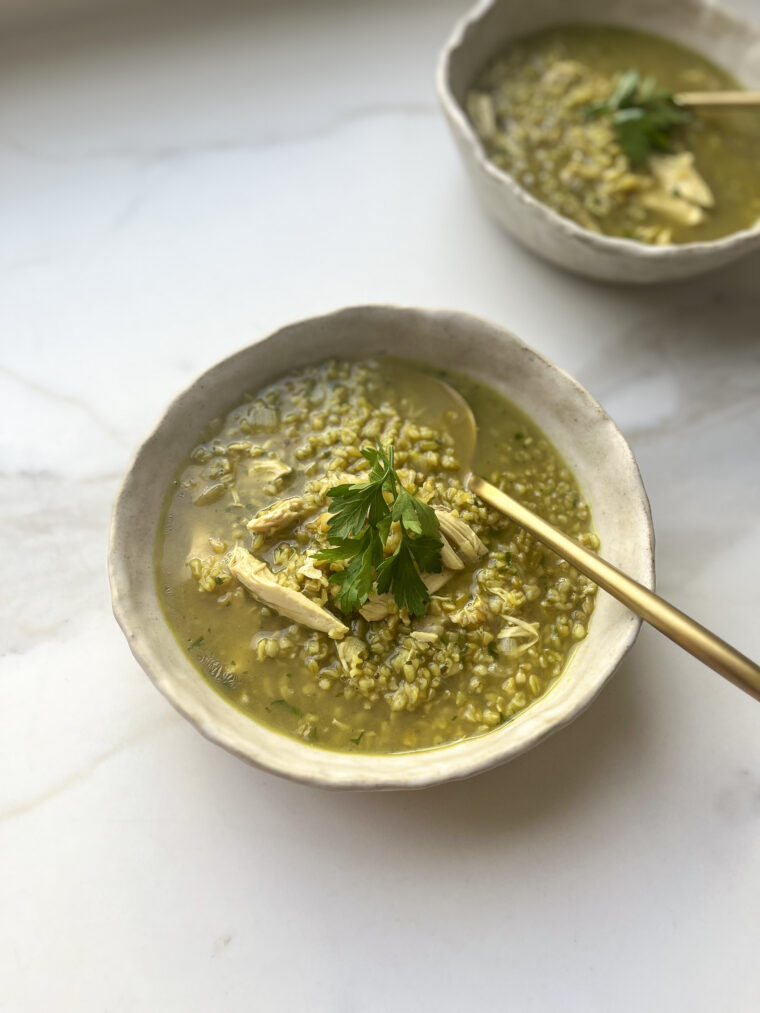 Basic Ingredients for Freekeh Chicken Soup
Whole Chicken: The main ingredient of the soup, providing a rich flavour and tender meat to the dish.
Red Onions, Carrots, and Celery: These vegetables add a sweet and savoury flavour and are rich in nutrients.
Coriander Leaves: Adds freshness and a herbaceous flavour to the soup.
Garlic: Adds a pungent and savoury flavour to the soup.
Turmeric Powder: A spice that provides a warm and earthy flavour and is known for its anti-inflammatory properties.
Coriander Seeds: Adds a fragrant and aromatic flavour to the soup.
Cardamom Pods: Provide a slightly sweet and floral flavour to the soup.
Bay Leaves and Black Peppercorns: Add a complex and aromatic flavour to the soup.
Freekeh: A nutritious whole grain high in fibre and protein and provides a nutty flavour and chewy texture to the soup.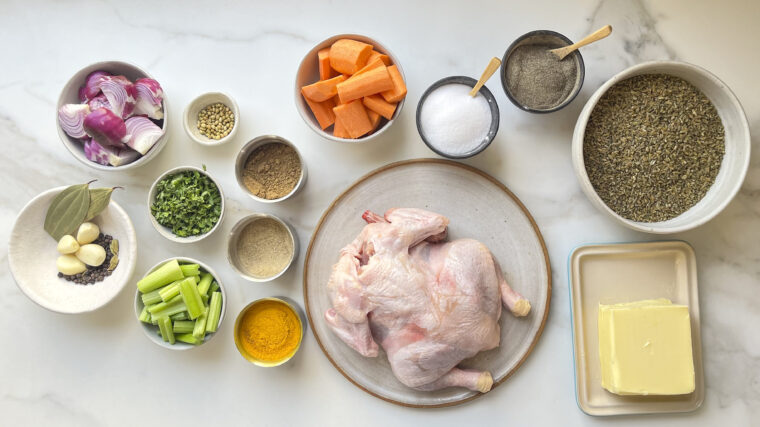 alternative ingredients
Instead of chicken, you can prepare this soup with either beef or lamb.
Parsnips or turnips can be used instead of carrots.
Cilantro can be used instead of coriander leaves.
Quinoa or brown rice can be used instead of freekeh.
Ghee or olive oil can be used instead of butter.
Preparation Tips for Freekeh Chicken Soup
Soak the freekeh in water for at least 30 minutes before cooking to reduce cooking time.
Saute the onions in the butter until they're softened and lightly browned before adding the spices to the soup for a deeper flavour.
Adjust the seasoning to taste before serving.
Serving Tips for Freekah Chicken Soup
Serve the soup hot with a slice of crusty bread or a side salad.
Garnish with additional coriander leaves or a dollop of yoghurt for added freshness.
storage tips
Store any leftover soup in an airtight container in the refrigerator for up to four days or freeze for up to three months.
Reheat the soup gently on the stovetop or in the microwave before serving.
Freekah Chicken Soup
Ingredients
1

kg

whole chicken, washed

2

large red onions,peeled and cut into large chunks

2

large carrots, peeled and cutinto large chunks

2

celery stalks, peeled and cutinto large chunks

Handfulcoriander leaves

4

garlic cloves

2

tsp

turmeric powder

1

tsp

coriander seeds

3-4

cardamon pods

2

bay leaves

1

tsp

black peppercorns

2

tsp

salt

3

litres cold water
Soup :
2

onions, diced

2

cups freekeh, soaked

½

tsp

black pepper

1

tsp

turmeric powder

2

tsp

corianderpowder

¼

tsp

ground cardamom

salt to taste

1

tbsp

butter
Instructions
Preheat the oven to 230 degreesCelsius. Season the whole chicken with salt and pepper. Place it in a cast iron pot and let it brown for 20 minutes. Remove the pot from the oven and place it on the stovetop. Add vegetables, spices, aromatics, and water into the pot. Bring to a boil over high heat. Skim any foam that rises to the top, lower the heat and let it simmer for 1-2 hours, longer for a richer flavour – add more water as the liquid reduces. Once the stock is ready, strain the liquid into a clean container, discard the aromatics and vegetables, and reserve the chicken. Shred the chicken and set it aside.

Clean the freekeh by sifting the grains on a tray with your fingers several times, removing any small stones or rubble. Wash the freekeh several times and soak it in warm water for half an hour before cooking.

Add the butter, olive oil, and onions to a large pot. On medium heat, saute until the onions turn golden brown.

Drain the freekeh and saute for a couple of minutes. Add black pepper, turmeric, 7 spice, ground cardamom, and chicken broth. Bring the liquid to a boil on high heat, then reduce the temperature and allow it to simmer for 20 to 30 minutes. Add the shredded chicken and let it simmer for 5 minutes. Adjust the seasoning and add more chicken broth if necessary.

Serve with lemon slices on the side.
Get new recipes, meal planners, and creative entertaining ideas