Kookoo Sabzi is a delicious mixed herb frittata that is commonly served during Nowruz, the Persian New Year, as a way to welcome spring. This dish is a staple of the holiday table and is usually served alongside Sabzi polo, a fragrant and herb-infused rice dish, and Fried Fish.
The combination of fresh herbs like parsley, coriander, dill, and chives, along with eggs and other ingredients, gives Kookoo Sabzi a unique taste and aroma that is sure to impress your taste buds. To take it up a notch, you can also add barberries and walnuts to give it an extra layer of flavour and texture.
I traditionally prepare it as a large frittata, but I also like to mix things up by baking them into small bite-size bites in a mini cupcake tray. These mini frittatas are perfect for serving as part of a grazing board with mixed herbs, delicious dip, and bread, making them ideal for parties or gatherings.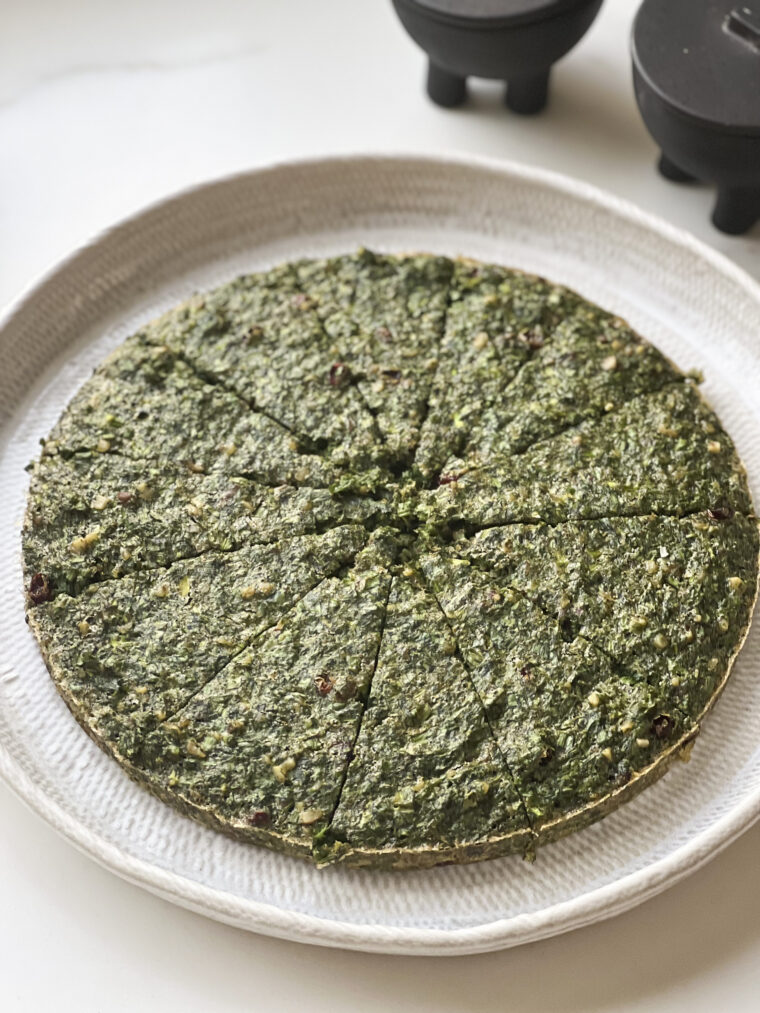 Basic Ingredients for Kookoo Sabzi
Herbs: Sabzi kookoo is a mixture of herbs including coriander, garlic, chives, parsley, as well as dill. This meal may be prepared according to its original recipe using either frozen or fresh herbs. However, there are occasions when fresh herbs cannot be found. In these circumstances, you may also utilize the herbs in their dried form.
Eggs: Eggs provide structure to the dish and bind the ingredients together.
Flour: Used as a binder and to thicken the mixture.
Barberries (Zereshk): Optional ingredient that adds a tart and tangy flavor to the dish.
Walnuts: Optional ingredient that adds a nutty flavor and crunch to the dish. Walnuts are a good source of omega-3 fatty acids and antioxidants.
alternative ingredients
If you are unable to find some of fresh herbs, you can use dried herbs instead. Simply use 1/3 of the number of dried herbs as you would use fresh. For example, if a recipe calls for 1 cup of fresh herbs, you can use 1/3 cup of dried herbs. You can also use different combinations of herbs to suit your taste.
Preparation Tips for Kookoo Sabzi
Make sure to chop the herbs finely to ensure that they are evenly distributed in the frittata.
To prevent the frittata from sticking to the pan, use a non-stick pan or a well-seasoned cast-iron skillet.
If you are adding barberries or walnuts, make sure to mix them in with the herb mixture before adding the eggs.
Serving Tips
Kookoo Sabzi can be served hot, warm or at room temperature.
Serve with Kookoo Sabzi with lavash, taftoon or a crusted bread, with a side of your favourite dip and mixed herbs. We recommend beetroot borani or courgette borani.
Preprepare them in mini-cupcake size and serve them as part of a grazing board.
Kuku sabzi may be served with sabzi polo. Kookoo Sabzi goes well with Sabzi Polo b Maahi.
storage tips
Kookoo Sabzi can be stored in an airtight container in the refrigerator for up to 3 days. It can be reheated in the oven or microwave.
Kookoo Sabzi
Ingredients
1

cups parsley, finely chopped

1

cups fresh coriander, finely chopped

½

cup green onion, finely chopped

½

cup chives

½

cup dill

4

eggs

2

tbsp

flour

1

tbsp

barberries (Zereshk) – (Optional)

3

tbsp

walnut, roughly chopped (Optional)

½

tsp

salt

½

tsp

pepper

2

tbsp

olive oil

2

tbsp

vegetable oil
Instructions
In a large mixing bowl, whisk the eggs until well beaten. Then add parsley, coriander, green onions,chives, dill, flour, barberries, walnuts, olive oil,salt and black pepper powder, and mix well until fully combined.

Pour the batter into a greased ovenproof skillet or cakepan, and bake for 45 minutes.

Remove from oven and set aside to cool. Cut into small pieces and serve with Sabzi Polo and fish. We recommend you try it with baked salmon or pan fried sea bream with a delicious saffron lemon butter sauce.
Get new recipes, meal planners, and creative entertaining ideas