Persian Sabzi Polo Recipe (Green Herb Rice)
Sabzi Polo is a beloved and traditional Persian dish made with basmati rice and mixed herbs that is often served on special occasions. This fragrant and flavorful rice dish has a rich cultural significance in Persian cuisine and is typically served alongside a variety of main dishes.
One of the most popular ways to serve Sabzi Polo is with fish during Nowruz, the Persian New Year, which occurs on the first day of spring. Fish is a symbolic dish during Nowruz, representing life and the beginning of a new year. The herb mixture in Sabzi Polo also has symbolic significance during this time, as it represents the arrival of spring and the renewal of nature.
The herbs used in Sabzi Polo, such as parsley, coriander, chives, and dill, are commonly found in the spring and have a fresh and fragrant quality that adds depth and complexity to the dish. They also provide a range of health benefits, including being high in antioxidants and anti-inflammatory properties, making Sabzi Polo not only delicious but nutritious as well.
Overall, Sabzi Polo is a quintessential Persian dish that holds deep cultural significance and is typically served on special occasions. During Nowruz, it is often served with fish, representing new beginnings and the renewal of life, while the herbs in the dish symbolize the arrival of spring and the renewal of nature.
Basic Ingredients for Sabzi Polo
Basmati Rice: Is a type of long-grain rice known for its distinct nutty flavour, fluffy texture, and aroma. It is commonly used in Persian and Indian cuisine and is a staple in many households.
Mixed Herbs: A combination of fresh herbs, including parsley, coriander, chives, and dill. These herbs provide a fragrant and aromatic quality to the dish and also offer a range of health benefits.
Garlic: A pungent herb with a distinct flavour that is commonly used in cooking. It adds depth and richness to the dish and is known for its antibacterial properties.
Saffron Powder: A spice derived from the saffron crocus flower that adds a distinct flavour and a beautiful golden colour to the dish. It is one of the most expensive spices in the world and is highly prized in Persian cuisine for its unique flavour and aroma.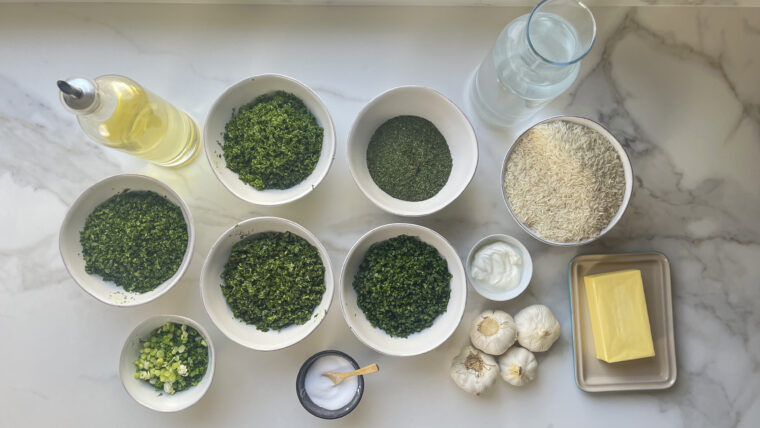 Serving tips
Traditionally served with fish during the Persian New Year celebration known as Nowruz. Grilled, fried or baked fish are all popular options to accompany the flavorful and fragrant rice.
Alongside the rice, kookoo sabzi is often served – a delectable herb frittata prepared with fresh herbs, eggs, and a variety of spices. This combination of Sabzi Polo and kookoo sabzi creates a mouthwatering and satisfying meal that is cherished by many during this festive occasion.
storage tips
Store leftover Sabzi Polo in an airtight container in the refrigerator. It can be stored for up to 3-4 days.
To reheat Sabzi Polo, sprinkle a little bit of water over the rice, cover it with a lid or damp paper towel, and microwave for a few minutes until heated through. Alternatively, you can heat it in a pan with a little bit of oil or butter.
If you want to freeze Sabzi Polo, allow it to cool completely before placing it in an airtight container or freezer bag. It can be stored in the freezer for up to 2-3 months.
When reheating frozen Sabzi Polo, allow it to thaw completely in the refrigerator overnight before reheating.
Sabzi Polo
Ingredients
3

cups basmati rice

6

cups cold water

salt

1½

cups fresh coriander, finely chopped

1½

cups fresh parsley, finely chopped

1½

cups fresh chives, finely chopped

1½

cups fresh dill, finely chopped

½

cup fresh green onions, finely chopped

6

garlic cloves, halved

vegetable oil

¼

cup+ 3 tbsp butter

¼

cup yogurt

a pinch of ground saffron

1

cup dried dill

2

pcs

potato
Instructions
Wash and rinse the rice with cold water until the water runs clear. Soak the rice in 6 cups of cold water, add 4 tablespoons of salt, and set aside for a couple of hours. Drain but don't rinse the rice. Make sure that you don't use your hand or a utensil during this process, as basmati rice is very delicate and can easily break.

In a large bowl, mix all the fresh herbs and garlic together, and keep aside.

Ina large non-stick pot, add 6–8 cups of water and 2 tablespoons of vegetable oil and bring to a boil. Add the drained rice and cook for about 7 minutes until the rice is parboiled or al dente—the grain needs to be soft from the outside and firm in the centre. Drain and rinse the rice in cold water.

Wash and dry the pot. On medium–high heat, melt ¼ cup of butter; then arrange the potato slices in a single circular layer and fry on high heat for a couple of minutes.

Then add one-third of the parboiled rice to create the first layer; top that with half of the fresh herb mixture and dried dill. Repeat with another layer of the parboiled rice and the remaining fresh herb mixture and dried dill. Cover this with the remaining parboiled rice. Make three holes in the layers of the rice with the handle of a spatula or wooden spoon.

In a small cup, mix half a cup of hot water with 3 tablespoons of butter and a pinch of saffron, and sprinkle the mixture over the rice dish. Once the rice starts to steam, wrap the pot lid with a kitchen towel, lower the heat, and cook for about 45–50 minutes. The towel absorbs the excess condensed liquid and allows the rice to become fluffy.

Serve with baked salmon and kookoo sabzi. Don't forget to reserve the crispy rice crust (tahdig) on the side and serve—this is usually to the most fought-after element of the traditional Iranian rice dish.
Get new recipes, meal planners, and creative entertaining ideas