There is nothing quite like a warm bowl of pumpkin soup. The creamy, velvety texture of the soup combined with the earthy sweetness of the pumpkin is simply comforting.
I love to make a pot of delicious butternut squash soup. First I roast pumpkin to give my soup a wonderful nutty flavour, add green apples to further develop the sweet flavour of the soup and finally break the sweetness with a generous amount freshly ground black pepper and a squeeze of lemon juice
As you take another spoonful, the warmth spreads through your body, bringing a feeling of contentment and satisfaction. The subtle hints of flavour from the apples make it the perfect blend of sweet and savory.
The pumpkin soup is not only delicious, but it's also incredibly healthy. Packed with vitamins and minerals, it's a great way to get in your daily dose of nutrients while indulging in a hearty and comforting meal.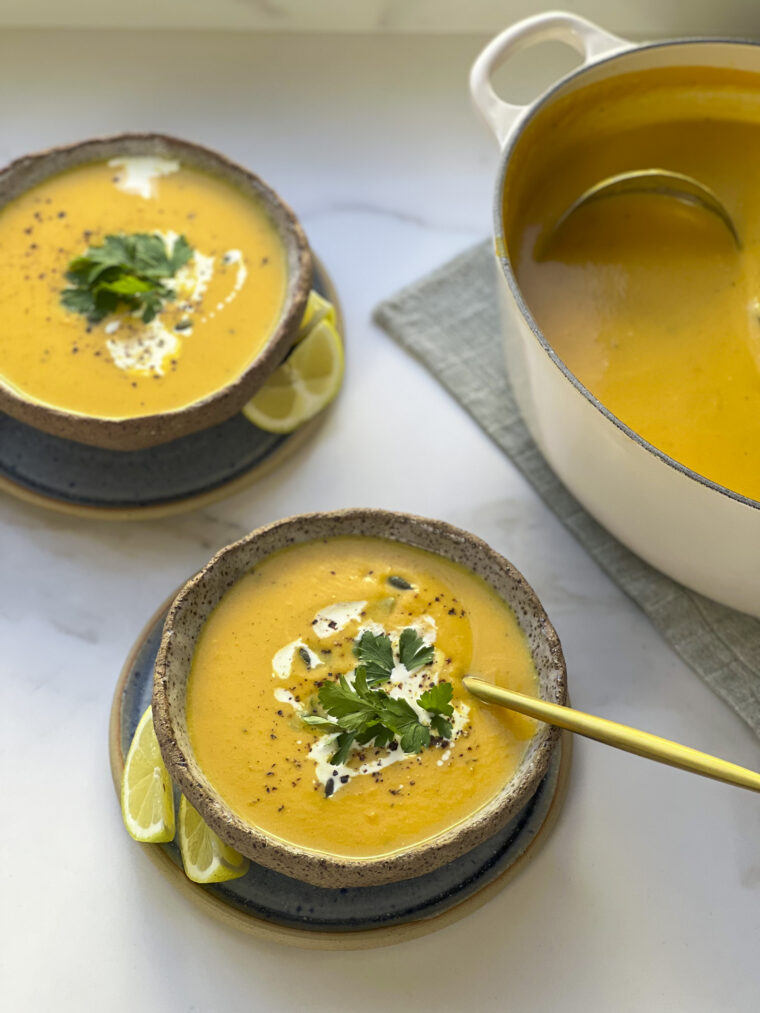 Basic Ingredients for Pumpkin Soup
Pumpkin or Butternut Squash: This is the primary ingredient in the soup and gives it its characteristic creamy and slightly sweet flavour. The pumpkin or squash is typically cubed and then cooked until soft before being pureed into a soup.
Onions: Onions are a staple ingredient in many soups and add depth and flavour to the dish. Chopped onions are sautéed in olive oil until softened before being added to the soup.
Green Apple: Adding chopped green apple to the soup provides a tart and slightly sweet flavour that complements the pumpkin or squash. It also adds a nice texture to the soup when pureed.
Carrots: Chopped carrots add a subtle sweetness to the soup and also provide some additional nutrients like vitamin A.
Olive Oil: Olive oil is used to sauté the onions and carrots before adding them to the soup. It also adds a mild flavour to the dish.
Chicken Stock: Chicken stock is used as the base for the soup and adds a savoury and rich flavour to the dish. You can use homemade chicken stock or store-bought.
Salt and Pepper: Salt and pepper are added to the soup to enhance the flavour and balance out the sweetness from the pumpkin and apple.
Bay Leaf: Adding a bay leaf to the soup while it cooks gives it a subtle herbal flavour that complements the other ingredients.
Lemon Juice: Adding lemon juice to the soup at the end of cooking brightens up the flavours and adds a tangy note.
Coriander Powder: Coriander powder is a spice that is commonly used in Indian cuisine and adds a warm and slightly citrusy flavour to the soup.
Cooking Cream: Adding cooking cream to the soup at the end of cooking gives it a rich and creamy texture. You can use heavy cream or a lighter option like half-and-half or milk if you prefer.
alternative ingredients
Sweet Potato: Instead of pumpkin or butternut squash, you can use sweet potato as the main ingredient in the soup. Sweet potato has a similar creamy texture and sweet flavour that pairs well with the other ingredients in the soup.
Leeks: Instead of onions, you can use leeks to add a slightly milder and sweeter onion flavour to the soup.
Pear: Instead of green apple, you can use chopped pear to add a similar tart and slightly sweet flavour to the soup.
Parsnips: Instead of carrots, you can use chopped parsnips to add a slightly nutty and sweet flavour to the soup.
Vegetable Stock: Instead of chicken stock, you can use vegetable stock to make the soup vegetarian or vegan-friendly.
Nutmeg: Instead of coriander powder, you can use nutmeg to add a warm and slightly sweet flavour to the soup.
Preparation Tips for Pumpkin Soup
Start by prepping all of your ingredients before you begin cooking. Cube the pumpkin or squash, chop the onions, green apple, and carrots, and measure out all of the other ingredients. This will make the cooking process smoother and more efficient.
Sauté the onions and carrots in olive oil until they are softened and lightly browned. This will enhance their flavor and add depth to the soup.
Add the chopped green apple and cubed pumpkin or squash to the pot and cook until they are tender. This will take around 20-30 minutes depending on the size of the cubes.
Once the vegetables are tender, add the chicken or vegetable stock, bay leaf, salt, and pepper to the pot. Bring the soup to a boil, then reduce the heat and let it simmer for around 15-20 minutes to allow the flavors to develop.
Remove the bay leaf from the soup and puree it until it is smooth and creamy. You can use an immersion blender or transfer the soup to a blender in batches.
Return the soup to the pot and stir in the lemon juice, coriander powder, and cooking cream. Heat the soup until it is hot but not boiling, then taste and adjust the seasoning as needed.
Serve the soup hot with your favorite garnishes, such as croutons, chopped herbs, or a drizzle of olive oil.
Serving Tips for Pumpkin Soup
Top with garnishes: Serve the soup hot and top it with some garnishes to add extra flavor and texture. Some good options include croutons, chopped herbs like parsley or cilantro, a drizzle of olive oil, or a dollop of sour cream.
Serve with bread: Pumpkin soup pairs well with crusty bread, such as a baguette or sourdough. You can serve the bread on the side or slice it and toast it to make croutons for the soup.
Add a side salad: If you want to make a more substantial meal, you can serve the soup with a side salad. A simple green salad with a vinaigrette dressing or a fruit salad with apples and pears would complement the soup nicely.
Make it a starter: Pumpkin soup is a great option for a dinner party or holiday meal as a starter course. Serve small bowls or cups of soup along with some bread and a salad for a well-rounded meal.
Serve in a Pumpkin: For a fun presentation, you can serve the soup in a small pumpkin that has been hollowed out and roasted in the oven. This will add a festive touch to your meal and make for a memorable dining experience.
storage tips
Let the soup cool to room temperature before storing it in the fridge or freezer.
Transfer the soup to an airtight container or a sealable plastic bag. Be sure to label the container with the date so you can keep track of how long it has been stored.
Store the soup in the fridge for up to 4 days. Reheat it in a saucepan over medium heat, stirring occasionally, until it is heated through.
Store the soup in the freezer for up to 3 months. To thaw, transfer the soup to the fridge and let it thaw overnight. Reheat it in a saucepan over medium heat, stirring occasionally, until it is heated through.
When reheating the soup, you may need to add a bit of extra liquid, such as chicken or vegetable stock, to help thin it out and restore its creamy texture.
It's best to store the soup without the garnishes, such as croutons or fresh herbs, as these can become soggy and lose their texture over time.
Pumpkin Soup
Ingredients
1

kg

pumpkin or butternut squash, cubed

4

medium Onions, chopped

1

Large Green Apple, chopped

2

Medium Carrots, chopped

2

tsp

Olive Oil

6-8

cups of Chicken Stock

salt

Pepper

Bay Leaf

1

Lemon, juiced

2

tsp

Coriander powder

¼

cup Cooking Cream
Instructions
Pre-heat oven to 200 degrees Celsius.  Place butternut squash in a large baking sheet, drizzle with olive oil and season with salt and pepper, and roast in oven for twenty minutes. 

In a medium size pot, sauté onions, apples and carrots with olive oil until they have caramelized. Add roasted pumpkins and chicken stock, leave to simmer in medium heat for about 15 minutes, until all the ingredient have softened.

Purée  mixture with the hand blender.

Pour the mixture back into the pot, add bay leaf, cooking cream, coriander powder and season with salt and pepper; leave to simmer for 5 more minutes. The cooking cream gives the soup a delicious creamy flavour, but you can also opt to skip this ingredients altogether and you can rest assured that the flavours will still be delicious.

Serve in a bowl with a drizzle of cooking cream and garnish with parsley.
Get new recipes, meal planners, and creative entertaining ideas