Easy to make Summer Purslane and Tomato Salad
Purslane and Tomato Salad is an enticing Middle Eastern culinary gem that's known for its superb flavour profile, health benefits, and irresistible appeal. It's a salad that I often find myself preparing when I'm serving seafood or lamb, but it also shines brightly as a standalone light meal. Bursting with the crispness of fresh purslane leaves, the sweetness of cherry tomatoes, the tartness of lemon juice, and the unique tanginess of sumac, this salad is as refreshing as it is flavourful.
This Purslane and Tomato Salad is not just a feast for the palate but also a feast for the eyes with its colourful ingredients and tantalising dressing. It's a wonderful way to incorporate this nutritious green into your diet, and it's versatile enough to accompany a variety of main dishes.
Basic Ingredients for Purslane and Tomato Salad
Purslane: Purslane is a leafy green vegetable that is rich in Omega-3 fatty acids, antioxidants, and vitamins. Its slightly sour and salty taste pairs well with the sweetness of tomatoes and the tanginess of lemon juice.
Cherry Tomatoes: These add a sweet, juicy element to the salad, complementing the tartness of the purslane and lemon juice.
Red Onion: Red onions provide a sharp yet sweet flavour, and their vibrant colour adds visual appeal to the salad.
Lemon Juice: Fresh lemon juice adds a refreshing tartness that balances out the sweetness of the tomatoes and the richness of the olive oil.
Olive Oil: This is used as a base for the dressing, lending a fruity and slightly bitter taste.
Ground Sumac: A common spice in Middle Eastern cuisine, sumac has a tangy, lemony flavour that enhances the overall taste of the salad.
Pink Salt & Black Pepper: These basic seasonings bring out the flavours of the other ingredients.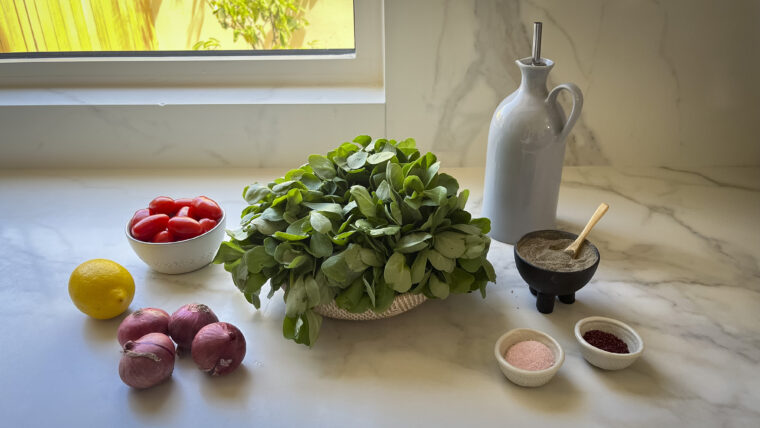 Ensure that the purslane and tomatoes are washed thoroughly and dried before chopping to prevent diluting the dressing.
If you find the taste of raw onion to be too strong, soak the sliced onions in cold water for about 10 minutes before using them. This will mellow their flavor.
This salad is best served immediately after it's made to enjoy the freshness of the ingredients.
It can be served alongside grilled meats, seafood, or as a stand-alone light meal.
storage tips
If you need to store the salad, it's best to keep the dressing and the salad ingredients separate. The dressed salad will become soggy if it's stored for too long.
Store the salad ingredients in an airtight container in the refrigerator. The dressing can be stored separately in a jar. When you're ready to serve, just toss the salad with the dressing.
For optimal freshness, consume the salad within 1-2 days.
Purslane and Tomato Salad
Ingredients
1

small

red onion

,

finely sliced

¼

cup

olive oil

1

tsp

ground sumac

pink salt

,

to taste

3-4

cups

fresh purslane leaves

,

roughly chopped with stem

1

cup

cherry tomatoes

,

halved

1

lemon

,

juiced

freshly ground black pepper

,

to taste
Instructions
In a medium-sized bowl, combine the onions, olive oil, ground sumac, and pink salt. Once they're mixed, cover the bowl with cling film and let it sit for about 10 minutes. This allows the flavours to mingle and intensify.

After 10 minutes, uncover the bowl and add the purslane leaves, cherry tomatoes, and lemon juice. Season with black pepper to taste. Toss all the ingredients together until they're well coated with the dressing.

Serve the salad immediately and enjoy a vibrant, nutritious, and delicious meal that is sure to impress with its bold flavours and beautiful presentation.
Get new recipes, meal planners, and creative entertaining ideas