Growing up, the delightful aroma and taste of Qamaradeen juice were always synonymous with the holy month of Ramadan. This traditional beverage, a true family favourite, has a special place in my heart as it reminds me of the cherished moments spent with my loved ones, breaking our fasts together. Made with apricot paste and infused with a hint of orange blossom water, this sweet and refreshing drink is the perfect way to end a day of fasting. Over the years, I've come to appreciate the unique flavour and soothing properties of Qamaradeen juice even more. Today, I am excited to share this treasured family recipe with you so that you can create beautiful memories and enjoy this delicious Ramadan favourite with your family and friends.
Basic Ingredients for Qamaradeen Juice
Qamaradeen Paste: Made from dried apricots, this paste is the main component of the juice, giving it its distinct apricot flavour and a rich, slightly thick consistency.
Sugar: Adds sweetness to the juice, balancing the tartness of the apricots.
Boiling Water: Helps dissolve the apricot paste and sugar, creating a smooth liquid base.
Orange blossom water: Optional ingredient that enhances the flavour of the juice with a floral note.
Lemon Juice: Adds a touch of acidity to the juice, bringing out the apricot flavour.
Pine Nuts: A garnish that adds texture and a subtle nutty flavour to the drink.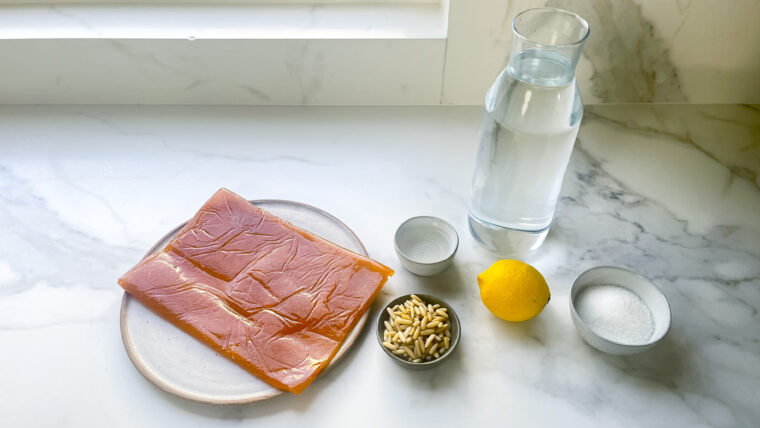 Be patient while soaking the Qamaradeen paste, giving it enough time to dissolve completely.
Use a blender to ensure a smooth texture and proper incorporation of all ingredients.
Chill the juice in the refrigerator before serving, as it is best enjoyed cold.
Pour the juice into decorative glasses, and sprinkle with pine nuts for an elegant presentation.
storage tips
Store the prepared Qamaradeen juice in an airtight container or pitcher in the refrigerator.
Consume within 3-4 days for optimal freshness and flavour.
Qamaradeen Juice
Ingredients
1

pack (400g) Qamaradeen paste

2-3

tbsp

sugar

5

cups boiling water

2

tbsp

orange blossom water(optional)

1

lemon, juiced

Pine nuts (for garnish)
Instructions
Cut the sheets of qamaradeen paste into small squares. Place the cut qamaradeen and sugar into a medium-sized bowl and add about 5 cups of boiling water. Allow the ingredients to soak for about 1 hour until the apricots paste has dissolved.

Add the lemon juice and orange blossom. With a blender, blend ingredients until they have fully combined and the texture of the juice is smooth.

Pour the beverage into a jug and chill in the fridge. Serve cold with pine nuts.
Get new recipes, meal planners, and creative entertaining ideas