Koresh Bademjoon va Kadoo (Eggplant and Courgette Stew with Lamb)
There's something truly magical about gathering around the table with loved ones and sharing a delicious Koresh Bademjoon va kadoo (Eggplant and Courgette Stew with Lamb). A traditional Persian eggplant and courgette stew, holds a special place in my heart. This dish reminds me of cherished family moments spent around the dinner table, with its rich flavours and nourishing ingredients bringing warmth and joy to our home.
The delicate balance of tender lamb cubes, fragrant spices, yellow split peas, and the soft, roasted eggplant and courgette create a harmony of flavors that come together in a beautiful symphony.
The aroma of this dish wafting through the kitchen brings back fond memories of my childhood, eagerly awaiting the moment we could all dig into this heavenly stew. As an adult, I now appreciate the time, love, and effort that goes into preparing this exquisite meal, and I am honoured to share this family recipe with you.
I hope this Khoresht Bademjmoon va kadoo will bring the same warmth, love, and cherished memories to your family gatherings as it has to mine. May it fill your home with delightful aromas and your hearts with joy as you gather to enjoy this special meal together.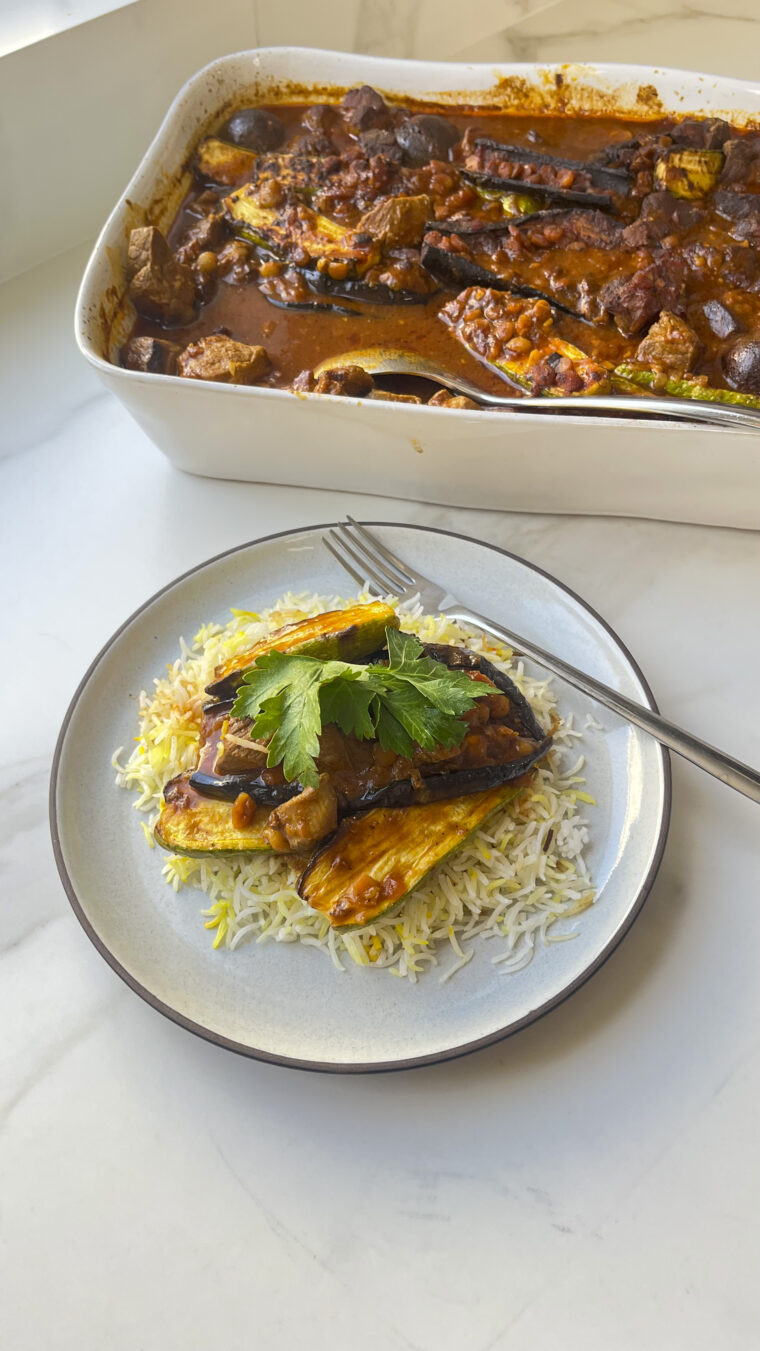 Basic Ingredients for Koresh Bademjoon va Kadoo
Eggplants: Eggplants are the star of this dish, providing a meaty texture and earthy flavour that perfectly complements the other ingredients.
Courgettes (Zucchini): Courgettes add a mild, slightly sweet flavour and tender texture to the stew.
Chopped Tomatoes: Chopped tomatoes contribute a tangy and slightly sweet taste to the dish, enhancing the overall flavour profile.
Onions and Garlic: Onions and garlic provide the base for the stew's flavour, adding a savoury and slightly sweet depth.
Lamb Cubes: Lamb adds a rich and tender protein source to the stew.
Yellow Split Peas: Yellow split peas add a creamy texture and mild flavour to the dish.
Spices: A mix of turmeric, cinnamon, black pepper, and saffron creates a complex and fragrant flavour in the stew.
Dried Limes or Sour Grapes: These ingredients add a unique tanginess to the stew, balancing the rich flavours of the other ingredients.
Salt the eggplant slices and let them sit for 30 minutes to draw out excess moisture before roasting or frying.
Use a heavy-bottomed pot to ensure even cooking and prevent burning.
Pierce the dried limes with a fork before adding them to the stew to help release their flavour.
Serve Khoresht Bademjmoon va kadoo with saffron rice or flatbread for a complete and satisfying meal.
Garnish the dish with fresh herbs like parsley or cilantro for added colour and flavour.
storage tips
Store the stew in an airtight container in the refrigerator for up to 3-4 days.
The dish can be frozen in an airtight container for up to 3 months. Thaw in the refrigerator overnight and reheat on the stovetop or microwave before serving.
Koresh Bademjoon va Kadoo (Eggplant and Courgette Stew with Lamb)
Ingredients
3

large

eggplants

,

cut horizontally into 1/3-inch thick, long slices

10

small

courgettes

,

peeled and halved

1

can

chopped tomatoes

2

large

onion

,

finely chopped

vegetable oil

1

cinnamon stick

2

garlic cloves

,

minced

500

g

lamb cubes

1

tsp

turmeric powder

½

tsp

cinnamon powder

½

cup

yellow split peas

,

cleaned and soaked

2

tbsp

tomato paste

3

cups

water

½

tsp

ground saffron

4

dried limes (or ½ cup sour grapes)

salt

½

tsp

black pepper powder
Instructions
Soak the yellow split peas in warm tap water for two hours, ideally overnight.

Preheat oven to 200°C. Place the eggplants and courgettes onto a baking sheet, rub with oil, and bake in the oven for about 15 minutes until the vegetables have slightly browned. Alternatively, the vegetables can be deep-fried until golden brown.

In a large cast iron saucepan, add the cinnamon stick and chopped onions; sauté the onions with a couple of tablespoons of vegetable oil on medium–high heat until they are translucent. Add the minced garlic and sauté until fragrant. Add the meat and season with turmeric powder, cinnamon powder, and 1/2 teaspoon of black pepper powder; fry until the meat has browned. Add the yellow split peas and fry for about five minutes—this retains the crispness of the split peas in the stew.

Add the tomato paste, chopped tomatoes, 3 cups of water and ground saffron and salt; bring to a boil, then cover the pot and leave to simmer for about 45-60 minutes on low heat until the meat is soft and tender. Add the dried limes, and cook for 20 minutes—season with salt and sugar.

In a large ovenproof casserole dish, arrange the eggplant and courgettes on the casserole dish. Add the stew over the vegetables, sprinkle some cinnamon powder on top, and bake in the oven for 30 minutes. Serve with Persian saffron rice.
Get new recipes, meal planners, and creative entertaining ideas