Indulge in a vibrant and refreshing cabbage salad that takes inspiration from the rich flavours of Persian cuisine. This delightful salad combines the crispness of shredded white cabbage, the sweetness of carrots, the herbal freshness of coriander, the tanginess of dried cranberries, and the nutty crunch of pumpkin seeds. Tossed in a zesty dressing infused with rice vinegar, lemon juice, ginger, and aromatic spices, this Persian-inspired cabbage salad is a perfect balance of textures and flavours.

The star ingredient of this salad is the finely shredded white cabbage, known for its crunchy texture and mild flavour. It serves as a refreshing base and provides a satisfying crunch. The addition of carrots brings a touch of sweetness and vibrant colour to the salad, while the coriander adds a burst of fresh herbal notes.

To enhance the complexity of flavours, dried cranberries are included, imparting a delightful sweetness that contrasts with the savoury elements. Meanwhile, the pumpkin seeds offer a nutty and satisfying crunch, adding texture and depth to each bite.

The dressing ties all the ingredients together, bringing a burst of tanginess and aromatic notes. The combination of rice vinegar, lemon juice, ginger, olive oil, dried oregano, and dry-roasted cumin seeds creates a harmony of flavours. The dressing not only enhances the taste of the salad but also helps to soften the cabbage slightly.

Preparing this Persian-inspired cabbage salad is a breeze. Simply whisk together the dressing ingredients in a small bowl, ensuring that the flavours are well combined. In a large bowl, massage the cabbage gently with your hands to soften it. Add the shredded carrots, chopped coriander, dried cranberries, and pumpkin seeds. Pour the dressing over the salad and gently toss to coat all the ingredients evenly.

This salad can be served as a refreshing side dish or enjoyed as a light and healthy main course. It is vibrant colours, and enticing flavours make it an excellent addition to any table, whether you're hosting a summer gathering or simply craving a nourishing salad.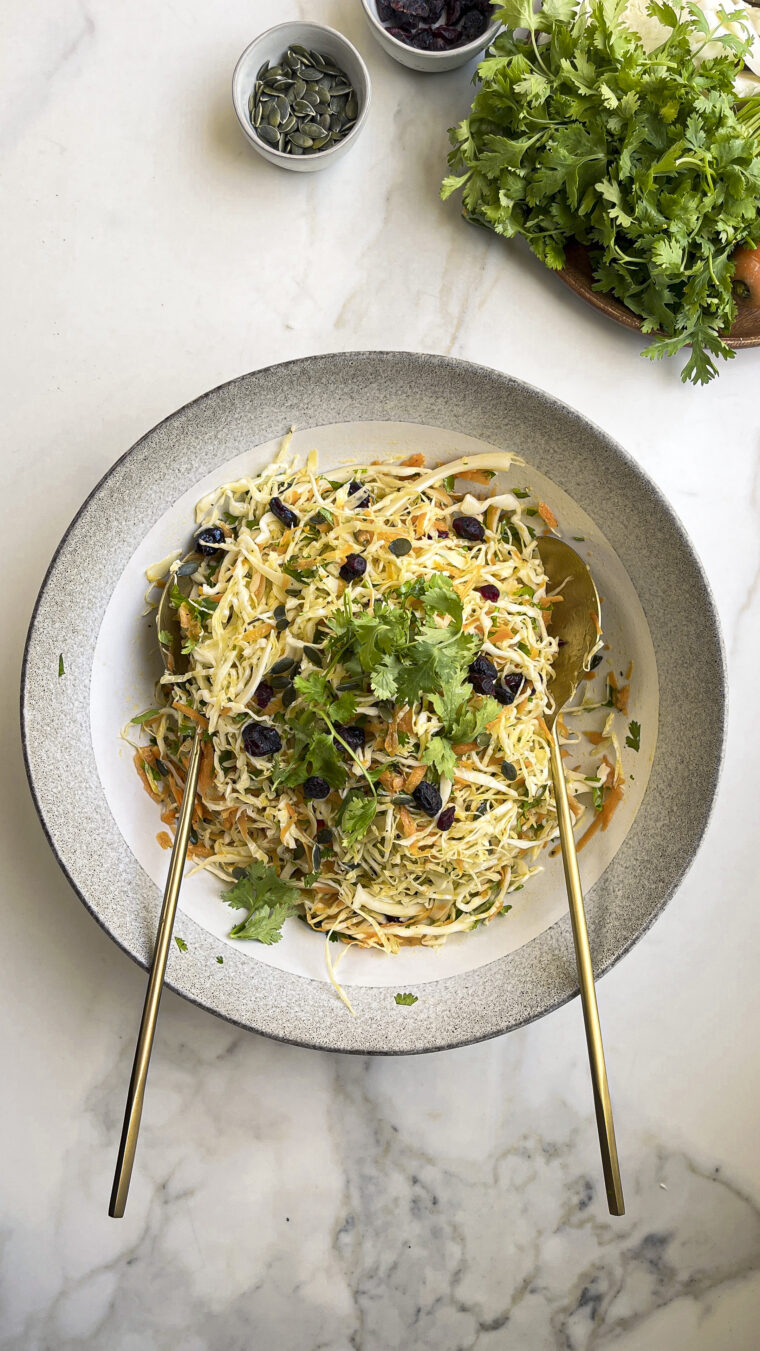 Basic Ingredients for Cabbage Salad
White Cabbage: The shredded cabbage serves as the main component of the salad, providing a refreshing crunch and a mild flavour. It's rich in fibre, vitamins, and minerals. Ensure the cabbage is finely shredded for easier eating. If you prefer a different type of cabbage, such as red cabbage, feel free to substitute it.
Carrots: Shredded carrots add a touch of sweetness and vibrant colour to the salad. They complement the cabbage well and provide additional nutrients like beta-carotene. Make sure to finely shred the carrots for a harmonious texture. If desired, you can use colourful heirloom carrots or substitute them with grated beets for variety.
Coriander: Coriander, also known as cilantro, adds a fresh and herbaceous flavour to the salad. It balances the other ingredients and provides a burst of green colour. If you're not a fan of coriander, you can replace it with parsley or mint.
Cranberries: Dried cranberries contribute a sweet and tangy flavour to the salad, contrasting with the savoury elements. They provide a chewy texture and a pop of colour. If you prefer other dried fruits, such as raisins or chopped dried apricots, you can use them as alternatives.
Pumpkin Seeds: Pumpkin seeds offer a delightful nutty crunch and are a great source of protein, healthy fats, and minerals. They add a satisfying texture to the salad. If you have allergies or preferences, you can substitute pumpkin seeds with sunflower seeds or chopped almonds.
For the Dressing :
Rice Vinegar: Rice vinegar adds a mild tanginess to the dressing, enhancing the overall flavour profile.
Lemons: Lemon juice provides a bright and refreshing acidity to the dressing, balancing the sweetness of the cranberries.
Ginger: Fresh ginger adds a zingy and aromatic kick to the dressing, providing a hint of warmth and depth of flavour.
Olive Oil: Olive oil acts as the base of the dressing, providing richness and a smooth texture.
Dried Oregano: Dried oregano contributes a savoury note to the dressing, complementing the other flavours in the salad.
Cumin Seeds: Dry roasted cumin seeds offer a smoky and earthy flavour to the dressing, enhancing the overall complexity.
Salt & Pepper: Salt and pepper help to season the salad and balance the flavours.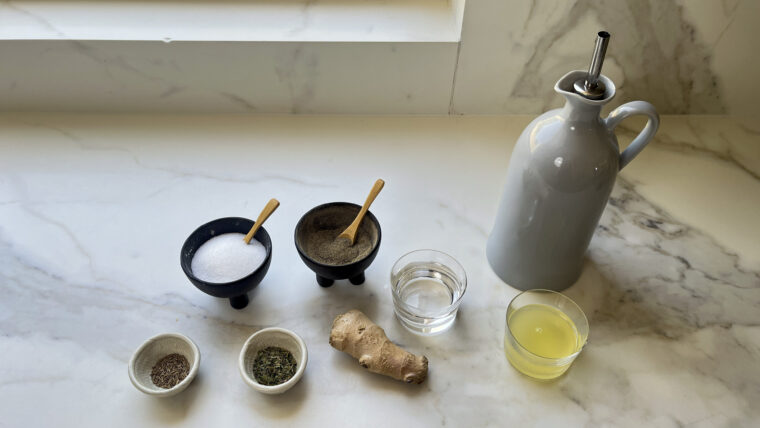 Ensure that the cabbage and carrots are finely shredded for easier eating and better distribution of flavours.
Use a sharp knife or a mandolin slicer for efficient shredding.
Massaging the cabbage gently with your hands before adding the other ingredients can help soften it and improve its texture.
Serve the cabbage salad as a refreshing side dish or a light main course.
Garnish the salad with additional coriander leaves or a sprinkle of toasted pumpkin seeds for an extra touch.
storage tips
This salad is best enjoyed fresh but can be stored in an airtight container in the refrigerator
Cabbage Salad
Ingredients
1

small

white cabbage head

,

finely shredded

2

carrots

,

finely shredded

1

small bunch coriander

,

roughly chopped

⅓

cup

dried cranberries

¼

cup

pumpkin seeds
Dressing
2

tbsp

rice vinegar

1

lemon

,

juiced

1

tbsp

fresh ginger

,

minced

¼

cup

olive oil

1

tsp

dried oregano

½

tsp

cumin seeds

,

dry roasted

salt

freshly ground black pepper
Instructions
In a small bowl, whisk together rice vinegar, lemon juice, ginger, olive oil, dried oregano, cumin seeds, salt and pepper.

In a large bowl add cabbage and gently massage with hands to soften. Add carrots, coriander, cranberries and pumpkin seeds.

Pour dressing over salad and gently toss. Serve.
Get new recipes, meal planners, and creative entertaining ideas