Salad Olivier, a popular Persian potato salad, that always reminds me of my grandmother. Whenever we planned a picnic or a road trip, she would prepare this dish, each bite brimming with love, tradition, and a rich blend of flavours. This nostalgic recipe evokes a deep sense of homely comfort and satisfaction, making it an integral part of family gatherings and outdoor feasts.
The recipe starts with a tender chicken breast, simmered gently with a medley of aromatic vegetables – celery, carrots, and onions – and seasoned with whole black peppercorns and a bay leaf. These ingredients create a subtle yet delightful base that elevates the flavours of the other components.
Potatoes, eggs, pickled cucumbers, and green peas add texture, colour, and complexity to the dish. Each ingredient holds its own yet harmonises perfectly with the rest. The potatoes provide a starchy, satisfying base, the eggs contribute richness, the pickled cucumbers bring a refreshing tang, and the green peas add a burst of sweetness and colour.
The crowning glory of Salad Olivier is its creamy dressing. This blend of mayonnaise, yoghurt, rice vinegar, mustard, and lemon juice creates a beautiful balance of richness, tanginess, and a hint of sharpness, making every bite an exciting adventure of taste.
Finally, the dish is seasoned with salt and freshly ground black pepper, adding the perfect touch of warmth and spice to round off the flavours.
Despite its simplicity, Salad Olivier holds a special place in the hearts of many. It serves as a delicious reminder of the importance of family, tradition, and the joy of sharing good food.
Basic Ingredients for Olivier Salad (Russian Potato Salad)
Chicken Breast: Chicken is a low-fat, high-protein meat that is commonly used in various dishes around the world. The chicken breast is often used due to its lean nature and versatile flavour that blends well with other ingredients.
Whole Black Peppercorn: This gives a spicy flavour with a mild sweetness. They are usually freshly ground before use to ensure they retain their aroma and flavour.
Bay Leaf: Adds a depth of flavour. Its slightly minty, subtly floral flavour helps enrich the taste of the chicken.
Celery Stems, Carrots, Onions: These vegetables are commonly used for making stock or broth. They lend a basic yet essential flavour profile to the dish.
Potatoes: Potatoes add a starchy component to the dish, giving it substance and bulk.
Eggs: Eggs are a good source of protein, and their inclusion provides additional texture and richness.
Pickled Cucumber (khiyar shoor): These provide a tangy, crunchy contrast to the other ingredients. They add a dimension of acidity which balances the dish.
Green Peas: They contribute sweetness and a pop of colour.
Mayo and Yogurt: These are the creamy elements that form the basis of the dressing. They add richness and tanginess to the dish.
Rice Vinegar, Mustard, and Lemon Juice: These ingredients are all acids that help to balance the richness of the mayo and yoghurt. They also add a tangy flavour.
Salt and Freshly Ground Black Pepper: These are basic seasonings that enhance the flavours of the other ingredients.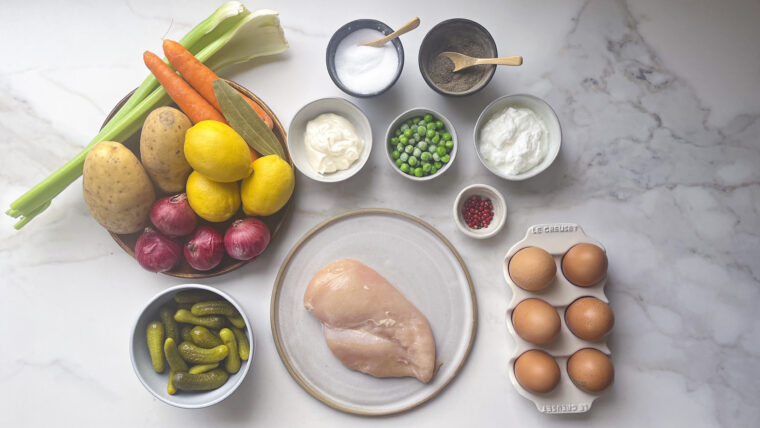 Make sure to cook the chicken thoroughly to ensure it's safe to eat.
When boiling the eggs, add a little baking soda to make the peeling process easier.
To ensure even cooking, chop all your vegetables in roughly the same size.
Serve the salad chilled. The flavours will meld together more if it's allowed to rest in the refrigerator for a while before serving.
Serve with crusty bread or as a filling for sandwiches or wraps.
For a more vibrant presentation, garnish with fresh herbs like dill or parsley.
storage tips
Store the salad in an airtight container in the refrigerator. It should last for 3-5 days.
If you have leftover dressing, store it separately in a jar with a tight lid. It will keep in the refrigerator for about a week.
Don't freeze the salad as it contains mayo and veggies, which may not retain their texture when thawed.
Olivier Salad ( Russian Potato Salad)
Ingredients
250

g

chicken breast

1

tsp

whole black peppercorn

1

bay leaf

2

celery stems

,

cut into 1-inch chunks

2

carrots

,

cut into 1-inch chunks

2

small onions

,

cut into quarters

6

medium

potato

6

eggs

1

cup

pickled cucumber (khiyar shoor)

,

chopped into small cubes

1

cup

frozen green peas

½

cup

mayo

⅓

cup

yogurt

1

tsp

rice vinegar

1

tbsp

mustard

¼

cup

lemon juice

salt

black pepper

,

freshly ground
Instructions
In a medium size pot add the chicken breast, peppercorn, bayleaf, celery chunks, carrot chunks and quartered onion. Cover the ingredients with water. On high heat bring the liquid to a boil, then lower heat and leave to simmer for 30-40 minutes until the chicken is cooked. Drain the liquid and reserve the stock. You can opt to freeze or refrigerate for up to 3 days. Discard the vegetables, shred the chicken breast with a fork and keep aside.

In a small pot add the eggs and potatoes season with salt and cover with room-temperature water. Allow the eggs to cook for 10 to 12 minutes, or until they are well done. Once done, remove the eggs and rinse under a cold tap of water and leave the potatoes boiling for another 15-20 minutes. Peel the eggs and finely chop. After boiling the potatoes, drain, rinse in cold water and peel the skin and finely chop.

In another small pot, bring a pot of water to a boil. Add the green peas and allow to simmer for 5 minute. Drain the liquid and keep the peas on the side.

In a small bowl, whisk together the mayo, yogurt, lemon juice, salt, and pepper.

In a large-sized bowl add the shredded chicken, potato, eggs, pickled cucumbers, and green peas. Pour the dressing over the ingredients and gently combine with a spatula, until all the ingredients are coated with the sauce.

Serve in a shallow serving bowl and enjoy with some bread on the side.
Get new recipes, meal planners, and creative entertaining ideas