Daggah Ghazzawiyah (Tomato & Dill Salad)
In the hope for 'Salaam le Gaza'—a heartfelt plea for peace- Aya shares a simple yet special recipe that is at the heart of every Gazan Kitchen.

Daggah Ghazzawieh encapsulates the essence of Gaza's history and traditions —a simple yet profoundly flavourful salad that tells a story with every bite. Aya's cherished recipe uses the traditional Gazan technique of a mortar and pestle to bring out the bold flavours of dill seeds and chilli, capturing the resilience of Gazan traditions. The ritualistic crushing unites the tang of tomatoes with the heady aroma of fresh dill, creating a salad that is simply soulful. Finished with a drizzle of lemon juice and olive oil, and served with the comfort of warm bread, this dish is not just sustenance but a symbol of enduring hope and the shared yearning for peace.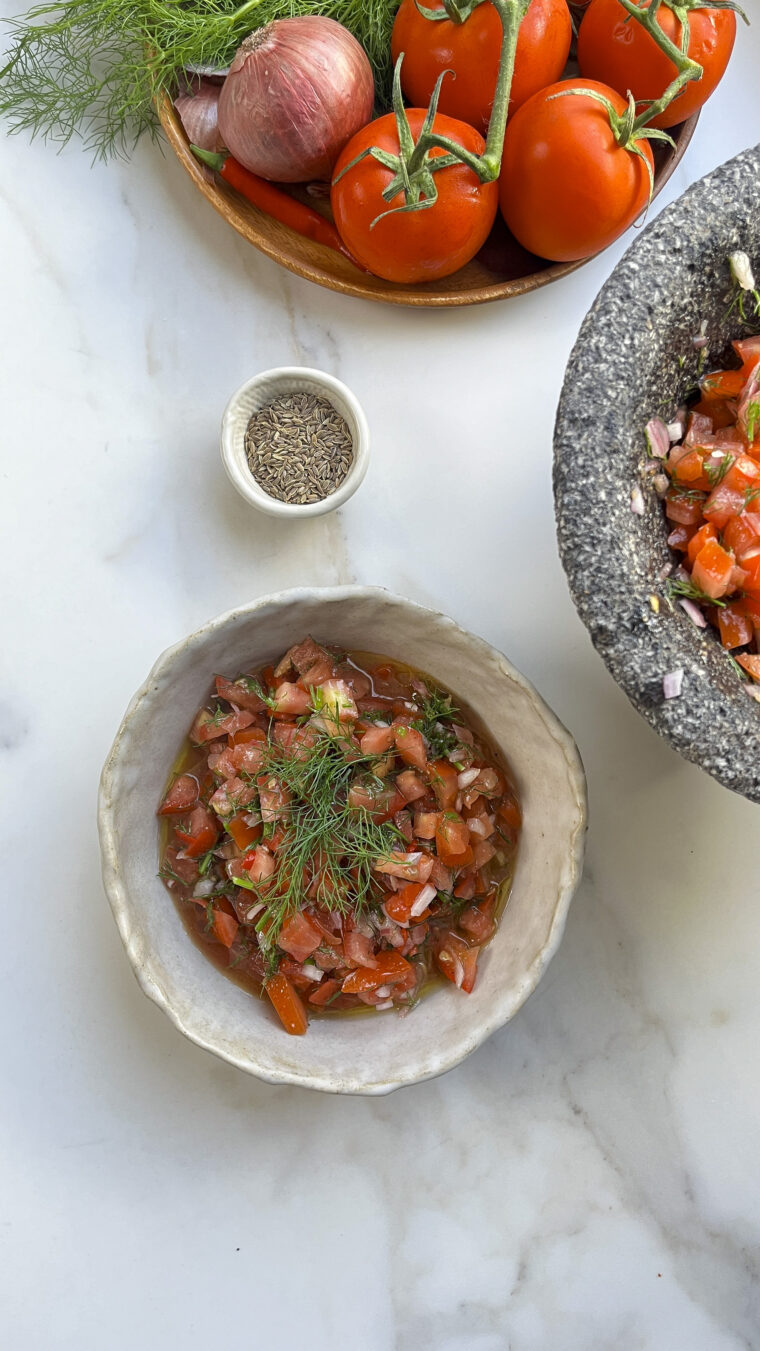 Basic Ingredients for Daggah Ghazzawiyah
Dill Seeds: Used for their unique, slightly sweet, and citrusy flavour, adding depth to the dish.
Fresh Dill: Provides a bright, refreshing herbaceous note complementing the dill seeds.
Salt: Enhances the overall flavour profile of the dish.
Black Pepper Powder: Adds a subtle heat and complements the other flavours.
Onion: Gives a sweet and slightly pungent flavour, adding texture and depth.
Chili Pepper: Introduces a spicy kick, which can be adjusted to suit taste preferences.
Tomatoes: Offer a juicy, tangy taste and help to create a saucy texture.
Lemon Juice: Adds a fresh, tangy acidity that brightens the dish.
Olive Oil: Provides a smooth texture and enriches the flavour with its fruity notes.
alternative ingredients
Dill Seeds: Caraway seeds or fennel seeds can be used for a different but complementary flavour.
Fresh Dill: Parsley or cilantro for a different herbaceous note.
Salt: Himalayan pink salt or sea salt.
Black Pepper Powder: White pepper for a milder heat.
Onion: Shallots or green onions for a milder flavour.
Chilli Pepper: Red pepper flakes or jalapeño for varying levels of heat.
Tomatoes: Canned diced tomatoes for convenience.
Lemon Juice: Lime juice for a slightly different citrus note.
Olive Oil: Avocado oil or grapeseed oil for a more neutral flavour.
Preparation Tips for Daggah Ghazzawiyah
Ensure the dill seeds are crushed to a fine powder for an even distribution of flavour.
Dice the tomatoes uniformly for a consistent texture.
Gradually add the lemon juice and olive oil, tasting as you go to achieve the perfect balance.
Serving Tips for Daggah Ghazzawiyah
Serve this dish with warm Arabic bread, which complements the flavours and can be used for scooping.
Garnish with a sprig of fresh dill for an added touch of freshness and presentation.
storage tips
Store any leftovers in an airtight container in the refrigerator for up to 2 days.
It's best enjoyed fresh, but if you need to store it, give it a good stir before serving to redistribute the flavours.
Daggah Ghazzawiyah (Tomato & Dill Salad)
Ingredients
1

tsp

dill seeds

handful

fresh dill

,

chopped

½

tsp

salt

½

tsp

black pepper powder

1

onion

,

diced

chilli pepper

,

to taste

4

big

soft tomatoes

,

diced

2

tbsp

lemon juice

3

tbsp

olive oil
Instructions
In a mortar and pestle (or a zibdiya, a Gazan clay bowl, if you have one), crush the dill seeds and salt until powder consistency. Add the onion and chili pepper, and mash until incorporated, but not mushy. Then add the tomatoes and fresh dill and continue mashing until combined.

Add the lemonjuice and olive oil and mix with a spoon. Adjust salt and pepper to taste.

This dish is served with Arabic bread.
Get new recipes, meal planners, and creative entertaining ideas