Zibdiyit Gambari (Spicy Shrimp and Tomato Stew)
In the intricate tapestry of Gaza's culinary heritage, the flavours of the sea have woven a story of resilience and nourishment for generations. The Mediterranean waves that lovingly embrace this coastal enclave have been more than just a source of sustenance; they've provided a profound connection to both the land and its resilient people. It's within this backdrop, where the ancient art of fishing intertwines seamlessly with the rich history of Gazan cuisine that Kali shares one of her favourite recipes—a treasure taught to her by one of her closest friends from Gaza.
This recipe transcends mere personal connection; it stands as a profound declaration of solidarity with the resilient people of Gaza and Palestine. It pays homage to a community whose very existence is intricately entwined with the land and sea—a relationship beautifully symbolised by the harmonious blend of seafood and tomatoes.
This Gazan-style Shrimp recipe serves as a living testament to the enduring bond between two friends from different cultures. Each time Kali lovingly prepares this dish, it becomes a journey back to shared moments and cherished conversations. In the rhythmic chopping and stirring, her kitchen transforms into a space infused with the essence of their enduring friendship.
Through the flavours and memories of this Gazan-style Shrimp recipe, remember that it's more than just a recipe; it's a taste of friendship, a symbol of solidarity, and a beacon of hope for a free and safe Gaza, a liberated Palestine. So, as you savour this dish, let it not only symbolise the essence of friendship but also a stance of unwavering solidarity and hope, echoing the heartfelt cry: Free Palestine!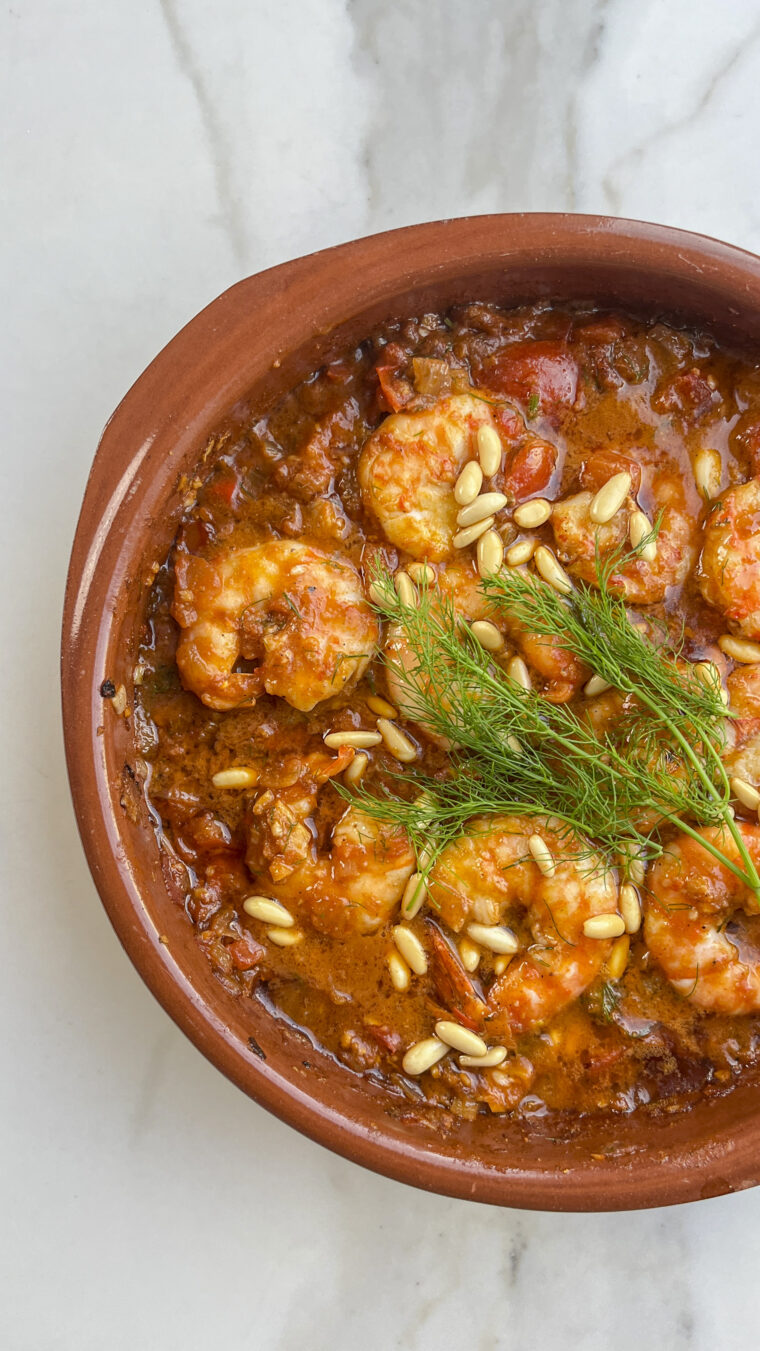 Basic Ingredients for Zibdiyit Gambari (Spicy Shrimp and Tomato Stew)
Shrimps or Prawns: The main protein in the dish. Provide a delicate, sweet seafood flavour and a pleasing texture.
dds a sweet and savoury flavour, enhancing the overall taste of the sauce.
Garlic: Contributes a pungent, aromatic flavour that is fundamental in many savoury dishes.
Ginger: Offers a warm, spicy note that complements both the seafood and spices.
Tomatoes: Provide acidity and moisture, forming the base of the sauce.
Tomato Paste: Intensifies the tomato flavour and thickens the sauce.
Chilli Pepper: Adds heat and depth to the dish.
Salt: Enhances the overall flavours of the ingredients.
Arabic Spice: A blend that typically includes cumin, coriander, and other regional spices, adding complexity.
Cumin Powder: Gives a warm, earthy note.
Cardamom Powder: Provides a sweet, spicy aroma.
Coriander Powder: Delivers a lemony, floral flavour.
Fresh Dill: Offers a grassy, slightly anise-like taste.
Fresh Parsley: Adds freshness and a mild, slightly peppery flavour.
Pine Nuts: Fried pine nuts offer a crunchy texture and a nutty flavour.
alternative ingredients
Shrimps or Prawns: Chicken or tofu as a non-seafood alternative.
Onion: Shallots or leeks.
Garlic: Garlic powder in a pinch.
Ginger: Ginger powder for convenience.
Tomatoes: Canned diced tomatoes.
Tomato Paste: Concentrated tomato sauce.
Chilli Pepper: Red pepper flakes or jalapeños.
Arabic Spice: Garam masala or a mix of paprika and turmeric.
Cumin, Cardamom, Coriander Powder: Store-bought curry powder as a quick substitute.
Fresh Dill and Parsley: Dried versions, but use less as they are more potent.
Pine Nuts: Almonds or walnuts for a different crunch.
Preparation Tips for Zibdiyit Gambari (Spicy Shrimp and Tomato Stew)
Properly clean and devein the shrimp for better texture and flavour.
Crush the chilli pepper and salt into a fine paste for even distribution of flavour.
Simmer the sauce before adding shrimp to infuse the spices.
Serving Tips for Zibdiyit Gambari (Spicy Shrimp and Tomato Stew)
Serve hot, garnished with fried pine nuts for an added textural contrast.
Pair with rice, couscous, or fresh bread to complement the flavours.
Garnish with fresh parsley or dill for a burst of colour and freshness.
storage tips
Store leftovers in an airtight container in the refrigerator for up to two days.
Reheat gently to avoid overcooking the shrimp.
It's not recommended to freeze this dish, as the texture of the shrimp may suffer.
Zibdiyit Gambari (Spicy Shrimp and Tomato Stew)
Ingredients
½

kg

shrimps or prawns

1

medium

onion

,

diced

1

tbsp

garlic

,

minced

2

inches

ginger

,

minced

3

tomatoes

,

diced

1

tsp

tomato paste

1

chilli pepper

,

deseeded and chopped

1

tsp

salt

¼

tsp

Arabic spice

½

tsp

cumin powder

¼

tsp

cardamom powder

1

tbsp

coriander powder

1

tbsp

fresh dill

,

chopped

2

tbsp

fresh parsley

,

destemmed and chopped

pine nuts

,

fried
Instructions
Preheat the oven to 180°C.

Prepare the shrimps. Leave the tail on, peel the outer shell and devein. Wash and pat dry. Keep aside.

Place the chili pepper in a mortar and pestle and crush with half a teaspoon of salt until it becomes paste-like.

Over medium heat, add the oil and onions and fry until golden. Add garlic until fragrant. Then add the crushed chili pepper, tomatoes, tomato paste, all the spices, dill and season with salt and pepper and stir. Reduce heat and simmer for 10 minutes, top in the shrimps and gently stir to coat the shrimps with the sauce.

Top with fried pine nuts. Serve hot.
Get new recipes, meal planners, and creative entertaining ideas