In the spirit of the "Let's Cook for Gaza" initiative, which aims to reshape narratives and celebrate the rich food culture of Gaza, the Gazan Baked Fish shared by Sumac Kitchen stands as a shining example of the region's culinary heritage. This dish is more than just a meal; it's a reflection of the deep connection between the Gazan people and the Mediterranean Sea, from which they have sourced their seafood for generations.
The Gazan kitchen is renowned for its seafood dishes; this spicy baked fish recipe is a testament to that tradition. Seafood is a staple in Gazan cuisine, not only because of the region's geographical proximity to the sea but also due to the local appreciation for fresh, flavourful ingredients.
The culinary landscape of Gaza is distinguished by its distinctive use of key ingredients, setting it apart from other global cuisines. Central to its unique flavour profile is the use of dill seeds and chilli in its food. These ingredients do more than season the food; they embody the boldness and innovation inherent in Gazan cuisine. The dill seeds, with their robust and slightly bitter essence, alongside the heat of chilli, resonate with the resilience and determination of the people of Gaza. When harmonised with garlic, sea salt, and lemon, these spices not only enrich the fish with layers of flavour but also reflect the dynamic and colourful culture of the region.
Marinating the fish with a blend of garlic, sea salt, lemon, and the Gazan Spice Mix, followed by baking, allows the flavours to penetrate deeply, resulting in an aromatic, spicy, and tangy dish. The accompanying sauce, made with a portion of the marinade, olive oil, lemon juice, and chilli paste, adds an extra layer of flavour, enhancing the overall dining experience.
This Gazan Baked Fish recipe from Sumac Kitchen is a culinary delight and a celebration of Gazan culture and tradition. It embodies the essence of the Gaza kitchen, where the freshness of the sea meets the boldness of spices like dill seeds and chilli, creating a harmony of flavours that is both unique and deeply rooted in the region's heritage.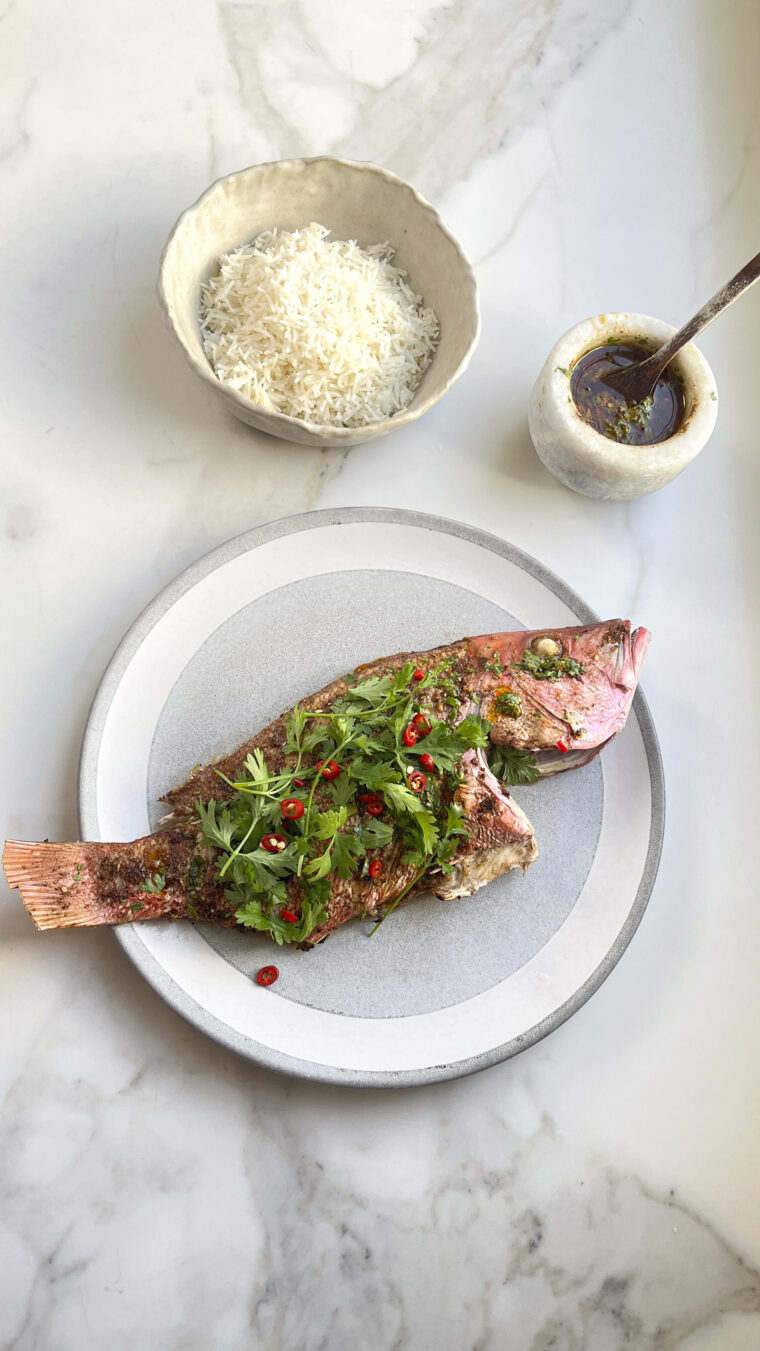 Basic Ingredients for Gazawi Baked Fish
Whole Seabream, Red Snapper, or Seabass: These fish are known for their firm texture and mild, slightly sweet flavour. They hold up well to baking and absorb marinades beautifully.
Marinate:
Gazan Spice Mix: This mix of spices adds a unique blend of flavours, including warm, aromatic, and slightly spicy notes.
Garlic: Provides a strong, aromatic flavour that complements fish.
Sea Salt: Enhances the natural flavours of the fish and the spices.
Lemon (Juice and Zest): Adds a bright, acidic flavour that balances the richness of the fish.
Sauce:
Marinade Portion: Utilizes the flavorful base of the marinade.
Lemon Juice: Adds additional acidity and freshness.
Olive Oil: Provides a smooth, rich texture and flavour.
Chili Paste: Introduces a spicy kick.
Coriander Leaves: Bring a fresh, lemony note.
Gazan Spice Mix:
Dill Seeds, Coriander Seeds, Black Pepper, Misteke, Chilli Flakes, Cardamom, Cloves, Allspice, Cinnamon: Each spice adds its own unique flavour, creating a complex and aromatic blend.
alternative ingredients
Gazan Spice Mix: A mix of store-bought Mediterranean or Middle Eastern spices.
Chilli Paste: Red pepper flakes or hot sauce.
Preparation Tips for Gazawi Baked Fish
Score the fish deeply to allow the marinade to penetrate.
Ensure the marinade is evenly distributed for consistent flavour.
Allow sufficient marinating time for the flavours to infuse.
Serving Tips for Gazawi Baked Fish
Serve the baked fish with the freshly prepared sauce.
Accompany with rice or a side of vegetables.
Garnish with additional fresh herbs like parsley or dill for added colour and flavour.
storage tips
Store leftover fish in an airtight container in the refrigerator for up to two days.
Reheat gently to maintain the texture of the fish.
It's best to consume the sauce fresh; however, it can be refrigerated for a day.
Gazawi Baked Fish
Ingredients
1

kg

whole sea bream, red snapper or sea bass
Marinate
1

tbsp

Gazan spice mix

,

(Recipe Below)

6

garlic cloves

1

tsp

sea salt

1

lemon

,

juiced

½

tsp

lemon zest
Sauce
¼

portion of the marinade

2

lemon

,

juiced

1

tbsp

olive oil

1

tsp

chili paste

2

tbsp

coriander leaves

,

finely chopped
Gazan Spice Mix
2

tbsp

dill seeds

2

tsp

coriander seeds

1

tsp

black pepper

about ¼

tsp tsp(6 small stones)

misteke

¼

tsp

chilli flakes

1

cardamom

1

tsp

all spice
Instructions
Prepare marinade: pound the garlic with sea salt, spices and lemon zest to form a paste. Add lemon juice and stir well to combine.

Score each fish with two deep scores on each side. Use ¾ of the marinade (reserve ¼ for sauce)and rub well into the fish. Set aside and marinate for at least 15 minutes.

Place fish inan oven dish cook in oven uncovered for 30 minutes, check doneness, meat shouldflake easily with fork. If not done, cook 10 minutes further.

While fish is cooking prepare sauce and rice.

Sauce: Combine remaining marinate with finely chopped coriander leaves, lemon juice, olive oil and chili paste. Place in serving bowl or sauce pitcher to serve with fish and rice.

Rice: Wash rice a few time till water runs clear. Drain and dry in colander for 5 minutes.

Place a pot over high heat, add measured water, half teaspoon salt for every cup of rice and mix to dissolve. Add rice and bring to rapid boil.

Cover reduceheat to minimum and cook for 20 minutes. Remove from heat, rest for 5 minutesthen fluff with a large fork to serving dish and serve with fish and sauce.
Get new recipes, meal planners, and creative entertaining ideas