Fasoulia Stew is a mouth-watering and hearty Middle Eastern dish that is sure to satisfy your taste buds and leave you feeling completely satisfied. Whenever I make Fasoulia, the aroma of the spices cooking in the pot fills my home with a sense of comfort and familiarity.
I love experimenting with different variations of this dish, but my favourite has to be the one made with tender lamb or beef cubes and white beans, simmered in a blend of aromatic spices. And when I serve it with Calrose and vermicelli rice, or some crusty bread, it's a meal that never fails to bring a smile to my face.
Fasoolia is a beloved dish across the Middle East, and for good reason – it's the perfect choice for a family meal or dinner party, as it can easily be scaled up to feed a crowd. And even if you're new to cooking or unfamiliar with Middle Eastern cuisine, this recipe is simple and easy to follow.
So why not try making Fasoolia at home and experience the deliciousness for yourself? Trust me, once you've tasted it, you'll understand why this dish has been a favourite in my family for generations, and why it's sure to become a staple in your own home.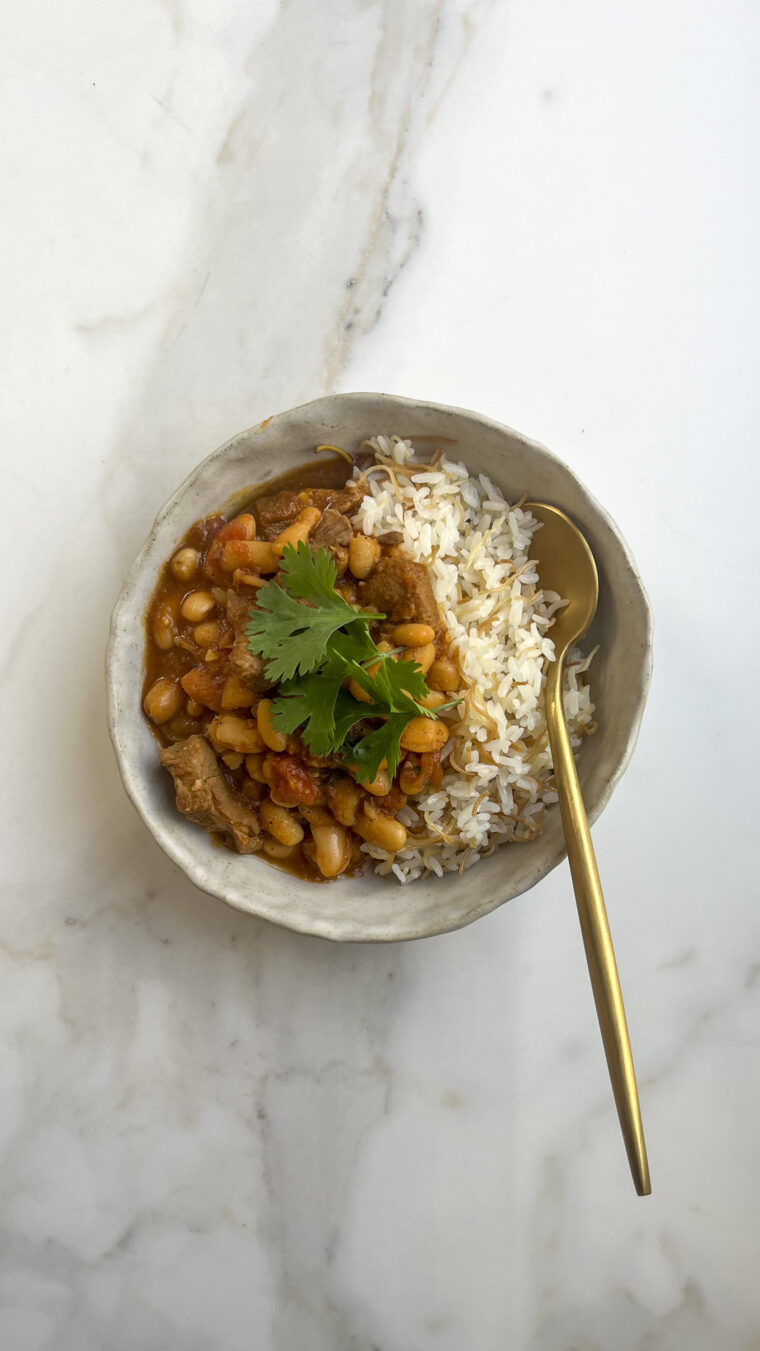 Basic Ingredients for Fasoulia Stew
Dry White Beans: The main ingredient for fasoulia, a type of bean with a creamy texture when cooked.
Baking Soda: Used to help soften the beans during the soaking process.
Vegetable Oil: Used for cooking lamb or beef and onions.
Bay Leaf: A herb that adds flavour and aroma to the stew.
Cinnamon Stick: Another spice used to add flavor to the stew.
Red Onions: Chopped and cooked to add flavor to the stew.
Red chili: Finely chopped and added for heat and spiciness.
Garlic: Minced and added to enhance the flavour of the stew.
Ground Coriander: A spice that adds warmth and depth of flavor to the stew.
Ground Cardamom: A spice that adds a floral and citrusy flavor to the stew.
Turmeric powder: A spice that gives the stew its yellow colour.
7 spice: A Middle Eastern blend that adds a complex flavour to the stew. You can also check on our 7 spice mix here!
Tomato Paste: Adds a rich tomato flavour and helps thicken the stew.
Diced Tomatoes or Fresh Tomatoes: Used to add a bright and fresh flavor to the stew.
Lemon Juice: Adds a tangy and bright flavor to the stew.
Salt and Pepper: Used for seasoning the stew.
Olive Oil: Used for making the salsa verde.
Garlic Cloves: Minced and added to the salsa verde for flavour.
Coriander: Finely chopped and added to the salsa verde for freshness and flavour.
Salt: Used for seasoning the salsa verde.
Soak the beans overnight in water with a pinch of baking soda to help soften them and reduce cooking time.
Use a large pot for cooking the beans and meat together. Brown the beef in vegetable oil before adding the onions and spices to develop a rich and flavorful base.
Use a pressure cooker for cooking the beans and meat until tender for a quicker cooking time. This can significantly reduce cooking time.
If using fresh tomatoes, blanch them in boiling water for a few seconds before peeling and chopping them. This will make it easier to remove the skin and ensure a smoother texture.
For the salsa verde topping, mix the minced garlic, chopped coriander, olive oil, and a pinch of salt in a bowl. Adjust the salt and lemon juice to your taste preference.
When ready to serve, ladle the Fasoolia into bowls and top with a generous spoonful of salsa verde. This will add a fresh and zesty flavor to the dish.
Allow the Fasoolia to cool slightly before serving to avoid burning your tongue. Enjoy with some crusty bread or over a bed of fluffy rice.
Fasoulia with salsa verde tastes best when served hot. Make sure to reheat the dish before serving if necessary.
Serve the Salsa Verde on the side.
Serve with a side of rice or bread to soak up the flavorful sauce. You can check-out Vermicelli and Calrose rice as side rice!
Serve with a dollop of plain yoghurt on top to balance out the spice and add a creamy element.
Serve with lemon wedges on the side so that your guests can add a squeeze of fresh lemon juice to the dish as desired.
Fasoulia Stew
Ingredients
2½

cups of dry white beans

1

tsp

baking soda

3-4

tbsp

vegetable oil

700

g

pieces lamb/beef cubes

1

bay leaf

1

cinnamon stick

2

large red onions, chopped

1

red chilli, remove seedsand finely chop

3

tsp

minced garlic

1

tbsp

ground coriander

½

ground cardamom

1

tsp

turmeric powder

1

tbsp

7 spice

4

tbsp

tomato paste

2

cans diced tomatoes or 8 whole fresh tomatoes

lemon juice to taste

Salt and pepper to taste
Coriander topping
1

tbsp

olive oil

8-10

small cloves garlic, minced

1-2

bunches coriander, finely chopped

pinch salt
Instructions
In a large bowl, add the white beans and enough water to cover the beans completely. Add the baking soda, and soak overnight. Drain and rinse the beans thoroughly to eliminate any traces of baking soda.

In a large cast iron pot, heat the vegetable oil on high heat and sauté chopped onion, minced garlic, cinnamon stick and bay leaf; sautéuntil they have softened and have a translucent colour.

Add the lamb/beef cubes and fry until fully browned, seasoning with salt and pepper.

Add the beans, tomato paste, coriander powder, 7-spice, turmeric powder, and cardamom, and mix well in the same pot. Let this cook for a minute, then add the chopped tomatoes and enough water to cover the meat by an inch or so.

Bring the liquid to a boil. Cover the pot, reduce to medium heat and allow to cook for at least 90 minutes or until the meat has softened.

Heat the olive oil in a skillet to make the topping, then add the crushed garlic, finely chopped coriander, and a pinch of salt. Cook over medium-high heat, constantly stirring, until the garlic has started to grow and the herbs have wilted. Add this garlic coriander mixture to the stew and stir to combine it evenly throughout.

Serve with Calrose and vermicelli rice.
Get new recipes, meal planners, and creative entertaining ideas