Fattoush Salad is a refreshing and vibrant Middle Eastern salad that bursts with flavours and textures. This delightful salad combines a colourful medley of fresh vegetables, crispy pita bread, and a tangy dressing, creating a harmonious blend of taste and crunch. With its bright colours, fragrant herbs, and zesty dressing, Fatoush Salad is a feast for both the eyes and the palate.
The key components of Fatoush Salad include a variety of fresh vegetables such as cucumbers, tomatoes, radishes, and lettuce, which provide a refreshing and crisp base. The addition of fragrant herbs like mint and parsley adds a burst of freshness and complexity to the salad. To give the salad a delightful crunch, crispy pita bread pieces are added, adding a unique texture and flavour.
The dressing is a crucial element that ties the flavours together. The tangy dressing typically consists of lemon juice, olive oil, garlic, and sumac, a Middle Eastern spice that adds a citrusy and slightly tart note. This dressing not only enhances the flavours of the vegetables but also adds a refreshing and tangy kick to the salad.
Fatoush Salad is not only delicious but also offers numerous health benefits. It is packed with an array of vegetables, providing essential vitamins, minerals, and dietary fibre. The herbs used in the salad are known for their antioxidant properties, while the olive oil in the dressing adds healthy fats. This salad is a nutritious and satisfying option that can be enjoyed as a side dish or as a light and refreshing main course.
Whether served alongside grilled meats, as part of a mezze spread or enjoyed on its own, Fatoush Salad is a versatile and crowd-pleasing dish that is perfect for any occasion. Its vibrant colours, crisp textures, and zesty flavours make it an excellent choice for warm weather, barbecues, or any time you're craving a light and satisfying salad.
So, dive into the world of Middle Eastern cuisine and experience the burst of flavours and textures that Fatoush Salad offers. Enjoy the combination of fresh vegetables, fragrant herbs, and tangy dressing as each bite transports you to the vibrant and aromatic streets of the Middle East.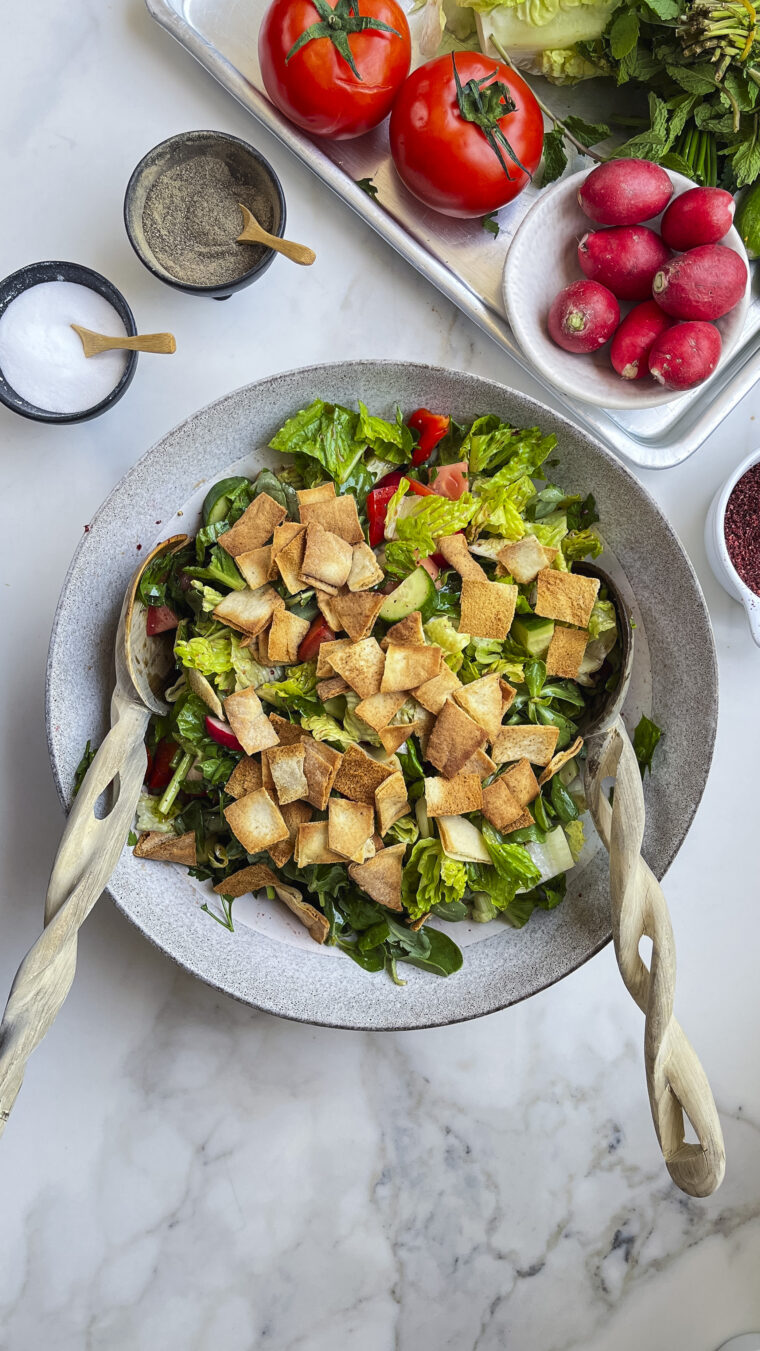 Basic Ingredients for Fattoush Salad
Fresh Vegetables (Cucumbers, Tomatoes, Radishes, Lettuce): These fresh vegetables provide the base of the salad, offering a refreshing and crisp texture. Cucumbers add a cool and hydrating element, tomatoes bring juiciness and sweetness, radishes contribute a peppery bite, and lettuce provides a leafy and tender foundation. They also add a variety of colours, flavours, and essential nutrients to the salad.
Fresh Herbs (Mint, Parsley): Mint and parsley add a burst of freshness and aromatic flavour to the salad. Mint brings a cool and vibrant note, while parsley adds a slightly earthy and herbaceous taste. These herbs elevate the overall flavour profile and provide additional nutritional benefits.
Crispy Pita Bread: The addition of crispy pita bread adds a delightful crunch to the salad. It complements the fresh vegetables and herbs, providing a contrast in texture. The pita bread absorbs some of the dressing, softening slightly while still maintaining its crunchiness.
Lemon Juice: Lemon juice is a key ingredient in the dressing, providing a tangy and citrusy flavour. It adds brightness to the salad and enhances the taste of the fresh ingredients.
Olive Oil: Olive oil is used in the dressing to provide richness and a smooth mouthfeel. It also helps bind the flavors together and adds a subtle fruity note.
Garlic: Garlic adds a mild pungent and savoury taste to the dressing, enhancing the overall depth of flavours in the salad.
Sumac: Sumac is a Middle Eastern spice that adds a tangy and slightly tart flavour to the dressing. It provides a unique and distinctive taste that is characteristic of traditional Fatoush Salad.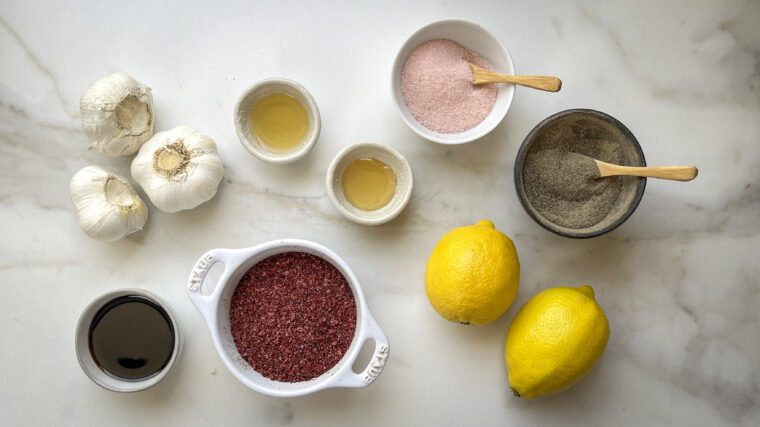 Wash and dry the vegetables and herbs thoroughly before using.
Tear the lettuce into bite-sized pieces to ensure easy eating.
Cut the pita bread into small triangles or break it into rustic chunks for the desired texture.
Serve Fatoush Salad as a side dish with grilled meats, kebabs, or falafel.
It can also be enjoyed as a light and refreshing main course for a vegetarian or vegan option.
Garnish with extra herbs and a sprinkle of sumac for an appealing presentation.
storage tips
Fatoush Salad is best enjoyed immediately after preparation to maintain its freshness and texture.
If necessary, you can store the salad and dressing separately in airtight containers in the refrigerator for up to a day.
Keep in mind that the pita bread may lose its crunchiness when stored with the salad, so consider adding it just before serving.
Enjoy the convenience and deliciousness of Chocolate Chip and Peanut Butter Overnight Oats
Fatoush Salad
Ingredients
3

small baby gem lettuce

,

roughly chopped

1

bunch of lamb lettuce

,

roughly chopped

3

green onions

,

thinly sliced

handful mint

,

thinly sliced

1

bunch parsley

,

roughly chopped

3

medium tomatoes

,

chopped into large cubes

4

small cucumbers

,

cut into large cubes

1

red capsicum

,

cut into large cubes

handful radishes

,

cut into quarters

1

cup

pita chips

salt

pepper
Dressing:
2

tsp.

ground sumac

1 to 2

whole lemons

,

freshly squeezed

2

tbsp

pomegranate molasses

1

tsp

garlic

,

finely minced

2

tsp

apple vinegar

1

tsp

honey

3/4

cup

olive oil

pink salt

fresh ground pepper
Instructions
Dressing: In a small mixing bowl, combine the ground sumac, freshly squeezed lemon juice, pomegranate molasses, minced garlic, apple vinegar, honey, and olive oil. Mix well until the ingredients are fully incorporated. Season with pink salt and freshly ground pepper according to taste.

Salad: In a large mixing bowl, combine the baby gem lettuces, lamb lettuce, green onions, mint, parsley, tomatoes, cucumbers, red capsicum, and radishes. Toss the salad gently to combine the ingredients.

Pour the prepared dressing over the salad and toss again to ensure all the ingredients are evenly coated. Season with salt and pepper to taste.

Just before serving, sprinkle the pita chips over the salad to add a crunchy texture and extra flavour.

Serve the salad as a refreshing and nutritious side dish or as a main course. The combination of fresh vegetables, herbs, and tangy dressing creates a delicious and vibrant salad.
Get new recipes, meal planners, and creative entertaining ideas