Salted caramel is a culinary delight, combining rich caramel with a touch of sea salt to create a symphony of flavours that is both luxurious and addictive.
The magic of salted caramel lies in its perfect balance of sweetness and saltiness. It starts with the art of caramelisation, where sugar is heated until it transforms into a golden, velvety caramel. This process brings out the rich and complex flavours of the sugar, creating a caramel base that is both smooth and indulgent.
Salted caramel can be enjoyed in various forms, from luscious sauces and creamy fillings to irresistible toppings and decadent desserts. It beautifully complements a wide range of treats, including ice cream, cakes, cookies, brownies, and more. It adds a luxurious touch to beverages like hot chocolate, coffee, or caramel lattes, making them even more indulgent and satisfying.
Whether you're a fan of the classic combination of sweet and salty or simply seeking a culinary adventure, salted caramel is sure to delight your senses and add a touch of luxury to your favourite desserts and beverages.
Basic Ingredients for Salted Caramel
Granulated Sugar: Granulated sugar is the main ingredient used to create caramel. When heated, it melts and caramelises, transforming into a rich and golden syrup.
Salted Butter: Salted butter adds richness, creaminess, and a subtle salty flavour to the caramel. It enhances the depth of flavour and provides a perfect balance between sweetness and saltiness.
Heavy Cream: Heavy cream adds a smooth and velvety texture to the caramel, giving it a luscious consistency. It also helps to mellow out the sweetness and adds a touch of richness.
Sea Salt: Sea salt is the key ingredient that elevates salted caramel from regular caramel. A small amount of sea salt enhances the sweetness, adds complexity, and creates a delightful contrast with its savoury notes.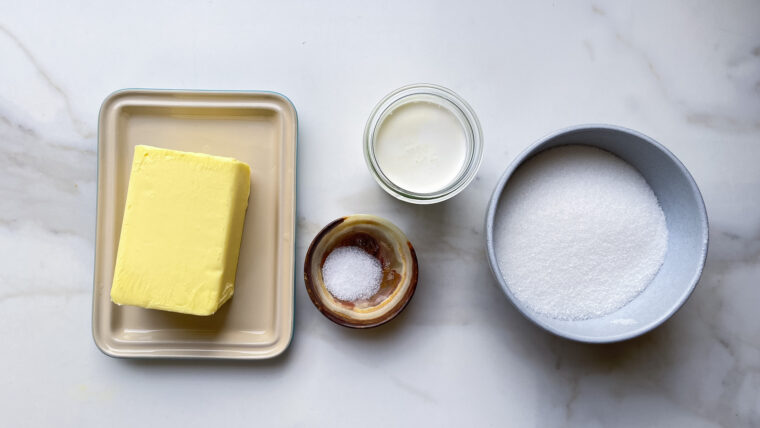 Use a heavy-bottomed saucepan to ensure even heat distribution and prevent the sugar from burning.
Stir the sugar continuously while melting to ensure it caramelises evenly and doesn't stick to the bottom of the pan.
Be cautious when working with hot caramel, as it can cause severe burns. Handle with care and use heatproof utensils.
Drizzle the salted caramel over ice cream, pancakes, waffles, or desserts like brownies, cakes, or apple pie for a delightful flavour.
Use it as a dipping sauce for fruit, such as apple slices or strawberries.
Incorporate it into your favourite beverages, like coffee, hot chocolate, or milkshakes, for a sweet and salty twist.
storage tips
Allow the salted caramel to cool completely before transferring it to an airtight container or jar.
Store it in the refrigerator for up to 2 weeks. Before using, gently warm it in a microwave or on the stovetop, stirring until it reaches a pourable consistency.
If desired, you can freeze salted caramel in a freezer-safe container for up to 3 months. Thaw it in the refrigerator overnight before using it.
Salted Caramel
Ingredients
1

cup

sugar

90

g

salted butter

,

room temperature, cut up into 6 pieces

120

ml

heavy cream

,

room temperature

1

tsp

salt
Instructions
Heat granulated sugar in a medium heavy-duty saucepan (avoid using non-stick) over medium heat, stirring constantly with a high heat resistant rubber spatula or wooden spoon. Sugar will form clumps and eventually melt into a thick brown, amber-coloured liquid as you continue to stir. Be careful not to burn it.

Once the sugar is completely melted, immediately stir in the butter until melted and combined. Be careful in this step because the caramel will bubble rapidly when the butter is added. If you notice the butter separating or if the sugar clumps up, remove it from the heat and vigorously whisk to combine it again. (If you're nervous for splatter, wear kitchen gloves. Keep whisking until it comes back together, even if it takes 3-4 minutes. It will eventually– just keep whisking. Return to heat when it's combined again.)

After the butter has melted and combined with the caramelised sugar, stir constantly as you very slowly pour in the heavy cream. Since the heavy cream is colder than the hot caramel, the mixture will rapidly bubble when added. After all the heavy cream has been added, stop stirring and allow to boil for 1 minute. It will rise in the pan as it boils.

Remove from heat and stir in the salt. Allow to cool down slightly before using. Caramel thickens as it cools.

Cover tightly and store for up to 1 month in the refrigerator. Caramel solidifies in the refrigerator. Reheat in the microwave or on the stove to desired consistency.
Get new recipes, meal planners, and creative entertaining ideas