There's nothing quite like the smell of freshly baked bread wafting through the air. And when it comes to homemade bread, few things can beat the delicious and comforting taste of naan. With just a few simple ingredients, you can make a batch of warm and fluffy naan right in your own kitchen.
To make home-made naan, all you need is flour, yeast, water, salt, sugar, yogurt, and melted butter. Mix the ingredients together, knead the dough, and let it rise for a few hours. Then, divide the dough into small balls, roll them out into circles, and cook them on a hot skillet or griddle.
The result is a batch of warm and delicious naan that's perfect for soaking up curries, stews, and other flavourful dishes. And because you made it yourself, you can customize it to your liking. Add your favorite herbs and spices to the dough, or stuff it with cheese or garlic for an extra special treat.
But perhaps the best thing about homemade naan is the joy it brings to the table. Breaking bread with loved ones and sharing a warm and comforting meal together is one of life's simple pleasures. So why not whip up a batch of homemade naan and share it with those closest to you?
With its warm and comforting texture, homemade naan is the perfect addition to any meal. So why not try making it yourself? It's surprisingly easy and the end result is well worth the effort. Your taste buds – and your loved ones – will thank you.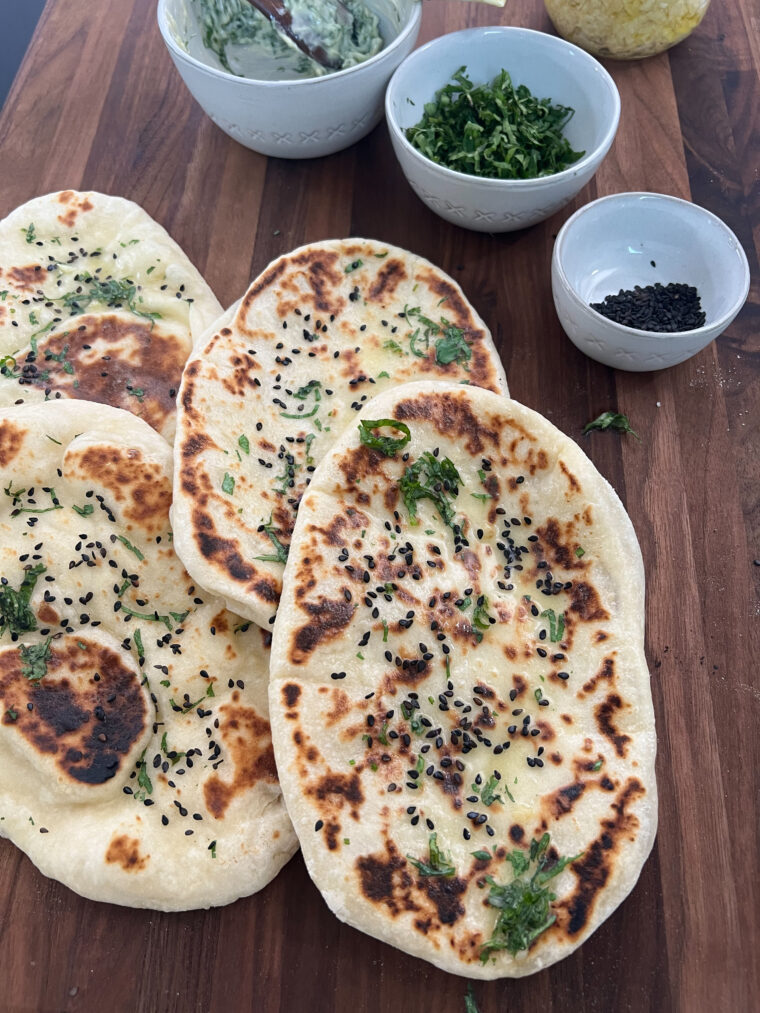 Basic Ingredients for Home-made Naan
All-Purpose Flour: This is the base of the naan bread dough, providing structure and texture.
Sugar: Provides a bit of sweetness to the bread and helps activate the yeast.
Instant Yeast or Baking Powder: Helps the dough to rise and gives the bread its airy texture.
Salt: Enhances the flavour of the bread.
Vegetable Oil: Keeps the bread moist and adds richness to the flavour.
Yoghurt: Adds tanginess and richness to the bread.
Milk: Provides moisture and helps the bread to rise.
Garlic: Adds a pungent and slightly sweet flavour to the bread.
Nigella Seeds: Adds a nutty and slightly bitter flavour to the bread.
Fresh Coriander: Adds a bright, fresh flavour to the bread.
alternative ingredients
Whole Wheat Flour: Instead of all-purpose flour, you can use whole wheat flour for a healthier option.
Honey: Instead of sugar, you can use honey as a natural sweetener.
Vegan Yogurt: If you want to make a vegan version of naan bread, you can use plant-based yoghurt.
Sesame Seeds: If you don't have nigella seeds, you can use sesame seeds as a substitute.
Preparation Tips for Home-made Naan
Kneading the dough properly is crucial for making soft and fluffy naan bread. It helps to develop gluten in the dough, which gives the bread its chewy texture. Knead the dough for at least 10 minutes until it becomes smooth and elastic.
After kneading the dough, let it rest for at least an hour in a warm, draft-free place. This allows the dough to rise and become fluffy.
When rolling out the dough, make sure to roll it evenly to avoid thick and thin spots. This ensures that the naan bread cooks evenly and does not burn.
Make sure you skillet is very hot before adding the naan bread to get the characteristic blistered and charred look of naan bread.
Brushing the naan bread with ghee or butter as soon as it comes out of the oven gives it a rich, buttery flavor and a glossy appearance.
Serve hot: Naan bread is best served hot and fresh from the oven. Serve it with your favorite curries or dips for a delicious meal.
Serving Tips for Home-made Naan
Make sure you use hand-warm (not hot) water to activate the yeast reaction.
The dough needs to rest so that the yeast can make it rise and give you the texture you need
Naan bread is traditionally served alongside curries, kebabs, or other Indian dishes. You can also use it as a wrap or serve it as a side to any meal. For a special treat, brush the naan with melted butter or ghee before serving.
storage tips
Store the naan bread in an airtight container at room temperature for up to 2 days. You can also freeze the bread for up to 3 months.
Home-made Naan
Ingredients
3

cups all-purpose flour

1

tsp

sugar

1

tsp

instant yeast or ½ tsp. baking powder

1

tsp

salt

1/4

cup vegetable oil

1/3

cup

yoghurt

1/2

cup milk, hand warm
Toppings
1

tbsp

minced garlic

1/2

tbsp

nigella seeds

Handful of fresh coriander
Instructions
In a stand mixer bowl, combine flour, sugar, salt and instant yeast, and baking powder. Create a little well in the center and add the oil, yoghurt, and milk. With a dough hook attachment combine the ingredient together until the dough pulls together. If the dough is too sticky and is stuck to the bottom of the bowl, simply add a couple of tablespoons of flour and this should do the trick.

Place the dough in an oiled bowl, cover it with a kitchen towel or cling wrap and allow it to rest for 1 ½ hours, or until the dough has doubled in size.

Gentle punch the air out of the dough, shape it into a ball and place it on a surface dusted with flour. With a knife cut the dough into 12 pieces. Take each piece and roll it into a small ball. With a rolling pin gently flatten each piece into an oval shape about 4 by 6 inches. If you want to add some topping to your naan, sprinkle some of the toppings on the dough and then flip and roll it out to the suggested size.

Pre-heat a cast iron skillet pan ora naan tawa pan until it is smoking hot. Place the naan bread on the pan and allow it to cook for 60 to 90 seconds before your flip and cook the other side for an additional 60 to 90 seconds.

Remove the naan from the pan and brush with butter. Enjoy your naan with your favorite curry. I am going to have it with my favorite butter chicken curry.
Get new recipes, meal planners, and creative entertaining ideas