One of the first recipes I ever created was Lentil soup. It was over 12 years ago that I moved to Dubai and during the months of Ramadan, I co-hosted my very first Iftar with my roommates. I was designated to make Lentil soup, but the problem was that I never made it before, so I had to improvise. With no recipe on hand, or mom to call due to a 12-hour time difference, I ventured into the kitchen adamant to make a delicious soup. The only tool I had on hand was the memory of my grandmother's soup in Sudan. The flavours still linger in my taste buds. It was through the memories of my childhood that I created my first recipe.
The lentil soup is super easy to make. More importantly, it is healthy, nutritious, and perfect to serve daily. It only requires a few simple ingredients to prepare and the best part is you can keep it in the freezer for a long time. The last time I prepare lentil soup, I kept the leftovers in the freezer for about a week and when I had it again, it was still perfect as if I had just made it.
You can customize your lentil soup with any veggies, it will taste so good, and some vegetable stock will give it a little bit flavour, so if you like you can add it too. The good thing is you make lots of lentil soup and enjoy it for the whole week with your family. Hope you enjoy this recipe as much as we do.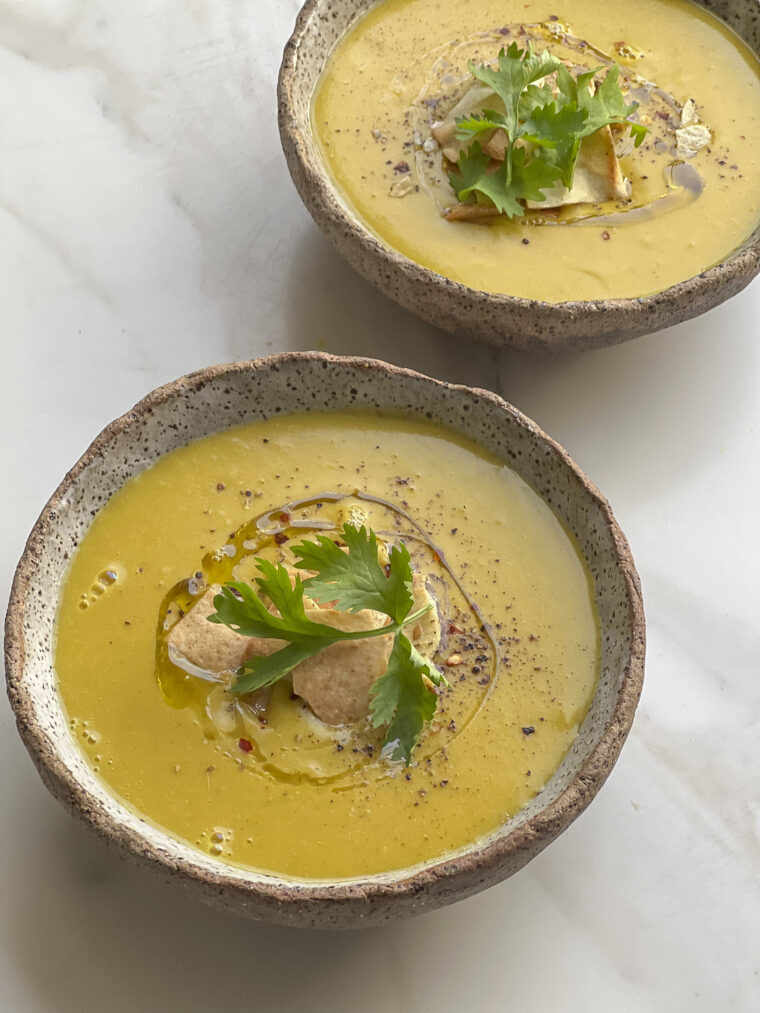 Basic Ingredients for Lentil Soup
Lentils: A type of legume that are rich in protein, fiber, and various vitamins and minerals. They have a mild, nutty flavor and a firm texture that holds up well in soups and stews.
Carrots: Adds sweetness and color to the soup while also providing essential vitamins and minerals.
Celery: A low-calorie vegetable that adds a subtle, refreshing flavor and texture to the soup.
Onion: Provides depth and savory flavor to the soup and is a staple ingredient in many soup recipes.
Cumin Powder: A warm and earthy spice that is commonly used in Middle Eastern and Indian cuisine to add depth of flavor to dishes.
Turmeric Powder: A spice that adds a warm, slightly bitter flavor and a yellow color to the soup. It is also believed to have anti-inflammatory and antioxidant properties.
Coriander Powder: A spice with a citrusy, slightly sweet flavor that pairs well with cumin and is used in many Middle Eastern and Indian dishes.
Cardamom Powder: A warm, aromatic spice that adds a unique and exotic flavor to the soup.
Lemon Slices: Used as a garnish to add a bright, citrusy flavor and acidity to the soup. The lemon also helps to balance out the other flavors in the soup.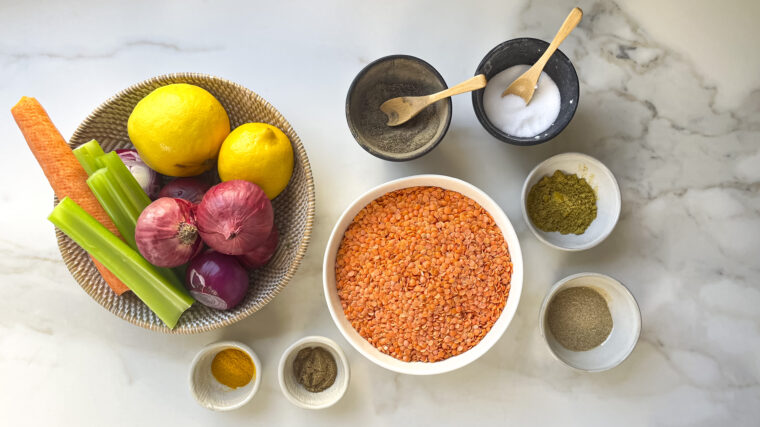 alternative ingredients
Carrot: Sweet potatoes or butternut squash can be used as a substitute for carrot.
Celery: Fennel or leeks can be used instead of celery.
Onion: Shallots or scallions can be used instead of onion.
Water: Vegetable or chicken broth can be used instead of water for added flavor.
Cumin Powder: Curry powder or garam masala can be used instead of cumin powder.
Turmeric Powder: Curry powder or ground ginger can be used instead of turmeric powder.
Coriander Powder: Ground fennel or ground cumin can be used instead of coriander powder.
Lemon Slices: Lime or orange slices can be used as a substitute for lemon slices.
Preparation Tips for Making Lentil Soup
Soak the lentils: To reduce cooking time and help the lentils cook evenly, it's a good idea to soak them for at least 30 minutes before cooking. This can help to break down some of the harder-to-digest sugars in the lentils and make them easier to cook.
Sauté the vegetables: Sautéing the onions, celery, and carrot in olive oil before adding them to the soup can help to develop their flavor and bring out their natural sweetness. This can also help to make the soup more aromatic and flavorful.
Adjust the consistency: Lentil soup can be quite thick, so you may need to add more water or broth to achieve your desired consistency. If the soup is too thin, you can add more lentils or puree some of the soup in a blender to thicken it up. If it's too thick, you can add more water or broth until it reaches your desired consistency.
Serving Tips for Lentil Soup
Serve with pita chips: Lentil soup is commonly served with pita chips. Simply cut the pita bread into small square chips and either fry or air-fry until crispy. Serve soup in a bowl and top with some chips.
Add spices: To give the soup a more special flavour, consider adding spices such as sumac, za'atar, or baharat. These spices can be sprinkled on top of the soup or added to the broth while cooking.
Garnish with fresh herbs: Fresh herbs such as parsley, coriander, and mint are commonly used in Middle Eastern cuisine and can add a fresh and vibrant flavor to the soup. Sprinkle some chopped herbs on top of the soup before serving.
Serve with yogurt: In the Middle East, it is common to serve lentil soup with a dollop of plain yogurt or labneh on top. This can add a creamy and tangy contrast to the soup.
Add lemon juice: A squeeze of fresh lemon juice can help to brighten up the flavors of the soup and add a touch of acidity. Serve the soup with lemon wedges on the side for squeezing.
storage tips
Wondering how to store lentil soup or how long it will last? Well, I had the same question in mind the first time I prepare the lentil soup. Below are all the details on how to store it and how long it will last too.
Lentils soup should be stored in the fridge, it keeps fresh and maintains taste and quality in the fridge for 4 to 7 days if you store it properly in the right conditions necessary in the refrigerator.
After 3 days, the taste may change therefore it is best to freeze it if you want it to remain fresh for many days.
If you freeze it, the lentil soup will last at best quality for 4 to 6 months and may remain safe beyond that time.
Lentil Soup
Ingredients
2

cups of lentils

1

carrot, peeled and chopped

2

celery stalks, chopped

2

small onions, chopped

6

cups of water

2

tsp

salt

½

tsp

pepper

1

tsp

cumin powder

2

tsp

coriander powder

1

tsp

tumeric powder

Pinch of cardamom powder

Lemons slices
Instructions
Wash lentils thoroughly and drain.

In a medium sized pot, sauté onions,celery and carrots until golden brown. Add lentils, water, salt, pepper, cuminpowder, coriander and cardamon, and bring to a boil.

Puree ingredients with a hand blender until the soup has a smooth texture and leave to simmer on low heat for 5 minutes.

Serve with a slice of lemon on the side.
Get new recipes, meal planners, and creative entertaining ideas