Aromatic, hearty, and bursting with flavours, Loobia Polo is a classic Persian dish that is beloved across the globe. At its heart, it is a one-pot meal that combines basmati rice, tender pieces of meat or minced beef, and perfectly cooked green beans, all brought together with a rich medley of spices. A spoonful of this dish takes you on a culinary journey through Iran, showcasing the nation's knack for combining simple ingredients into a spectacular feast for the senses.
Loobia Polo on its own, is a perfectly balanced meal. However, when it is paired with Shirazi salad and Mast-o-Khiar, it truly shines. The Shirazi salad, a vibrant mix of cucumbers, tomatoes, onions, and herbs, brings a refreshing, tangy contrast to the savoury Loobia Polo, while the Mast-o-Khiar, a creamy yoghurt and cucumber salad, cools the palate and complements the complex flavours of the main dish.
Together, these dishes make a meal that is not just nourishing, but truly representative of the depth and breadth of Persian cuisine. They blend various textures and flavours – the hearty comfort of the Loobia Polo, the refreshing crunch of the Shirazi salad, and the cooling creaminess of the Mast-o-Khiar – to create a harmonious feast that is more than the sum of its parts.
Whether you're sharing this meal with family on a weeknight or serving it up at a dinner party, Loobia Polo with Shirazi salad and Mast-o-Khiar promise to deliver a unique dining experience that combines tradition, flavour, and an authentic taste of Persian hospitality.
Basic Ingredients for Loobia Polo (Persian Green Bean Rice)
Basmati rice: This type of rice is used for its fragrant aroma and ability to stay separate when cooked, which is ideal for Persian dishes like Loobia Polo.
Onions, garlic, and spices (turmeric, cinnamon, black pepper): These ingredients are used to provide a depth of flavour to the dish.
Vegetable oil and butter: These are used for cooking the ingredients and adding richness to the dish.
Ground beef or lamb cubes: Either of these meats can be used to provide protein and make the dish hearty and filling.
Green beans: These give the dish some vegetable content, providing colour, texture, and nutrients.
Tomato paste and chopped tomato: They provide a tangy flavour and a contrasting colour to the dish.
Rose water and sugar: They lend a subtle sweetness and floral aroma to the dish, which is characteristic of Persian cuisine.
Saffron: This is a common spice in Persian cooking, used for its unique flavour and the bright yellow colour it imparts to dishes.
Potatoes: These are used to create the crispy crust at the bottom of the pot, known as tahdig, which is a prized part of many Persian rice dishes.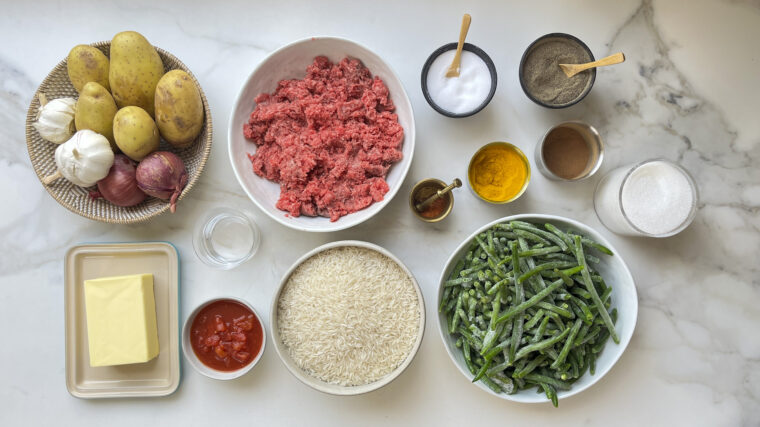 Be sure to rinse the rice thoroughly to remove excess starch, which can cause it to clump together.
Soak the rice for a couple of hours before cooking. This softens the grains and helps them to cook more evenly.
Don't stir the potatoes while frying to ensure they form a crust.
Serve the Loobia Polo hot, with the crispy tahdig presented separately or placed on top.
Complement the meal with refreshing sides like Mast-o-Khiar and Shirazi salad for a complete, balanced meal.
storage tips
Keep leftovers in an airtight container in the refrigerator for up to 3-4 days.
To reheat, place in a microwave or back into a pot with a little added water to prevent drying out.
This dish can also be frozen for up to 2 months. Thaw in the refrigerator and reheat thoroughly before serving.
Loobia Polo (Persian Green Bean Rice)
Ingredients
3

cups

basmati rice

water

salt

2

medium onions

,

chopped

vegetable oil

500

g

ground beef or lamb cubes

2

tsp

minced garlic

1

tsp

turmeric powder

1

tsp

cinnamon powder

1/2

tsp

black pepper powder

500

g

green beans

,

cut into 1-inch pieces

2/3

cup

tomato paste

1

can chopped tomatoes

1

tsp

rose water

1

tsp

sugar

a pinch of ground saffron

2

small potatoes

,

peeled and sliced

3

tbsp

butter
Instructions
Wash and rinse the rice with cold water until the water runs clear. Soak the rice in 6 cups of cold water, add 6 tablespoons salt and set aside for a couple of hours.

In a medium-sized saucepan, sauté the onions in oil over medium–high heat until it becomes translucent. Add the meat, garlic, turmeric powder, cinnamon powder, 1 teaspoon salt and black pepper powder and sauté for at least 3–5 minutes until the meat is browned.

Add the green beans, tomato paste, chopped tomatoes, rose water, sugar and saffron along with ½ cup of water; mix well, cover and leave to simmer on low heat for about 20–30 minutes.

In a large pot, add 6–8 cups of water and a couple tablespoons of vegetable oil, and bring to a boil. Drain the rice and add to the boiling water and cook for about 7–10 minutes until the rice is parboiled or al-dente. The grain needs to be soft from the outside and firm in the centre. Drain and rinse the rice in cold water.

Wipe clean the large pot, add 3 tablespoons oil and arrange the sliced potatoes in a circular layout at the base and fry on high heat without stirring for 3–5 minutes. On to this, place the rice and meat mixture in alternating layers, building it up into a dome shape and poke 4–5 holes in the rice with the bottom of a wooden spoon.

In a small cup, melt and mix 3 tablespoons of butter with ½ cup boiling hot water and a pinch of saffron, and pour over the rice. Cover the pot and cook on high heat until it begins to steam. Wrap the pot's lid with a kitchen towel and cook the rice for an additional 30 minutes on low heat.

Spoon the rice on a platter with the crispy potato crust (tahdig) on the side. Serve with mast-o-khiar or Shirazi salad.
Get new recipes, meal planners, and creative entertaining ideas