Szechuan Chicken is a wonderful, vibrant and flavourful dish that takes its name from the Sichuan province in southwestern China, a region celebrated for its bold and pungent flavours. This dish is an exemplary representation of the province's famous cuisine, which brings together an exquisite blend of hot, sweet, sour, and salty tastes, creating a complex yet harmonious flavour profile.
The star ingredient in Szechuan Chicken is the Szechuan peppercorn. This spice is known for its fiery character and unique ability to induce a tingling, almost numbing sensation on the palate. This is combined with a symphony of other ingredients, including garlic, ginger, and a rich assortment of other spices and sauces, creating a robust and layered taste experience. The chicken is generally stir-fried, allowing it to soak up the medley of flavours while retaining a succulent texture. Szechuan Chicken is not merely a dish, but an experience that invites diners to explore the rich and diverse culinary traditions of China's Szechuan province. Each bite offers a remarkable depth of flavour, a testament to Sichuanese cuisine's culinary prowess and traditions. Whether served atop a steaming plate of rice or as a standalone dish,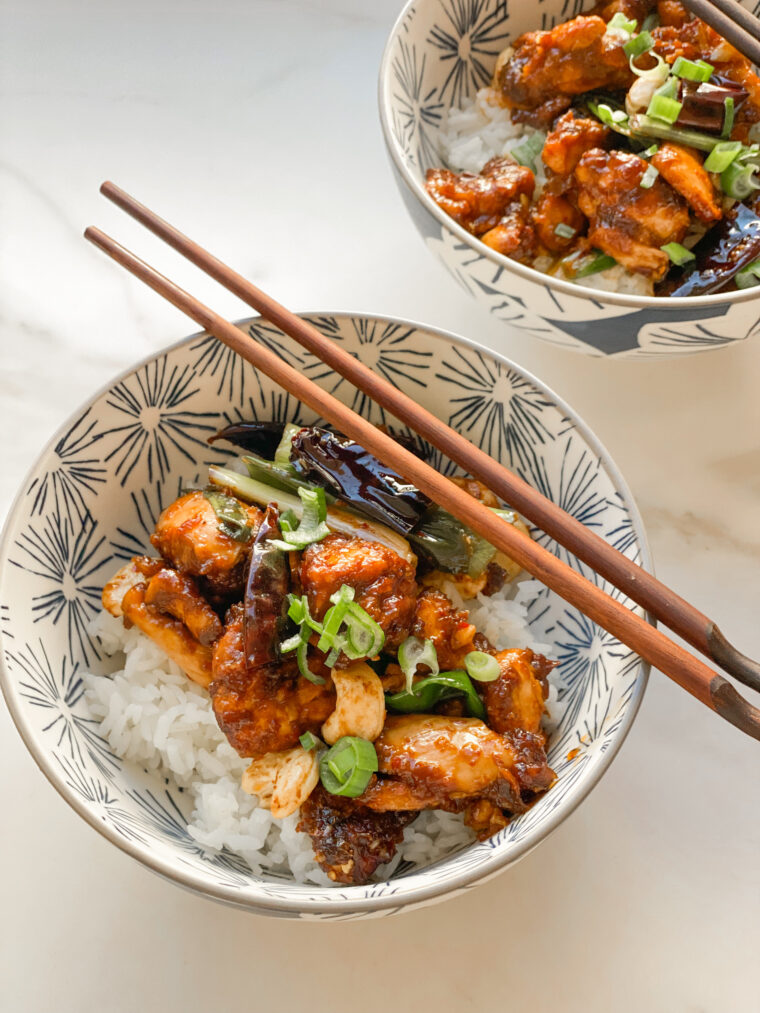 Basic Ingredients for Szechuan Chicken
For the Chicken Marinade
Chicken Thighs (boneless, skinless): They are chosen for their tender, juicy, and flavour-rich nature. The thigh meat holds up well to the strong flavours of the Szechwan cuisine, absorbing the marinade beautifully and retaining its juiciness during cooking.
Dark Soy Sauce: It imparts a deep colour and a rich, salty flavour to the chicken, enhancing the umami notes in the dish.
Light Soy Sauce: It is less concentrated than dark soy sauce and adds a salty flavour without overpowering the chicken's natural flavours.
Rice Vinegar: Adds a tangy note, helping to balance the heat from the spices and giving brightness to the marinade.
Sugar: Adds a hint of sweetness to the marinade, which balances out the salty notes and helps create a beautiful caramelisation during stir-frying.
Chinese 5 Spice: A potent blend of five spices, including star anise, cloves, Chinese cinnamon, Sichuan (Chinese) peppercorns, and fennel seeds, this seasoning brings a warm and slightly sweet flavour profile to the dish.
Szechuan Peppercorns: These peppercorns are known for their unique numbing effect and a slightly lemony flavour, providing the characteristic tingling sensation of Szechwan cuisine. This spice can sometime be difficult to find in your local supermarket, I recommend visiting a Chinese Specialist supermarket to find the spice.
Cornflour: Helps to tenderise the chicken and create a light crust when stir-frying, locking in the juices and flavours.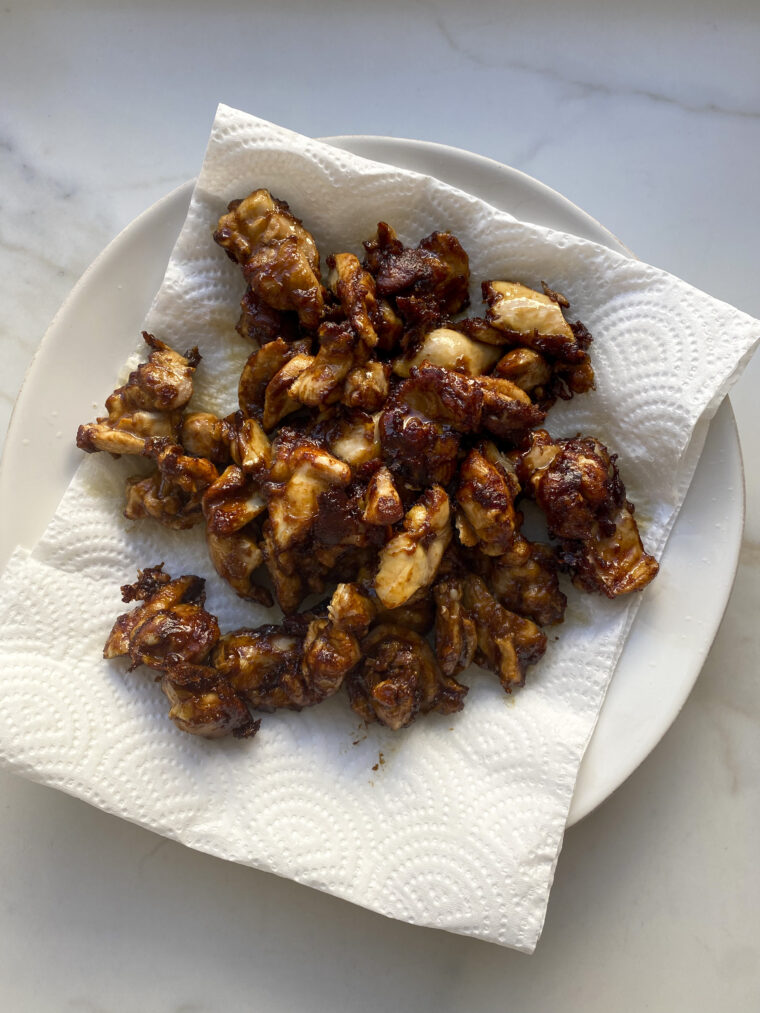 For the Stir Fry
Vegetable Oil: Used as a cooking medium, it helps stir-fry the ingredients evenly and facilitates the melding of flavours.
Ginger: Adds a spicy, slightly sweet, and pungent flavour that enhances the dish's overall taste.
Garlic: Provides a robust, earthy flavor, which is a base note in many Chinese dishes.
Dried Chili Peppers: They bring heat to the dish, which can be adjusted according to your preference for spiciness.
Spring Onions: They add a fresh, slightly pungent flavour, and their green parts serve as a colourful, crunchy garnish.
Oyster Sauce: This sauce gives a rich, savoury, and slightly sweet flavour, adding depth to the stir-fry.
Chili Bean Sauce: Adds both heat and a complex fermented bean flavor, which is a signature in Szechwan cuisine.
Sugar: A small amount helps to balance the spicy and salty flavors, giving the dish a rounded taste.
Sesame Oil: Drizzled at the end, it adds a nutty aroma and flavor that complements the dish's spicy notes.
Cashews: They provide a delightful crunch and a creamy, buttery flavour in contrast to the spicy, tangy sauce.
Green Onion and Sesame Seeds (for garnish): Adds a fresh crunch and a nutty flavour respectively, while also enhancing the visual appeal of the dish.
For the Stir Fry
Vegetable Oil: Can be replaced with other neutral oils like canola or grapeseed oil, or even with sesame oil for a more robust flavour.
Ginger and Garlic: In a pinch, ground ginger and garlic powder can be used, but the fresh variants are always preferable for a vibrant flavour.
Dried Chili Peppers: Can be substituted with fresh chilli peppers or chilli flakes depending on your heat preference.
Oyster Sauce: Vegetarian oyster sauce (made from mushrooms) or hoisin sauce can be used as alternatives, especially if you are looking to make the recipe vegetarian.
Chili Bean Sauce: Can be replaced with other spicy sauces such as Sriracha or a blend of fermented bean paste with some added chilli flakes for heat.
Cashews: If looking for a different crunch element, consider using peanuts or almonds instead.
Garnish: Instead of green onions and sesame seeds, you could use fresh coriander or even finely sliced red chilli peppers for a colour contrast and a burst of freshness.
Marination: Ensure the chicken is marinated for at least 30 minutes to absorb the flavours fully.
Cooking: Use a well-heated wok to maintain a high temperature, which is essential for a perfect stir-fry.
Sauce: Whisk the sauce ingredients well in a separate bowl to ensure an even distribution of flavours.
Rice: Serve the Szechuan chicken over a bed of steamed jasmine or basmati rice.
Garnish: Enhance the visual appeal with a generous green onions and sesame seeds garnish.
storage tips
Cooling: Allow the leftovers to cool to room temperature before storing.
Refrigeration: Store in an airtight container and refrigerate for up to 3 days.
Reheating: Reheat in a microwave or a stovetop, ensuring it is heated thoroughly before consuming.
Sezchuan Chicken
Ingredients
For the Chicken Marinade
500

g

boneless, skinless chicken thigh

,

cut into 1 inch pieces

1

tbsp

dark soy sauce

1

tbsp

light soy sauce

1

tbsp

rice vinegar

pinch of

sugar

pinch of

Chinese 5 spice

freshly ground pepper

,

preferably Szechuan

2

tbsp

corn flour
Stir Fry Ingredients
vegetable oil

1

inch

ginger

,

finely julienned

3

cloves

garlic

,

minced

6

chilli peppers

,

dried

5

spring onions

2

tbsp

light soy sauce

1

tbsp

oyster sauce

2

tbsp

rice vinegar

2

tbsp

chilli bean sauce

1

tsp

sugar

3

tsp

sesame oil

¼

cup

cashew

green onion and sesame seed

,

garnish
Instructions
In a large bowl or zip lock bag combine the chicken pieces with the ingredients of them arinade, toss everything together. Make sure that the chicken is fully and evenly coated. If you are using a bowl cover it with cling wrap. Place them arinated chicken in the fridge and let it rest for 30 minutes, to absorb the flavors from the marinade.

In a small bowl whisk together soy sauce, rice wine vinegar, chili sauce, minced garlic, sugar and sesame oil.

In a large pot over medium-high heat, add enough oil to come up 2 inches. Fry the chicken in batches for about 5 to 7 minutes, or until golden brown. Drain on a paper towel lined plate.

In a large wok over high heat, add 1 tablespoon vegetable oil and 1 tablespoon of sesame oil.

Add ginger and garlic and cook until fragrant, for about 1 minute. Add the dried chili peppers and toast for a further minute.

Add chicken, Szechuan peppers, green onions and sauce to the wok and toss until coated.

Stir fry until well combines and serve.

Garnish with sesame seeds and spring onions and serve over rice.
Get new recipes, meal planners, and creative entertaining ideas