Saffron Chicken is a dish that's so much more than a simple combination of ingredients. For me, it's a delicious window of my childhood, a vivid tapestry of golden summers spent in Karaj, Iran, where the tantalising aroma of my grandmother's kitchen would wrap us in a comforting embrace the moment we stepped through her door. There, nestled amongst the variety of dishes she prepared with love, the Saffron Chicken served with Zereshk Polo. It wasn't just a meal, it was a love language, a generational bond, and an embodiment of Persian culture that my grandmother passed down to us.
Prepared with tender chicken, delicately spiced and stained golden by the world's most precious spice, this dish is a celebration of simplicity and incredible flavour. The rich and aromatic scent of saffron combined with the succulent chicken brings to life a culinary magic that is hard to resist.
Saffron Chicken is more than just a favourite childhood dish to me; it's a cherished memory, a testament to the enduring love of my grandmother, and a token of my Iranian heritage that I am proud to share with my own family now. Every time I prepare it, it feels like a culinary journey back to those sun-soaked Iranian summers, a sensory reminiscence of laughter-filled meals around my grandmother's table. This dish is a vibrant thread in the fabric of our family's narrative, and each time I serve it, I feel the warmth of tradition, the joy of shared memories, and the deep, enduring love that flavours every bite.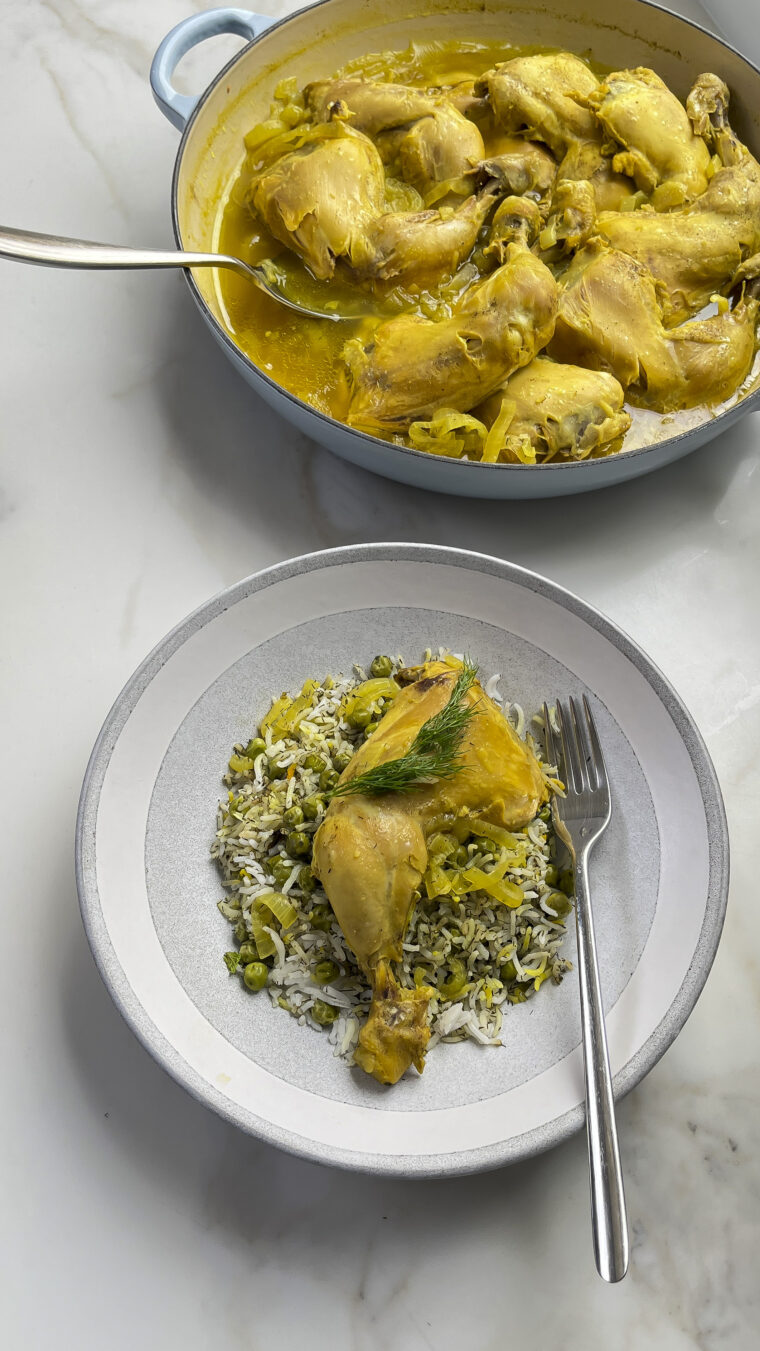 Basic Ingredients for Saffron Chicken
Chicken leg/thigh pieces: The use of dark meat in this dish provides a deep, rich flavour that stands up well to the bold spices. It remains moist during the cooking process, absorbing flavours beautifully. If you prefer, chicken breasts can be used as an alternative, but keep in mind that white meat might get a bit drier.
Salt & Black Pepper Powder: These are basic seasonings that enhance the natural flavours of the chicken and the other ingredients. They're adjustable based on personal preference.
Turmeric Powder: Turmeric adds a warm, earthy flavour and a lovely yellow colour to the dish. It also has numerous health benefits.
White Onion: Onion provides a sweet, caramelised base flavour when cooked down. Red onion can be an alternative for a more potent flavour.
Minced Ginger & Garlic: These add a spicy, aromatic element to the dish. They are the base flavours in many dishes around the world.
Saffron: The star of the dish. Saffron lends a unique aroma and a beautiful golden hue. There isn't a direct alternative for saffron's unique flavour, but in a pinch, turmeric can provide similar colour.
Cardamom Powder: This adds a sweet, floral note to the dish, complementing the other flavours perfectly.
Rose Water: It imparts a subtle, fragrant floral note that sets this dish apart. Orange blossom water could be used as an alternative.
Water: The cooking medium, it combines with the spices to create a flavorful sauce for the chicken.
Marinade the chicken with salt, pepper, and turmeric for at least 30 minutes prior to cooking for a deeper flavour.
Use a heavy-bottomed pot to ensure even heat distribution and prevent the chicken from sticking to the bottom of the pot.
Browning the chicken pieces before simmering could add an extra layer of flavour.
This dish pairs wonderfully with plain or saffron rice, as the rice absorbs the rich, flavorful sauce.
Garnish with fresh herbs such as parsley or mint for a pop of colour and freshness.
storage tips
This dish can be stored in the refrigerator for up to 3 days in an airtight container.
To reheat, you can either use a microwave or heat on the stove over low heat to maintain the chicken's moisture.
The dish also freezes well. Thaw in the refrigerator overnight and reheat as mentioned before serving.
Saffron Chicken
Ingredients
8

–10 chicken leg/thigh pieces

,

chicken breast is also optional

1

tsp

salt

½

tsp

black pepper powder

2

tsp

turmeric powder

2

large white onion

,

thinly sliced

1

tsp

minced ginger

1

tsp

minced garlic

¼

tsp

finely ground saffron

½

tsp

cardamom powder

2

tsp

rose water

1

cup

hot water
Instructions
Start by thoroughly cleaning the chicken with water and salt. After patting dry, season the chicken with a combination of salt, black pepper powder, cardamom powder, and turmeric powder. Let this rest to allow the flavours to penetrate the chicken.

In a large pot that has a heavy bottom, arrange a layer of thinly sliced onions. Add a layer of minced ginger and garlic on top of the onions. Then place the seasoned chicken on top of this arrangement.

Prepare a mixture of ground saffron, rose water, and hot water in a small cup. Pour this fragrant liquid over the layers of chicken, ginger, garlic, and onions in the pot.

Cover the pot and bring the liquid to a boil on a high heat setting. Once the liquid starts boiling, reduce the heat and let the pot simmer for about 30 minutes. The dish is ready when the chicken is fully cooked.

For serving, the saffron chicken pairs perfectly with a side of rice. Enjoy this flavourful, aromatic dish with your loved ones.
Get new recipes, meal planners, and creative entertaining ideas