Quick and Easy Air-Fried Eggplant and Tomato Sauce with Farfalle Pasta
In the hustle and bustle of our weekday routines, I often favour to prepare meal that's not only satisfying but also effortless to put together. This quick and easy Eggplant and Tomato Pasta recipe is one of my favourite go to recipes. This flavourful dish combines the earthy richness of eggplants with the zesty allure of tomatoes, simply seasoned for a burst of flavours that will have your taste buds dancing. The best part is that with straightforward steps and minimal preparation time, this recipe is tailor-made for busy weeknights when you crave something delicious without the fuss. I always make extra sauce for to add to freshly made pasta in the mornings for the kids school lunches. I love the simplicity and deliciousness of this Eggplant and Tomato Pasta, making it the perfect solution for quick and enjoyable weekday meals that everyone will love.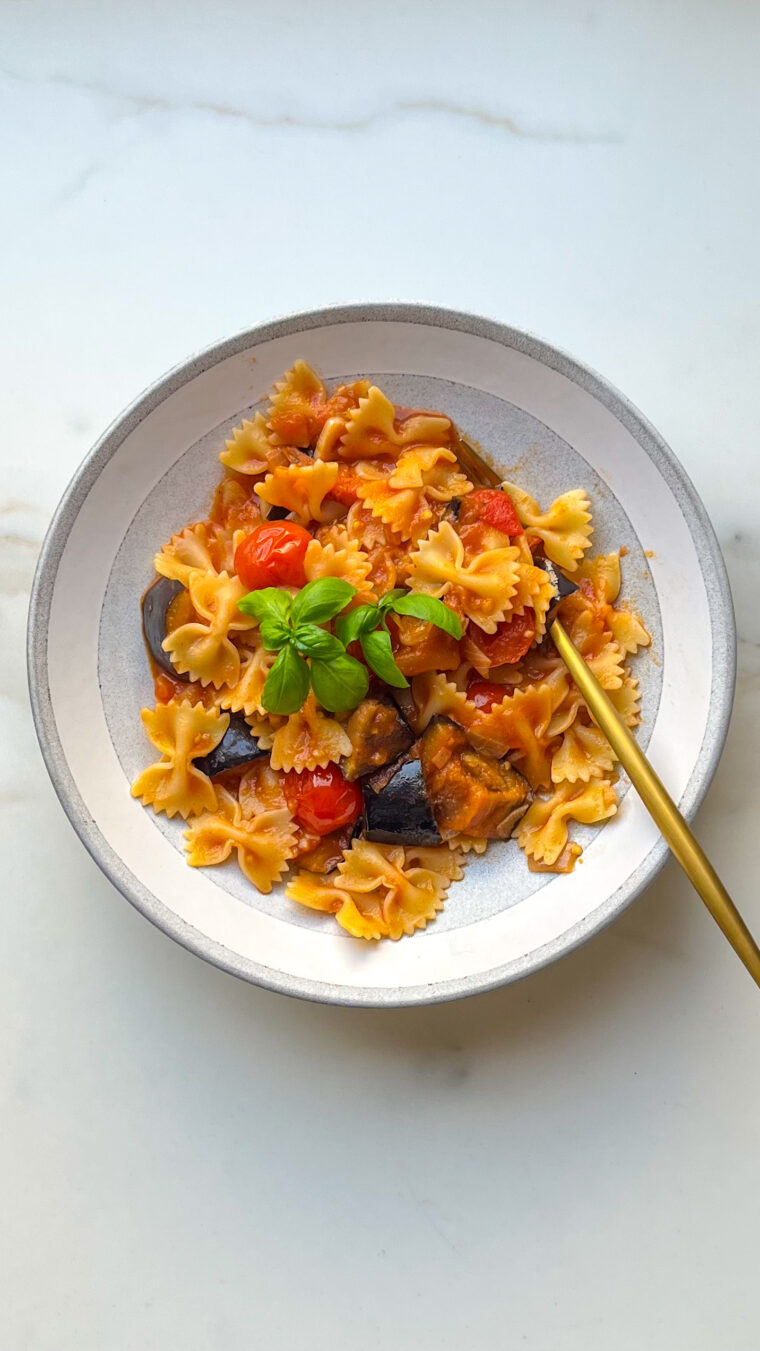 Basic Ingredients for Air-Fried Eggplant and Tomato Sauce with Farfalle Pasta
Eggplants: Eggplants are the key ngredient in this dish, providing a creamy texture and a rich, slightly smoky flavour when roasted. They absorb the flavours of the sauce beautifully.
Tomatoes: Tomatoes are a fundamental component, lending their vibrant acidity and sweetness to the sauce. They create a robust base for the pasta and balance the dish's flavors.
Italian Tomato Passata Sauce: This sauce adds depth and richness to the dish, providing a concentrated tomato flavour. It also helps create a luscious, well-coated sauce for the pasta.
Farfalle Pasta: Farfalle, with its butterfly-like shape, captures the sauce effectively. Its firm texture and large surface area allow it to hold onto the flavors.
Garlic: Garlic infuses the dish with aromatic notes and a mild, savoury flavor, enhancing the overall taste profile.
Onions: Onions add sweetness and depth to the sauce while providing a pleasant contrast to the tomatoes and eggplants.
Olive Oil: Olive oil not only aids in sautéing the vegetables but also contributes a distinctive, fruity note that complements the Mediterranean flavours.
Salt and Pepper: These seasonings are essential for enhancing and balancing the flavours in the dish, ensuring it tastes just right.
alternative ingredients
If you need to make substitutions or adjustments:
Eggplants: You can use zucchini or bell peppers for a different vegetable twist.
Tomato Passata Sauce: If you can't find Italian tomato passata sauce, you can substitute it with crushed tomatoes or tomato puree.
Pasta: Feel free to use your favourite pasta shape if farfalle isn't available.
Garlic and Onions: You can adjust the quantities of garlic and onions to suit your taste preferences.
Preparation Tips for Air-Fried Eggplant and Tomato Sauce with Farfalle Pasta
When roasting the eggplants, make sure they are evenly coated in olive oil and season them well with salt and pepper for the best flavour.
Saute the onions until they turn translucent and slightly caramelised to enhance their sweetness.
Simmer the sauce until it reaches the desired thickness, allowing the flavours to meld together.
Reserve some pasta cooking water before draining. It can be used to adjust the sauce's consistency when tossing with the pasta.
Serving Tips for Air-Fried Eggplant and Tomato Sauce with Farfalle Pasta
Add a drizzle of extra virgin olive oil just before serving for a burst of freshness and flavour.
Garnish with fresh basil leaves or grated Parmesan cheese to elevate the presentation and taste.
Serve the pasta with a side salad or crusty bread for a well-rounded meal.
storage tips
Leftovers can be refrigerated in an airtight container for up to three days.
Reheat gently on the stovetop or in the microwave, adding a touch of water to maintain the pasta's moisture.
Avoid freezing, as pasta can become mushy when thawed and reheated.
Air-Fried Eggplant and Tomato Sauce with Farfalle Pasta
Ingredients
1

kg

tomatoes

4

eggplants

,

cut into large chunks

2

cups

cherry tomatoes

,

cut into halves

1

bottle (680g)

Italian tomato passata sauce

350

g

farfelle pasta

1

bulb

(6-8 cloves) garlic

3

small

onion

,

diced

¼

cup

olive oil

salt

freshly ground black pepper

sugar
Instructions
Cut the eggplants into large chunks. Drizzle olive oil over the eggplant chunks and season with salt and black pepper. Toss to coat evenly. Air fry the seasoned eggplants at 200°C for 8-10 minutes until they are tender and slightly crispy. Set aside.

Dice the onions and finely slice the garlic. Heat a large pot and add olive oil. Sauté the diced onions until they soften and are translucent in colour. Add the sliced garlic and sauté until fragrant.

Add the cherry tomatoes to sautéed onions and garlic tomatoes. Stir in the air-fried eggplants and the Italian tomato passata sauce. Season the sauce with salt, black pepper, and a small amount of sugar to taste. Let the tomato mixture simmer over medium heat until it is well-cooked, and the flavours meld together. Stir occasionally.

In a separate pot, cook the farfalle pasta according to the package instructions until it is al dente. Drain the cooked pasta and set it aside. Reserve some of the pasta water on the side.

Toss the cooked pasta into the tomato and eggplant sauce, ensuring it is well coated. Serve the Eggplant and Tomato Pasta with fresh basil leaves on top for a burst of flavour.
Get new recipes, meal planners, and creative entertaining ideas