Living in Vancouver, Canada, I discovered the delightful Vietnamese summer roll, or 'Gỏi cuốn'. These delightful rolls are traditionally made using translucent rice paper, filled with an array of crisp vegetables, herbs, rice noodles, and in my version, succulent prawns.
What makes these summer rolls so irresistible is the harmony of textures and flavours they hold within. The prawns add a subtle sweetness and a bite that compliments the soft, chewy rice paper and the crunch of fresh vegetables. Dipped in a rich, savoury peanut butter sauce, each mouthful becomes an adventure, as the creaminess of the sauce balances the freshness of the roll.
But the magic of Vietnamese summer rolls is their versatility. The ingredients can be adjusted to personal preference or dietary needs, and they can be enjoyed with a variety of dipping sauces. Whether it be a tangy tamarind sauce, a fiery chilli dip, or the classic fish sauce blend, there's a pairing to suit every palate.
What started as a curious tasting in Vancouver has set me on a culinary journey, and I hope it will eventually take me to the lively food streets of Vietnam. Until then, I'll continue to celebrate and share this delicious piece of Vietnamese cuisine from my kitchen, always savouring the anticipation of the authentic flavours I'm yet to discover.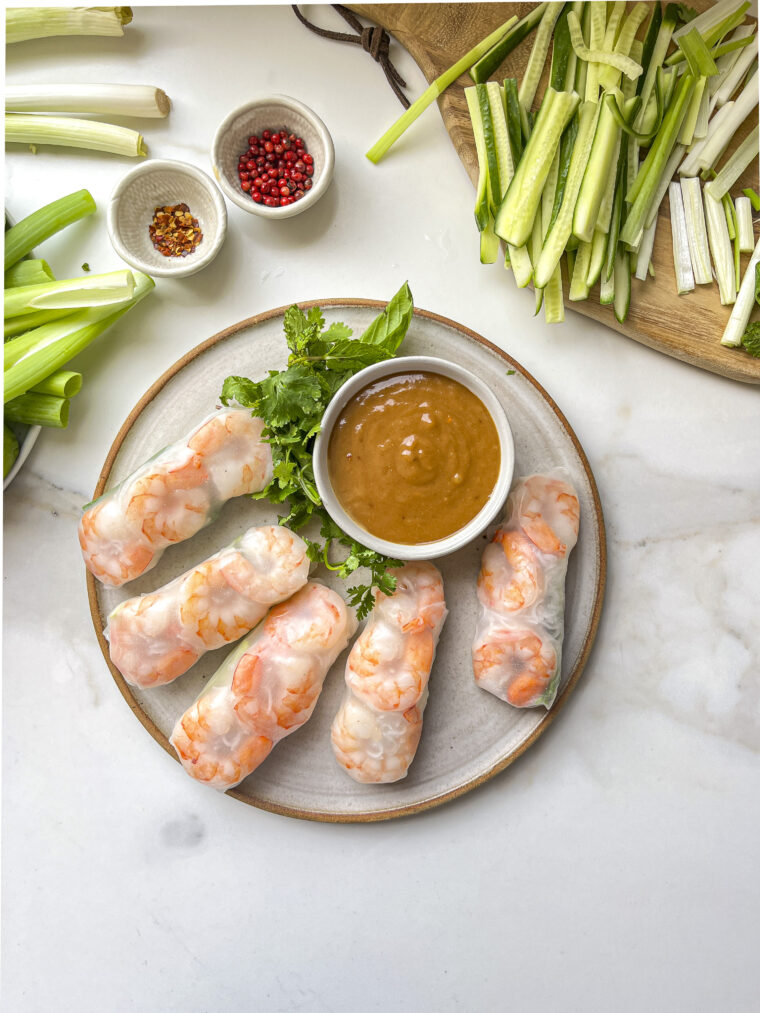 Basic Ingredients for Vietnamese Summer Roll
Rice Wrappers: These are the 'vehicle' of the summer rolls, providing a transparent and delicate casing that neatly packages the ingredients. It's made from rice starch and water, offering a unique, soft texture and a neutral taste that doesn't overshadow the filling.
Shrimps: Cooked shrimps are used for their firm yet tender texture and delicate, sweet flavour. They also bring a pop of colour to the roll.
Bay Leaf and Peppercorns: They are used to season the water where shrimps are cooked. These provide an additional layer of flavour to the shrimp.
Cucumbers and Spring Onions: Both contribute a refreshing crunch and a slight sweetness. Spring onions also offer a gentle spicy note.
Rice Vermicelli Noodles: They are light, filling, and work as a great base that binds all the other ingredients together.
Herbs (Mint, Thai Basil, Coriander): Fresh herbs add an aromatic dimension, lifting the overall taste of the rolls.
Lettuce: It adds a crispy texture and a slightly bitter note that balances out the sweet and rich flavours.
Peanut Sauce Ingredients: Peanut butter gives the sauce its creamy and nutty character. Soy sauce, vinegar, lime juice, honey, ginger, garlic, and chilli paste are added for a sweet, sour, spicy, and umami balance.
Rice Wrappers: Make sure the water for soaking is warm, not boiling. Dip each wrapper for just a few seconds. They should be pliable but not too soft.
Filling: Be mindful not to overfill the wrappers as they can tear.
Garnish: Garnish the plate with sprigs of mint or coriander for a beautiful presentation.
Serve Fresh: While these rolls can be stored, they're best served fresh.
storage tips
Prevent Sticking: If you're storing the rolls, wrap each roll individually in cling film to prevent them from sticking together.
Refrigerate: Store them in the refrigerator and consume them within two days. Remember, the fresher, the better!
Vietnamese Summer Roll
Ingredients
10-12

rice wrappers

200

g

cooked shrimp- peeled

,

deveined and cut in half

bay leaf

5

peppercorn

2

cucumbers

2-3

spring onions

100

g

rice vermicelli noodles or mong bean noodles

fresh mint leaves

fresh Thai basil

fresh Thai basil

fresh coriander leaves

lettuce
Peanut Sauce:
2

tbsp

peanut butter

,

preferably smooth or crunchy

1

tbsp

soy sauce

1

tbsp

white vinegar

½

tbsp

lime juice

1

tbsp

honey

1-

inch

ginger

,

grated

½

tsp

garlic

,

minced

½

tsp

crushed chilli

,

sambal or other chilli paste, adjust to taste (optional)

water to thin
Instructions
Combine the Peanut Dipping Sauce ingredients. Mix briefly and thin with water until you reach desired consistency. Adjust sour with vinegar, salt with salt and spiciness to taste.

To prepare shrimp, bring water to a boil in a pot and season with bay leaf and peppercorn. Lower the heat; add the shrimp to cook for 5 minutes. Remove from water, cut in half, and leave shrimp on the side.

To prepare the noodles, soak noodles in boiling hot water for 3- 5 minutes or until al dente. Drain and keep on the side.

Cut the cucumber and spring onions into 2- to 3-inch-long matchsticks.

Wash the mint, drain and dry with a salad spinner. Repeat the same procedure with the Thai basil.

To prepare the rolls, fill a large bowl with warm water. Dip one wrapper into the hot water for a few seconds and lay the wrapper flat on a kitchen towel to dry.

Place 2 shrimp halves, a handful of vermicelli noodles, basil, mint, spring onion and cucumbers in the centre of the wrap, leaving at least 1 inch uncovered on each side.

Carefully fold the bottom half, then each side flap and roll away from you. If the rice paper is moistened properly, it should easily stick and roll.

Serve spring rolls with sweet chill sauce on the side.
Get new recipes, meal planners, and creative entertaining ideas