As the golden sun sets and the crescent moon graces the sky, I find myself immersed in the warmth and beauty of the Spirit of Ramadan. It has been a remarkable journey filled with heartwarming moments shared with loved ones. This year, my focus revolved around two main priorities: spending every Iftar with my children, creating beautiful traditions and lasting memories, and hosting close family and friends for Iftar, nurturing family and friendship connections. Amidst these meaningful endeavors, I was also busy with Zahra's Kitchen – Ramadan without a doubt is our busiest time of the year it has been absolutely gratifying and humbling to recognize that our products were very well received and were part of so many iftar tables.
A Month of Culinary Delights:
Ramadan is a time when our kitchens become a source of love and nourishment, brimming with flavours that celebrate our rich cultural heritage. This year, our Iftar gatherings were a delightful exploration of Middle Eastern culinary traditions. We savoured dishes that paid homage to the vibrant tapestry of flavours that define our region. This was the first year that all three of my boys were fasting, and it was of utmost priority that I include the three of them in daily family rituals. For our intimate family gatherings, I prepared a special dish for my boys to enjoy. For my larger group iftar, I prepared a selection of my favourite menus that celebrated both the Arabic and Persian kitchen, and I always prepared my favourite must-have recipes for our gatherings, including:
Yulanji: Iraqi-style Yulanji, a classic dish, featured tender grape leaves and onions stuffed with a vibrant mixture of rice, tomatoes, herbs, and spices. These delicate parcels were carefully rolled and cooked to perfection, resulting in a harmonious blend of textures and flavors. The addition of pomegranate molasses added a delightful tang and complexity to the dish, elevating it to new heights.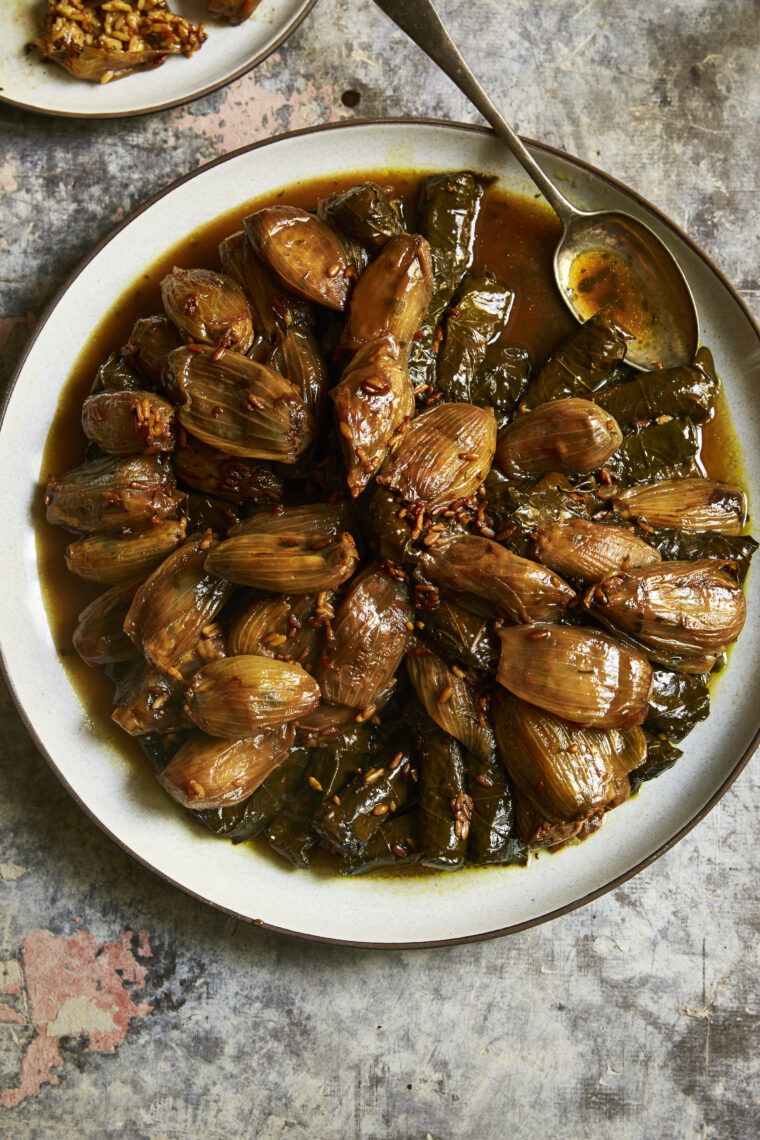 Fattat Beitijanan: Fattat Beitijanan, a layered bread casserole, brought warmth and comfort to our Iftar gatherings. Crispy bread served as the foundation for a flavorful eggplant mixture, topped with a velvety yogurt sauce and toasted nuts. This Levantine delight showcased the essence of comfort food, nourishing both body and soul.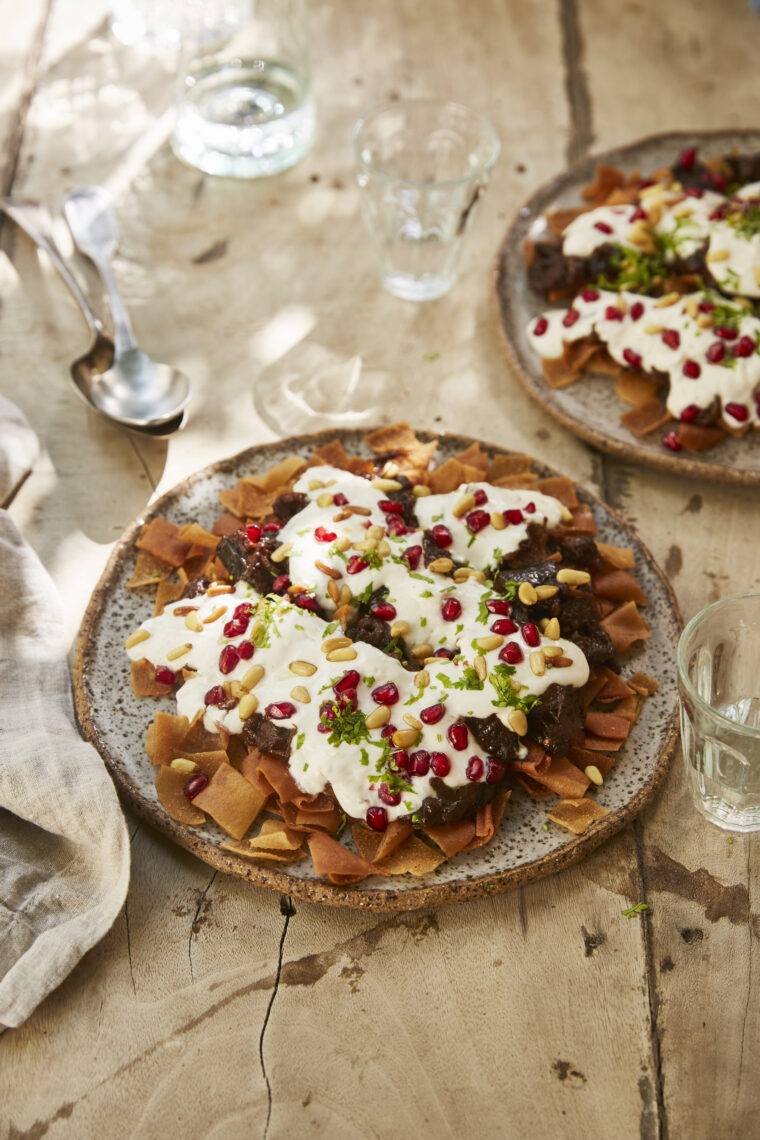 Manti: Our Iftar table wouldn't be complete without the presence of Manti, a Turkish specialty. These small dumplings, filled with seasoned ground meat, were served with a rich tomato sauce and topped with garlic-infused yogurt and melted butter. Each bite offered a burst of flavor, inviting us to indulge in the culinary delights of Turkey.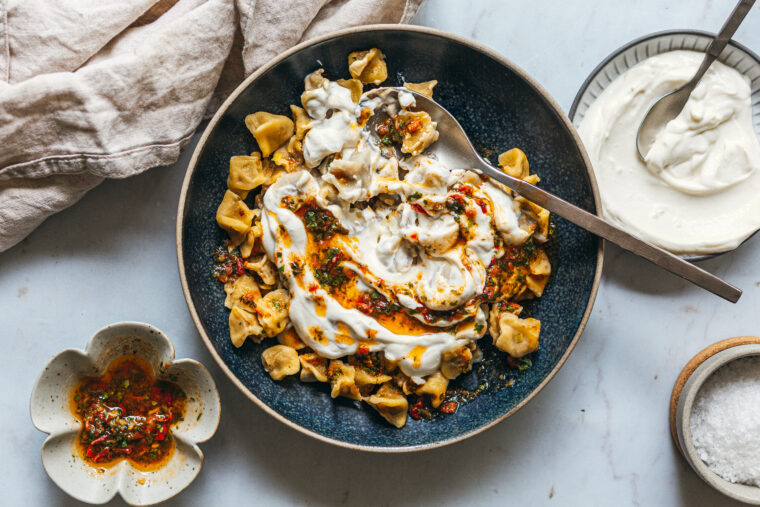 In addition to our Iftar traditions, I dedicated myself to sharing a new recipe every day as part of the #30daysofRamadan Recipe series on my blog. It was a rewarding experience to witness the appreciation from my readers as they explored the culinary treasures of Ramadan. The shared joy and culinary inspiration reinforced the sense of togetherness and exploration that this holy month embodies.
The Unforgettable Pistachio Baklava Cheese
Out of all the recipes I shared, there was one that took the spotlight and captured the hearts (and taste buds) of many: the Pistachio Baklava Cheese.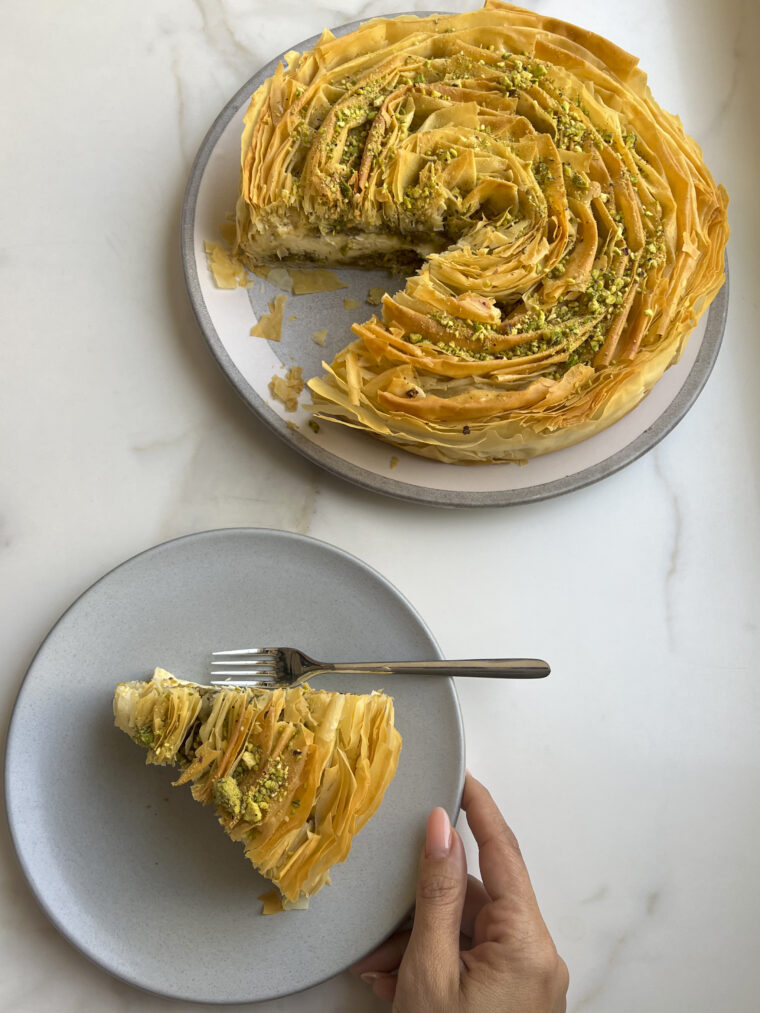 This decadence dessert is a delightful fusion of traditional Middle Eastern and Western desserts, showcasing a perfect balance of flavours and textures. It is an irresistible combination of flaky and crispy Baklava pastry layers, a creamy and rich cheesecake filling, and a sweet and aromatic sugar syrup. The crunchy layer of finely ground pistachios adds a unique texture and nutty flavour to the dessert, making it a treat for anyone who loves the taste of pistachios.
The recipe incorporates a variety of ingredients that work in perfect harmony to create a heavenly dessert. The filo pastry, known for its paper-thin and delicate layers, is coated with melted clarified butter, providing a rich buttery flavour to the dessert. The layer of pistachios is made with finely ground nuts, melted butter, and granulated sugar, delivering a distinct flavour and crunch to the dessert. The sugar syrup, prepared with honey, sugar, lemon juice, and orange blossom essence, adds a sweet and aromatic touch to the dessert.
The cheesecake batter is created by combining cream cheese, heavy cream, caster sugar, cornstarch, orange blossom essence, and eggs. The combination of cream cheese and heavy cream results in a rich and creamy texture, while the sugar and orange blossom essence provides a sweet and floral flavour. The eggs act as a binder and create a smooth and consistent texture.
As it baked to perfection, the Pistachio Baklava Cheese transformed into a golden, flaky wonder, ready to be devoured. Once it emerged from the oven, I couldn't resist drizzling it with sweet and aromatic honey syrup, allowing every bite to be an explosion of flavors. The combination of sweet and savory, the delicate crunch of the phyllo, and the nutty richness of pistachios made this dessert an instant favorite.
The Sweet Joy!!
To my surprise, the Pistachio Baklava Cheese became a sensation among our viewers. Its popularity spread quickly, with many recreating the recipe and sharing their delightful experiences.
As I bid farewell to this sacred month of Ramadan, I carry with me the memories of joy, growth, and delicious creations. The Pistachio Baklava Cheese recipe holds a special place in my heart, symbolizing the unity and culinary adventures shared during this blessed month.
As we move forward, let us hold onto the lessons of patience, compassion, and gratitude that Ramadan instills in us. May the spirit of togetherness and the joy of cooking and sharing meals continue to enrich our lives long after Ramadan ends.
Remember, the recipes we shared during Ramadan are not confined to this month alone. They are meant to be enjoyed and celebrated throughout the year, creating cherished moments and culinary delights with our loved ones. So, let's keep the spirit alive, continue exploring, and spread the joy of cooking far and wide. Ramadan Kareem!
With Love,
Zahra Abdalla
Get new recipes, meal planners, and creative entertaining ideas