Strawberry Lemonade is a classic beverage that celebrates the tangy, refreshing notes of lemons with the sweet, succulent taste of strawberries. This vibrant drink is one of my favourite drinks to make, especially during the warm summer months. It is a simple yet delightful fusion that introduces a new dimension to the traditional lemonade, enhancing its characteristic citrus profile with the nuanced sweetness of fresh strawberries. Aesthetically pleasing with its radiant hue, Strawberry Lemonade is as visually appealing as it is delicious. Whether it's enjoyed poolside, at a garden picnic, or simply as a refreshing pause in the course of a busy day, Strawberry Lemonade's harmonious balance of sweetness and acidity ensures a delightful and rejuvenating experience.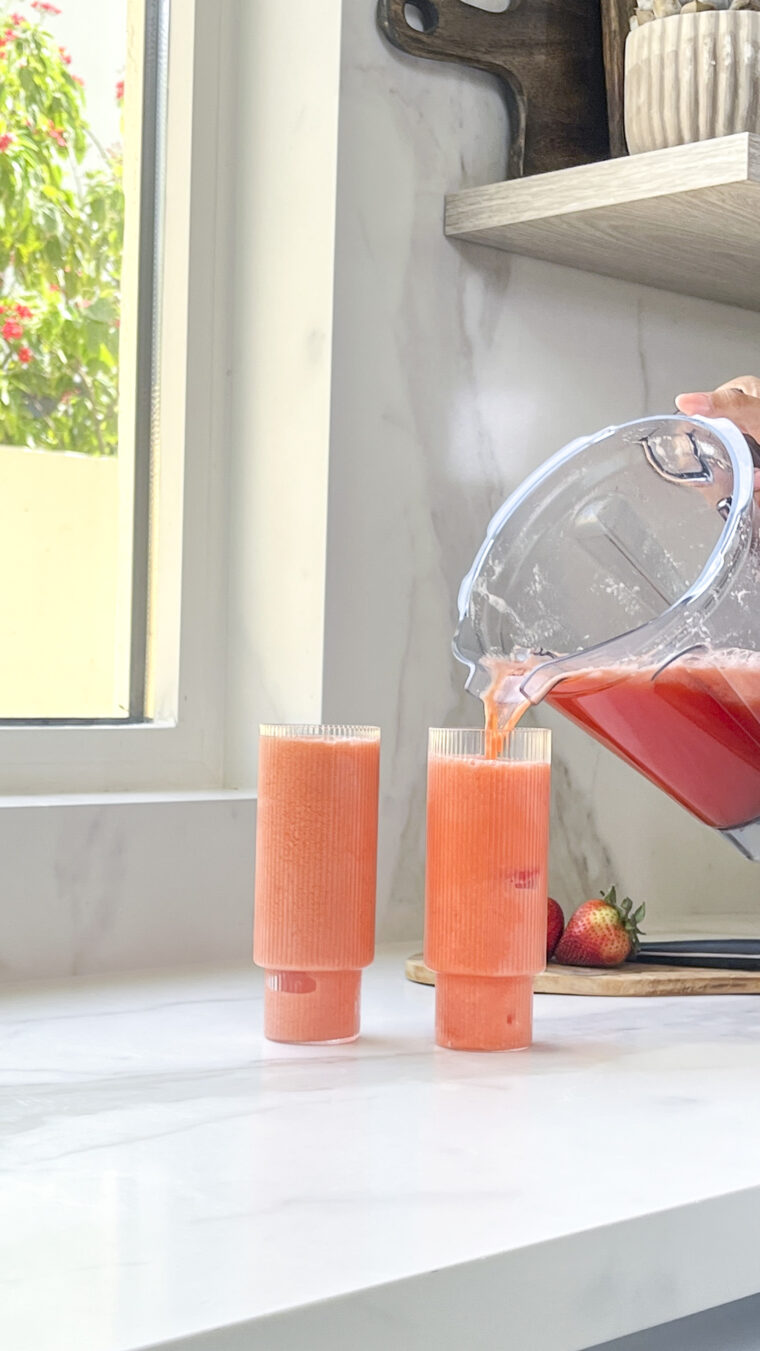 Basic Ingredients for Strawberry Lemonade
Fresh or Frozen Strawberries: Adds sweet, slightly tart flavour and rosy colour.
Freshly Squeezed Lemon Juice: Introduces the refreshing tang of traditional lemonade.
Sugar Syrup or Honey: Serves as sweetener to balance the sourness of the lemon.
Water: Acts as the base of the drink, diluting the mixture.
Ice Cubes: Provides a chill to the lemonade, enhancing its refreshing quality.
Use fresh ingredients for a vibrant flavour.
Adjust sweetness or sourness by adding more water or sweetener.
If using fresh strawberries, ensure they are ripe.
Garnish with a slice of lemon, whole strawberry, or fresh mint/basil.
Serve in clear glasses or jars to show off the beautiful colour of the lemonade.
storage tips
Store leftover lemonade in the refrigerator for up to a week in a covered pitcher or airtight container.
Stir before serving again, as the strawberry puree might settle at the bottom.
For preparing ahead, store the strawberry puree and lemon mixture separately, then combine with the water and sweetener just before serving.
Strawberry Lemonade
Ingredients
½

cup

fresh or frozen strawberries

½

cup

freshly squeezed lemon juice

sugar syrup or honey to taste

4-5

cups

water

1

cup

ice cubes
Instructions
If using fresh strawberries, rinse and hull them first. If using frozen, no need for additional preparation.

Add strawberries to a blender and puree until smooth. You may choose to strain the puree to remove seeds, or leave them for a more rustic feel.

In a large pitcher, mix together the strawberry puree and freshly squeezed lemon juice.

Sweeten your mixture to taste by gradually adding sugar syrup or honey, stirring well to ensure it is fully dissolved.

Pour in your water and stir everything together until well combined. You can adjust the amount of water based on your preference for how concentrated you like your lemonade.

Add ice cubes to your glasses, and pour the strawberry lemonade over the top.

Serve immediately and enjoy the sweet, tangy refreshment of your homemade Strawberry Lemonade.
Get new recipes, meal planners, and creative entertaining ideas