Arabic Spiced Rice with toasted nuts is a delicious and traditional rice recipe that
I learnt from my mother-in-lawl Plump Calrose rice is gently cooked with minced lamb; the flavour is heightened with an aromatic mix of warm and comforting spices and finally garnished with fried nuts and dried fruits. I usually love to serve this when I have a special dinner gathering and serve it to complement a roast turkey, roast chicken or leg of lamb. This is a wonderful recipe that I love to serve at dinner parties, during Ramadan and for family Friday lunches.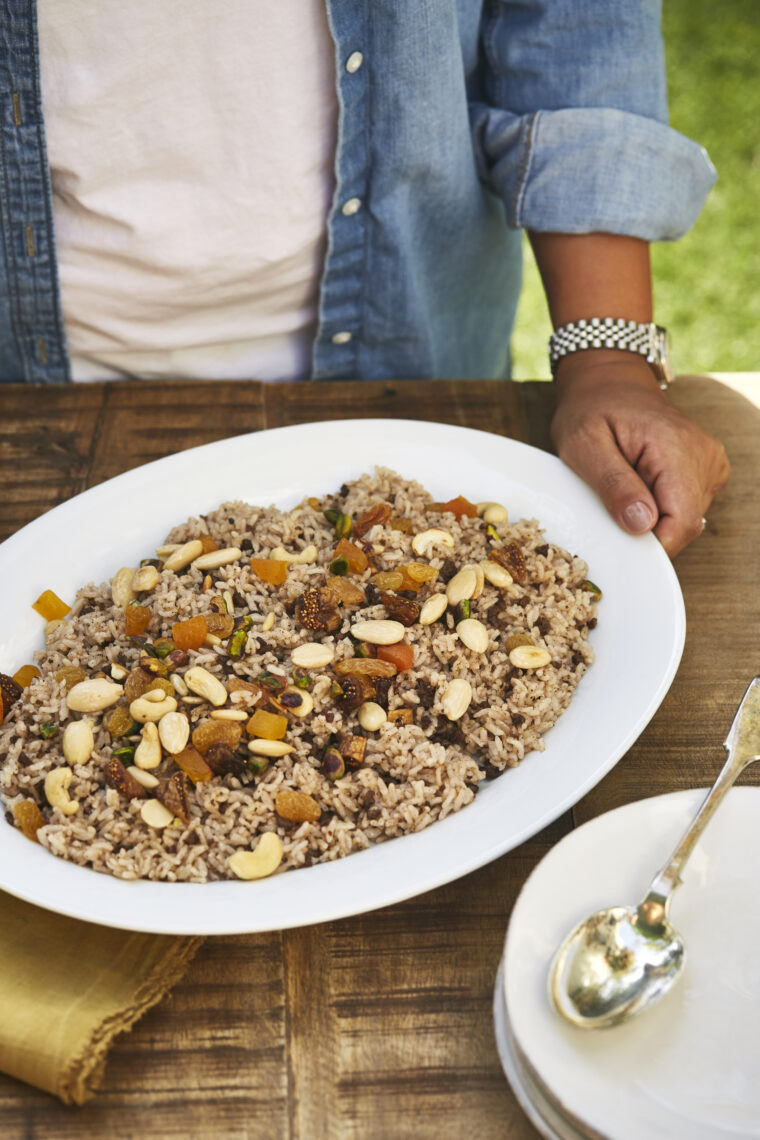 Basic Ingredients for Arabic Spice Rice
Calrose Rice: Calrose rice is a type of short-grain rice that is commonly used in Asian cuisine, including in dishes like Arabic spiced rice. It is known for its slightly sticky texture, making it an excellent choice for recipes where the rice needs to hold together, like in rice pilafs or stir-fries.
Arabic Spice: The spices used in Arabic spiced rice are crucial to the dish's flavour profile. A blend of aromatic spices, such as cinnamon, cloves, and cardamom, provides a bold and complex flavour that is distinctive to this dish. Different regions may use different spices, but the goal is always to create a well-rounded and aromatic flavour.
Nuts: Nuts, like almonds or pine nuts, are sometimes added to Arabic spiced rice for texture and flavor. They add a crunchy texture and nutty flavor to the dish, which enhances its overall taste and texture. Additionally, nuts can also help to add extra nutrition to the dish.
alternative ingredients
Rice: Calrose rice can be substituted with other types of rice, such as basmati, jasmine or sushi rice.
Lamb: If you don't have lamb, you can substitute it with beef.
Vegetable oil: If you don't have vegetable oil, you can substitute it with other oils such as olive oil, canola oil, or avocado oil.
Water: You can use hot broth instead of water to add extra flavour to the dish.
Serving Tips for Arabic Spice Rice
Consider garnishing the dish with fresh herbs such as parsley, cilantro or mint to add color and flavor.
Serve the dish with roast chicken or roast lamb. It is also delicious as a meal on its own served with a side of yoghurt and a fatoush salad.
Serve the dish in a large serving platter and sprinkle with toasted nuts or seeds for a beautiful presentation.
storage tips
Airtight container: Store the dish in an airtight container to prevent any air from getting in and drying out the rice.
Refrigeration: Keep the dish in the refrigerator for up to 3-4 days. The rice may become dry, so consider adding a little bit of broth or water to it when reheating.
Freezing: This dish can also be frozen for up to 2-3 months. Make sure to store it in a freezer-safe container and to thaw it in the refrigerator before reheating.
Reheating: Reheat the dish in a pot on the stove or in the microwave. If the rice has become dry, add a little bit of broth or water to it to help bring it back to its original consistency.
Arabic Spice Rice with Toasted Nuts
Ingredients
4

cups

Calrose rice

300

g

roughly minced lamb

1

bay leaf

1

cinnamon stick

2 1/2

tsp

salt

1/2

tsp

white pepper

1

tsp

black pepper

1

tsp

cinnamon powder

1

tbsp

7 spice Arabic mix spice

Vegetable oil

4

cups

hot water
MIXED NUTS
1/4

cup

blanched almonds

1/4

cup

cashew nuts

1/4

cup

pine nuts

1/4

cup

pistachios

1/4

cup

yellow raisins

1/4

cup

dried figs, cut into small cubes

1/4

cup

dried apricots, cut into small cubes

vegetable oil
Instructions
Soak rice in water for 30 minutes. Rinse rice until the water is clear.

In a medium-sized pot, heat 2 tablespoons of oil. Add the bay leaf and cinnamon stick. Then add the minced lamb and season with 1⁄2 teaspoon of salt, white pepper powder, black pepper powder, cinnamon powder and 7-spice powder Sauté the ingredients together until the meat has slightly browned but still has retained its moisture.

Add in the rice and mix together for a couple of minutes Add the boiling water and cover the pot; reduce heat and leave the rice to cook for about 20 minutes.

Serve the rice is a serving platter and top with mixed nut to garnish.
Get new recipes, meal planners, and creative entertaining ideas