Regarding comfort food, Beef Stroganoff is a classic that never fails to satisfy. This hearty dish consists of tender strips of beef smothered in a rich and creamy sauce studded with earthy mushrooms and savoury onions. It's a meal that warms you up from the inside out and leaves you feeling cosy and content.
Making Beef Stroganoff is just as enjoyable as a result. From the satisfying sizzle of the steak in the pan to the aroma of the mushrooms and garlic cooking, every step of the recipe feels like a labour of love. And the best part? It's a dish easily customised to suit your taste buds. Whether you opt for sirloin steak or ribeye, add some pappardelle pasta or keep it low-carb, Beef Stroganoff is a dish that can adapt to your preferences while still delivering on its promise of comfort and satisfaction. So grab a bowl, sprinkle some chives or parsley on top, and get ready to dig into a meal that feels like a warm hug.
Basic Ingredients for Beef Stroganoff
Sirloin Steak or Ribeye: These are cuts of beef that are typically tender and flavorful. They are cut into 1/2-inch thick strips for the Beef Stroganoff.
Flour: This is used to coat the beef before cooking. It helps to thicken the sauce and create a crispy exterior on the meat.
Salt and Black Pepper: Are seasoning ingredients added to the flour to flavour the beef.
Olive Oil and Butter: These are used for cooking the beef and vegetables in the recipe. Olive oil has a high smoke point, which makes it ideal for high-heat cooking, while butter adds flavour and richness to the dish.
Red onion: Sweeter variety of onions sliced and cooked with mushrooms to add flavour.
Mushrooms: Sliced mushrooms are added to the dish to give it an earthy flavour and meaty texture.
Garlic: This pungent herb is minced and added to the dish to add flavour.
Beef Broth: This is used to create the sauce base for the Beef Stroganoff. It is typically made by simmering beef bones, vegetables, and herbs in water.
Worcestershire Sauce: This savoury sauce adds depth of flavour to the dish. It is made from vinegar, molasses, anchovies, and spices.
Dijon Mustard: This tangy mustard adds flavour to the sauce.
Thyme: This herb is added to the dish to add a subtle, earthy flavour.
Cooking Cream: This is added to the sauce to create a rich and creamy texture.
Chopped Chives or Parsley: These are optional garnishes added to the dish for flavour and presentation.
Pappardelle Pasta: This is an optional ingredient that can be added to the dish to create a heartier meal. It is a type of artisanal egg pasta that is wide and flat.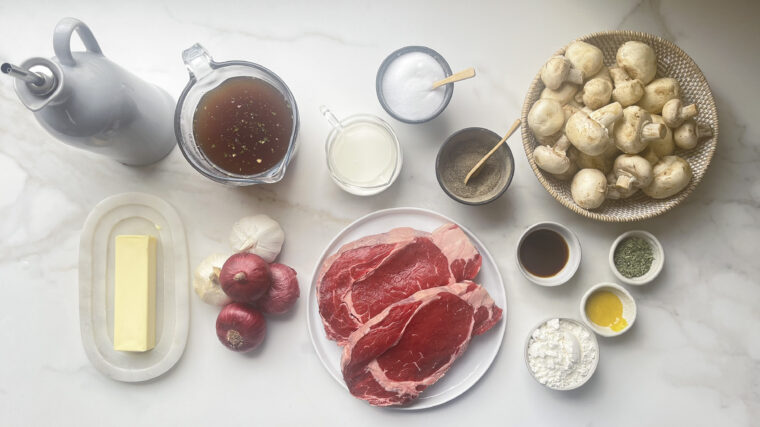 Make sure to slice the beef against the grain to keep it tender.
Coat the beef strips in the flour, salt, and black pepper mixture evenly before cooking.
Cook the mushrooms until they release moisture and brown before adding the onions to the pan.
Don't boil the sauce once you've added the cream to prevent the sauce from curdling. Just let it simmer gently until it thickens.
To add a pop of colour and freshness, sprinkle chopped chives or parsley over the Beef Stroganoff before serving.
Serve the Beef Stroganoff hot over cooked pappardelle pasta, rice, or mashed potatoes.
Garnish with chopped chives or parsley for an extra touch of flavour and presentation.
Serve with a side of roasted vegetables or a simple green salad to balance out the richness of the dish.
Beef Stroganoff
Ingredients
500

g

sirloinsteak or ribeye , cut into ½-inch thickstrips

4

tbsp

flour,divided

1

tsp

salt

½

tsp

black pepper

2

tbsp

olive oil

2

tbsp

butter

1

small redonion sliced

500

g

mushrooms sliced

1

tsp

minced garlic

500

ml

beef broth

2

tsp

Worcestershire sauce

½

tbsp

dijon mustard

½

tbsp

driedthyme leaves

½

cup cooking cream
Garnish
Chopped chives or parsley
Instructions
Combinethe beef strips with two tablespoons of flour, salt, and black pepper in alarge mixing. Toss to coat the beef evenly withthe flour mixture.

Heat the olive oil in a large skillet over medium-high heat. Add thebeef strips in small batches and cook until lightly browned on both sides,about 1 minute per side. Remove the beef from the skillet and set aside on aplate.

Reduce the heat to medium and add the butter to the skillet. Oncemelted, add the onion and cook until softened about 4-5 minutes.

Add the sliced mushrooms and minced garlic to the skillet and cook untilthe mushrooms are softened about 4 minutes. Stir in the remaining tablespoon offlour and cook for 1 minute.

Pour the beef broth, Worcestershire sauce, Dijon mustard, and driedthyme leaves. Bring to a boil, then reduce the heat and let the sauce simmerfor 5 minutes. If the sauce is too thin, you can continue cooking until itthickens to your desired consistency.

Add the beef strips (with any accumulated juices) to the skillet and cook for 2 minutes or until heated through.

Stir in the cooking cream and let the sauce cook for another minute oruntil it's warmed through.

Season the stroganoff with additional salt and black pepper to taste, ifneeded.

Serve the beef stroganoff over pappardelle or rice, garnished with chopped parsley or chives if desired. Enjoy!
Get new recipes, meal planners, and creative entertaining ideas