Kofta Bil Tahina is a delicious and flavourful dish popular in Middle Eastern cuisine.
The dish consists of tender and juicy meatballs made with ground beef or lamb flavoured with fragrant spices and roast potatoes cooked in a creamy and flavorful tahini sauce. This recipe is easy to make and perfect for any occasion, from family dinners to entertaining guests for an intimate dinner and especially for iftar during Ramadan. The combination of aromatic spices and the rich tahini sauce creates a satisfying and comforting flavour that will have you coming back for more. Serve this dish with Calrose, vermicelli rice, and a Fattoush salad for a complete meal.
Whether you're a fan of Middle Eastern cuisine or just looking to try something new, this recipe is sure to impress. So, let's get cooking!
Basic Ingredients for Kofta bil Tahina
Beef: This is the main protein source in the dish. Ground beef is a popular choice for kofta because it is flavorful and easy to shape into balls. It is also a good protein, iron, and other essential nutrients source.
Red Onion: A staple in many dishes and is often used for its sweetness and mild flavour.
Tomatoes: A versatile ingredient that adds sweetness and acidity to dishes.
Red Capsicum: Also known as red bell pepper, is a colourful addition to the dish.
Parsley: A flavorful herb that adds freshness and a pop of colour to the dish.
Garlic: Astaple ingredient in many middle eastern dishes and is known for its strong, pungent flavour.
Green Chili: Adds heat and flavour to the dish.
7 spices: This is a popular Middle Eastern spice blend that includes cinnamon, cloves, allspice, nutmeg, black pepper and cardamom. It adds depth of flavour and a warm, aromatic taste to the dish. How to make 7 spices mix!
Potatoes: Are often used in kofta dishes to add a hearty, filling element.
Tahini: A paste made from ground sesame seeds and is a key ingredient in the tahini sauce.
Yoghurt: A creamy ingredient that adds richness and tanginess to the sauce.
Lemon Juice: Adds acidity and brightness to the sauce.
Paprika: A spice that adds a smoky, sweet flavour to the sauce.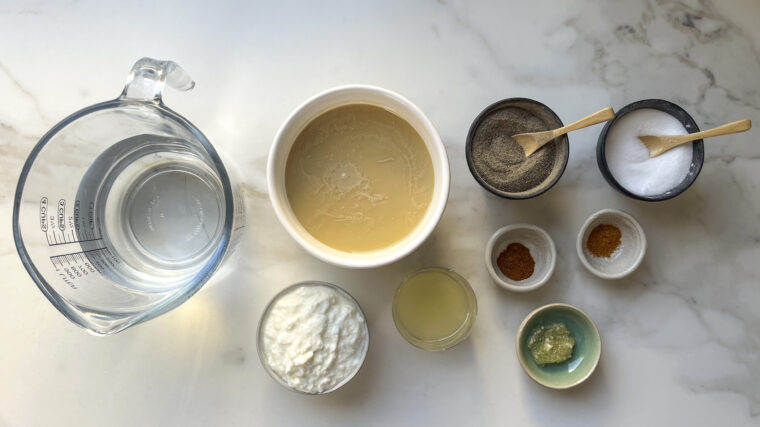 Use a food processor: To make the kofta mixture; you can use a food processor to quickly and easily chop the onion, garlic, and parsley.
Chill the kofta mixture: Once the kofta mixture is made, it's a good idea to chill it in the refrigerator for at least 30 minutes before shaping it into balls. This will make it easier to handle and shape.
Use wet hands to shape the kofta: Wetting your hands with cold water before shaping the kofta mixture into balls will prevent the mixture from sticking to your hands.
Brown the kofta before adding the sauce: Brown it in a hot pan or nbake it over with a little bit of oil before adding the tahini sauce. This will help develop a rich, flavorful crust outside of the meatballs.
Roast or fry the potatoes before adding the sauce: This ensures the potatoes keep their shape and adds more flavour to the final kids
Simmer the kofta and potatoes in the sauce: Once the tahini sauce is added to the pan, reduce the heat and let the kofta and potatoes simmer in the sauce for at least 15-20 minutes. This will allow the flavours to meld together and for the kofta to cook through.
Serve with accompaniments: Kofta Bil Tahina is typically served with rice, pita bread, or a fresh salad. Add a side of roasted vegetables or a cucumber and tomato salad to round out the meal.
Sprinkle some fresh chopped parsley on top of the kofta and tahini sauce before serving to add a pop of colour and freshness to the dish.
Serve the kofta with lemon wedges on the side so diners can squeeze extra lemon juice over the top if desired.
Enjoy with Calrose rice and vermicelli or Arabic bread and a side of your favourite salad. We enjoy having this dish with a hearty bowl of Fattoush salad.
Kofta Bil Tahina
Ingredients
Kofta Mix
500

g

minced beef (ideally 20% fat)

1

red onion

1/2

red capsicum

1/2

bunch of parsley

3

cloves garlic

1

green chilli, deseeded

1

tbsp

7 spices

1

tsp

salt

1/2

tsp

black pepper

1/4

tsp

cardamon powder

6

potatoes, peeled and cut into wedges
Tahini Sauce
2

cups

tahini

2/3

cup

yoghurt

2 1/2

cups

water

1/4

cup

lemon juice

1/2

tsp

paprika

1

tsp

garlic, minced

1/4

tsp

chilli powder

1

tsp

salt

1/4

tsp

black pepper
Garnish
1/4

cup

pinenuts

Handful

parsley, roughly chopped
Instructions
Preheat the oven to 200°c.

In a food processor, combine onion, tomato, capsicum, parsley, garlic, green chilli pepper, 7 spice, salt, black pepper and cardamom in a food processor; pulse to form a loose paste. In a large bowl, combine the mixture with the minced beef, and knead the ingredients with your hands. Shape the meat mixture into elongated meatballs.

In a medium bowl, lightly season the potatoes with salt and pepper and gently coat them with a couple of tablespoons of vegetable oil.

Arrange the meatballs and potatoes on a large baking sheet. Roast in the oven for about 20 minutes, until the potatoes have browned (the potatoes will not have cooked through.)

In a medium bowl, add the tahini, yoghurt, water, lemon juice, paprika, salt and black pepper; whisk the ingredient together until it has a smooth consistency. Taste and adjust seasoning as necessary.

Remove the roasting pan from the oven. With a tong, transfer and alternatively arrange the kofta meatballs and potatoes into a large cast iron skillet or casserole dish. Pour the tahini sauce over the meat and potatoes, and make sure it is evenly distributed and fully covers everything. Roast in the oven for an additional 35 minutes. Remove from oven and allow to rest for about 15 minutes.

Toast the pine nuts in a small pan until golden brown on medium-low heat. Garnish the kofta bil tahini with the toasted pine nuts and chopped parsley. Serve and enjoy!
Get new recipes, meal planners, and creative entertaining ideas