Ghalieh Mahi or also known as Persian Tamarind Fish recipe is typically a stuffed trout recipe originating from the south of Iran. I am preparing using salmon fillets but you can use trout or similar fish if you have access to it.
Ghalieh Mahi, or Persian Tamarind Fish, is an exquisite dish featuring fresh fish. This traditional Iranian delicacy combines the tangy taste of saffron, tamarind, fresh herbs, walnuts and dates to create a unique and flavourful experience. The tartness of the tamarind is balanced by a generous amount of saffron and other spices, creating a truly delicious culinary journey.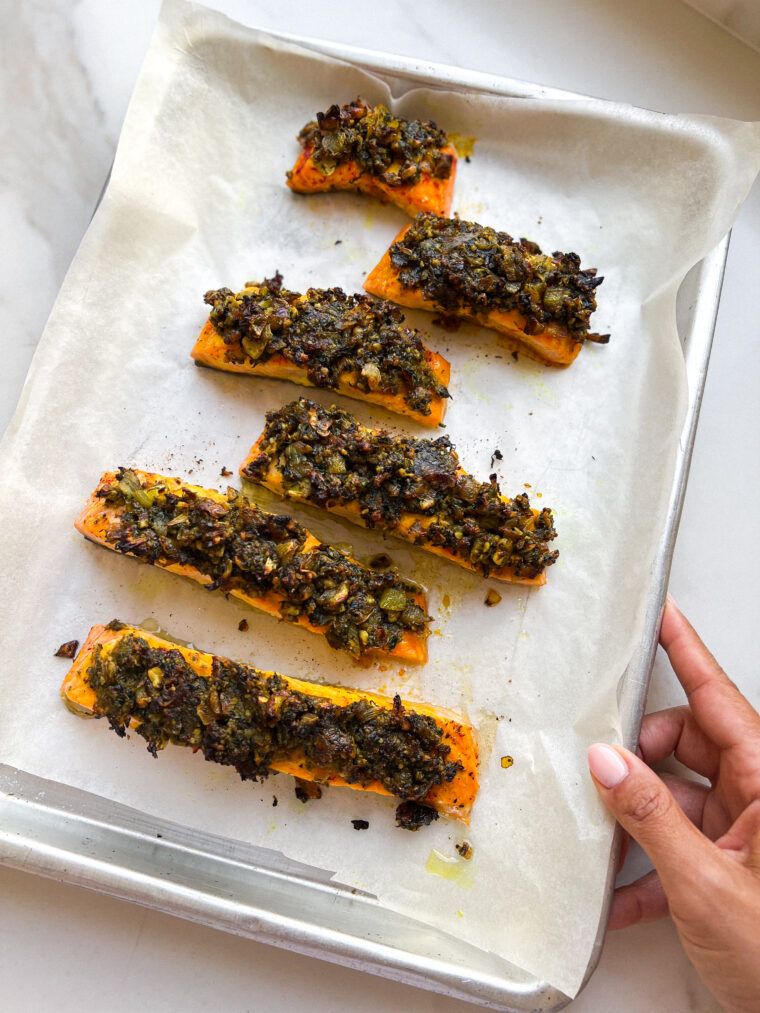 Basic Ingredients for Persian Tamarind Fish
Salmon Fillet: Is a cut of the fish obtained by removing the backbone and cutting along its length. The fillet also contains essential fatty acids such as Omega-3, making it a valuable dietary staple for those seeking nutritional balance.
Chilli Flakes: Dried and crushed chili peppers or cayenne varieties that provide a piquant flavor and moderate heat.
Mixed Herbs: Used to give the dish a wonderful aromatic flavour.
Mejdoul: A variety of dates that are widely cultivated in Saudi Arabia, are known for their distinctively large size and sweet taste. These fruits are highly sought-after for their nutritional value and can be eaten fresh or dried.
Tamarind Sauce: Is a condiment widely used in Southeast Asian cuisine that derives its sweet and tangy flavour from the tamarind fruit, which is known for its unique combination of acidity and sugar. The pulp of the tamarind fruit is typically boiled in water and then strained to remove any solid pieces before being added to other ingredients such as chilis or garlic to create a pungent-tasting sauce.
Saffron: Is a highly prized and sought-after spice, derived from the Crocus sativus flower. Its distinct flavour and aroma make it desirable in many culinary dishes.
alternative ingredients
Swap out salmon and trout instead.
Tofu or tempeh make great replacements for salmon in Ghalieh Mahi due to their firm texture and mild flavour. For a more seafood-like taste and texture, jackfruit can also be used as it has a similar consistency to fish when cooked correctly.
Walnuts can be substituted with pecans, almonds, or pine nuts.
Dried apricots or honey can be used as an alternative to Medjool dates.
Serving Tips for Persian Tamarind Fish
I would suggest serving it with some traditional Persian dishes to complement this flavourful salmon dish. Sabzi polo is a fragrant, savoury herbed rice dish that would be a great accompaniment to this salmon recipe. Another traditional Persian dish that would compliment the salmon well is Kookoo Sabzi, a hearty and aromatic mixed herb frittata.
For a complete meal, you can serve the salmon fillet on a bed of sabzi polo and garnish with additional fresh herbs, chopped walnuts, and a squeeze of fresh lime juice. Accompany the dish with a side of kooko sabzi, fragrant mixed herb frittata traditional served with this dish.
storage tips
Salmon Fillet: Fresh salmon should be stored in the coldest part of the refrigerator and used within 1-2 days. If you're not planning to cook it right away, you can freeze it for up to 3 months. Once thawed, cook and consume it within 24 hours.
Fresh Herbs: Store fresh herbs like coriander, parsley, tarragon, basil, chives, and dill in a jar or vase with some water at the bottom, covered with a plastic bag, and refrigerate. Alternatively, you can wrap them loosely in a damp paper towel and store them in a sealed plastic bag in the fridge. They should last for several days.
Walnuts and Majdoul: Store nuts in an airtight container in a cool, dry place, like the pantry or a cupboard. They can last for several months. If you want to extend their shelf life, you can store them in the fridge or freezer.
Leftover Salmon and Rice: Store any leftovers in separate airtight containers and refrigerate for up to 3-4 days. You can reheat them in the microwave or on the stovetop.
Ghalieh Mahi (Persian Tamarind Fish)
Ingredients
1

kg

Salmon fillet

4

tbsp

olive oil

1

large white onion, finely chopped

4

cloves garlic, finely chopped

1/2

tsp

turmeric powder

1/4

tsp

chili flakes

1/2

tsp

black pepper

1/2

tsp

salt

100

g

mixed fresh herbs (coriander, parsley, tarragon, basil, chives, dill), plus more for serving

1/4

cup walnuts, finely chopped

1/4

cup majdoul, roughly minced.

2

tbsp

tamarind sauce

1/2

fresh lime

1/4

tsp

ground saffron dissolves in 2 tbsp hot water
Instructions
Preheat the oven to 200 degrees Celsius.

In a shallow pot, heat butter and vegetable oil. Sauté onions for 5 to 7 minutes until translucent. Add the garlic, and sauté for a couple of minutes. Add turmeric powder, chili flakes, salt, and black pepper; stir and fry for a few seconds. Add the chopped fresh coriander, and fry for 5 min. Add walnuts, dates, and tamarind sauce, and fry for a couple more minutes.

Line a baking sheet with parchment paper. Place the salmon fillets on the baking sheet. Coast each fillet with some saffron water, and season with salt. Add a couple of spoonfuls of the stuffing mixture to the salmon fillet, gently spread, and finely top with a drizzle of olive oil. Bake in the oven for about 10 to 15 minutes, timing depends on the size and thickness of the salmon fillet.

To serve, garnish with roughly chopped coriander leaves and lime wedges on the side.
Get new recipes, meal planners, and creative entertaining ideas